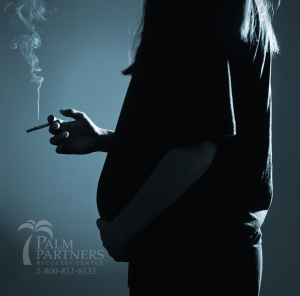 Author: Justin Mckibben
Pregnancy and addiction are not as uncommon as many people may think, and quite often when an addict becomes pregnant they desperately want to quit or get help, but is afraid to do so. But the process of pregnancy and early motherhood is only more reason to step into a new life. Sadly not enough mothers get the treatment they deserve.
According to a recent nationwide survey, of pregnant women aged 15 – 44 years old:
6% used alcohol
3% used tobacco
6% used prescription medications
3% used illicit drugs
Using alcohol or drugs while pregnant in any capacity can have harmful effects on the unborn child of an addict. Risks and possible outcomes of using drugs or alcohol while pregnant include:
premature delivery
low birth weight
neurological and congenital problems
increased chance of SIDS (sudden infant death syndrome)
developmental delays
higher likelihood for neglect or abuse
future mental health problems
future substance abuse problems
Taking the risky results into account, there has been research indicating that comprehensive drug treatment, holistic healing, and prenatal care for mother and child significantly improves birth outcomes and the child's future development. Contrary to what some believe, pregnant women who are dependent on substances of abuse to have the ability to deliver healthy babies, regardless of what stories like the 1990's 'crack-baby' scare will tell you.
Trends of Substances
Some experts insist that smoking cigarettes during pregnancy—90% of her women do—carries much more risk than any illicit drug use, and an estimated two-thirds of babies exposed to opioids during pregnancy end up having withdrawal with half of them needing medication treatment.
Trailing the information back to 1999, the most popular drugs among admitted pregnant women were:
However, from the 2013 Treatment Episode Data Set (TEDS) information, it was estimated that among pregnant admissions:
Alcohol abuse decreased from 46.6% in 2000 to 34.8% in 2010
Drug abuse increased from 51.1% in 2000 to 63.8% in 2010
Executive Director at the University of North Carolina (UNC) Horizons substance abuse treatment program for pregnant women Dr. Hendree Jones stated that according to research 40% of the women who are treated there are dependent on opioids, mostly prescription Vicodin and Oxycontin, as well as a rise in use of IV heroin. They also still see cocaine, at about 30-33%, alcohol at about 30% and bit of activity regarding benzodiazepines, marijuana, and poly-substance abuse.
Barriers
Many pregnant women need intensive treatment, but few treatment programs provide the necessary aftercare. Many traditional residential programs don't want the liability of treating pregnant women. Pregnant women face increased societal stigma, fear they will lose custody of their children, lack access to gender-specific treatment, lack insurance coverage for aftercare, and lack childcare and/or transportation.
The National Survey of Substance Abuse Treatment Services (N-SSATS) reported that in 2011, of the 13,720 substance abuse treatment facilities in the US, only 12.7% of these were programs for pregnant or postpartum women, and only 3.9% had residential beds for their clients' children. So many pregnant addicts who are seeking treatment feel they do not have as many options, or may be shut down enough that they almost give up because they aren't aware of the other opportunities out there.
Detox and Medications
There are a lot of myths surrounding medically-assisted treatment, including detox, opioid replacement medication, and NAS. At the end of the day, a proper treatment facility will provide you with a clinical staff to help resolve any conflicts with medications.
Where we stand today there's limited data for detoxing from opioids, but we do know that it is possible to safely detox from opiates during pregnancy during any trimester, if it's done in a controlled, slow and gradual taper. Recent research strongly supports maintaining pregnant women on opioid-agonist pharmacotherapy throughout pregnancy and the postpartum period, so it is often suggested that a pregnant mother be given a monitored and medicated detox.
Some centers specialize in treating pregnant women dependent on opioids, and they will send mothers to an off-site hospital only when they need to detox from alcohol or benzodiazepines. These are the most dangerous drugs to withdraw from because of the risk of seizures.
Challenges
Stigma is perhaps the biggest challenge facing women who are pregnant with a history of drug use, especially when it comes to punishing addicts instead of treating addiction as a medical disorder. That's probably exemplified best in the new law passed in Tennessee that would charge a woman with aggravated assault if she tests positive for drugs during her pregnancy. Most doctors agree that this is a health issue—and one of primary concern for pregnant women, most of whom don't have access to comprehensive drug and prenatal treatment; punishing women is not the answer.
Aftercare is a big problem, too. Making sure that the mothers comply with continued care after treatment can make or break their chances of lasting recovery. Along with this, the number one biggest challenge is not having a unified continuity of care for after they leave the program. And yes, that's including gaps in the mothers insurance coverage, finding long-term housing for mothers and their babies, and continuing psychiatric care.
Trends of Treatment
As if there was not enough fear involved with drug or alcohol addict parents, Tennessee Pregnancy Criminalization Law would charge a pregnant mother with aggravated assault if they have a pregnancy complication due to the use of illegal narcotics or if the child is born addicted to or harmed by the narcotic drug.
Unfortunately, primarily due to things like fear-mongering and stigma the number of pregnant women who actually receive treatment for substance abuse is shockingly low. According to data from the 2013 Treatment Episode Data Set (TEDS) pregnant women between 15 to 44 years who were admitted to substance abuse treatment facilities typically ranged between 4.4% and 4.8% from 2000 to 2010.
Once accepted to a program, the process of treatment is not all that complicated. A caseworker will do a six-pronged evaluation upon enrollment of the new mother into a program that aims to review the whole picture:
Physical factors
Psychological factors
Readiness for treatment
Social factors
Level of intoxication or withdrawal stage
Access to recovery support
Following an initial assessment, a patient is directed to the appropriate level of care. With options like detoxification in a hospital and then residential treatment for the most intensive needs, or outpatient for less severe addiction, a pregnant mother can be placed in a position where she has every opportunity to make a change in her life that could change everything for her unborn child.
As it was said before, we as a people put too much stock into the stigma of addiction, and that alone can attribute to hundreds if not thousands of deaths or birth defects of children related to drugs and alcohol simply because the mother was too afraid to reach out and find help. We as a society need to recognize the disease for what it is, and start working together to change the way we address those who suffer. If you or someone you love is struggling with substance abuse or addiction, please call toll-free 1-800-951-6135