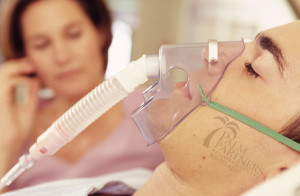 By Cheryl Steinberg
As a blogger for a drug treatment center, I research and write a lot about drugs (obviously) and their effects, especially such extreme effects as the overdose. In fact, most people who overdose on heroin and other drugs either die or fully recover. It never occurred to me, however, that there's another possibility: that of severe impairment.
In the case of Alex Morris, who experienced a slow overdose on heroin – lasting several hours while his parents were asleep  – he survived but has not fully recovered; he plunged into a state that was neither dead nor functional.
Alex spent the next six weeks in a coma. As a result, he went blind and lost function in his arms and legs. He couldn't speak or swallow. During the 14 months he was hospitalized, Alex, who stands 6-foot-1, dropped to a mere 90 pounds.
One of the doctors on the case said that Alex had come as close to dying as anyone he knew who had not actually died. In the emergency room, he received two rounds of an opiate antidote, most likely naloxone, which can reverse the effects of an overdose. In Alex's case, however, he received it too late and it didn't have any effect.
As it stands, there are no national statistics on how often drug overdose leads to cases such as Alex's but, doctors are worried that, with the dramatic uptick in heroin and narcotic painkiller abuse, they will be seeing many more such cases.
Dr. Nora Volkow, director of the National Institute on Drug Abuse said "I would expect that we will. They are starting to report isolated cases like this. And I would not be surprised if you have more intermediate cases with more subtle impairment."
"Everyone focuses on death because it's so dramatic," Dr. Volkow said. "And so attention hasn't been paid to the follow-up consequences that may emerge when someone actually survives."
But, just because there aren't statistics doesn't mean it isn't happening. In fact, in an ironic twist, a highly publicized case involving similar details took place at the very same local community hospital's intensive care unit. Karen Ann Quinlan was admitted early one morning after losing consciousness and had stopped breathing. She slipped into a year-long coma after a night of drinking and taking tranquilizers. Ms. Quinlan was later removed from life-support but went on to live another decade before dying of natural causes. She never regained normal functioning or consciousness in that span of time.
As for statistics on heroin use and fatal overdoses, the numbers are clear: in 2012, more than 660,000 Americans used heroin, which was twice the number just five years earlier. As for heroin deaths across the nation, that number, too, has soared, as you can imagine. From 2011 to 2012, fatal overdoses rose 200% in Louisiana, 60% in Ohio, and 300% in Maine. On Long Island, more than 220 people died from heroin in 2012 and 2013, which was the most ever.
The surge in heroin abuse and therefore overdose is attributed to first, the over-prescribing of narcotic painkillers and the subsequent nationwide crackdown on prescription painkillers, which led users to turn to heroin, because it's cheaper and easier to obtain.
Heroin abuse is a serious condition and help is available. If you are struggling with heroin, narcotic painkillers, other opiates, or any other type of drug, including alcohol, please call toll-free 1-800-951-6135 to speak directly with an Addiction Specialist. We are available around the clock. You are not alone.