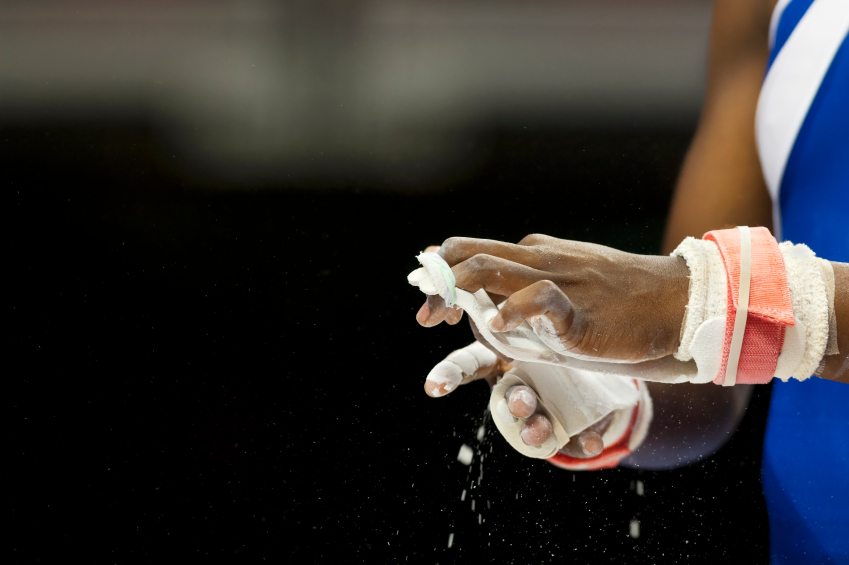 Author: Shernide Delva
Gymnast Simone Biles is on fire. Whether you are a gymnastic fanatic or not (Okay, I admit, I'm obsessed.), it is hard to mention the Olympics without Simone Biles in the same sentence. A few days ago, the 19-year-old gymnast dominated the Pacific Rim Championships earning a gold medal and nailing all of her routines.
Since 2015, Biles has won gold at the American Cup, Secret U.S. Classic, P&G Championships, World Championships and now the Pacific Rim Championships.  As much as I love front runner Gabby Douglas, I believe Simone has a chance to win the all-around gold medal at the Olympics in Rio this year. Basically, the girl is unstoppable. Still, despite Simone's triumphs, the journey was not always easy, especially not in the beginning.
Simone Biles was born in Columbus, Ohio on March 14, 1997, to her birth-mother Shanon Biles. However, Shanon Biles struggled heavily with a drug and alcohol addiction. At one point, her grandfather, Ron Biles, received a phone call from a social worker saying that all four of his grandchildren were in foster care.   Ron decided to take the children to Texas for a while before letting them go back to live with their mother. Unfortunately, Shanon Biles relapsed and was deemed unfit to be a parent.  Her parental rights were terminated.
As a result, her grandparents made the major decision to take both Simone Biles and her little sister Adria under their custody.  The other two children were to live with Ron's sister.  Growing up, Simone Biles took control of protecting her younger sister Adria. She tried to find order in a disorderly situation.
"She thought she was a little mom in the house,"  Simone's  grandmother Nellie Biles said. "She made decisions for herself and her sister because this was all they knew."
The decision for Simone's grandparents to parent Simone and her sister Adria was far from easy one.   Nellie Biles had already raised three children. Her two sons were almost off to college, and she was looking forward to being an empty-nester. All of a sudden, they found themselves responsible for a three-year-old and a toddler. These were not challenges Nellie had planned for at the age of 50.
"It was a hard transition for me because they didn't have any connection to me and I didn't have any connection to them," Nellie Biles said.
Two years of counseling allowed Ron and Nellie to figure out the tools to make it work. They ended up legally adopting Simone and her sister. It seems as though their commitment and dedication have transferred to Simone as well.  The athlete has openly discussed her training schedule which involves training for up to 7 hours a day, 32 hours a week.
Before attending high school, Simone made the decision to be home schooled rather than attend traditional high school. Homeschooling allowed her the flexibility to train as hard as the other top gymnasts.  That decision ultimately paid off.
Choosing to Look Past the Negative
Simone Biles's accomplishments have pushed her to the spotlight, and naturally, Simone has had to deal with haters from time to time. Italian gymnast, Vanessa Ferarri commented that she believes judges are favoring more black athletes and black body types,while her teammate Carlotta Ferlito sarcastically said she should "paint her skin black to win the next competition."
These comments are of course about Gabby Douglas and Simone Biles, who happen to be African-American gymnasts dominating the sport right now.  However, Gabby Douglas and Simone Biles have vastly different body types, and Gabby Douglas was the first African-American to win the individual all-around event at the London Olympics 2012. That was less than four years ago. Clearly this is not a regular "favoring" from the judges.
Fortunately, Biles has decided to focus on the competition, not the chatter.
"I just try to have fun and block out what everybody else says," she said.
Moving Forward
While Simone does keep in contact with her biological mother from time to time, she is quick to affirm to the public that her grandparents are her true parents.  Shanon Biles is her biological mother. Nellie Biles is Mom.
The talented gymnast has many competitions to look forward to before the Olympics, and while only time will tell where Biles journey will lead to, one thing is for sure: Simone is in it to win it. Simone grew up in a family cobbled together by circumstances, and now she has a toughness that simply can not be taken away.
"She's a survivor," Nellie Biles said. "She's been a survivor from a very, very young age."
---
Simone Biles teaches that you are not a product of your circumstances. Instead, you are a product of what you do with those circumstances.  At the end of the day, we all grow up with challenges, but we all have the opportunity to find a way to succeed despite those challenges. Now is your time. If you or someone you love is struggling with substance abuse or addiction, please call toll-free 1-800-951-6135.