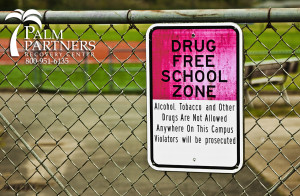 College: a time during which certain rights of passage occur, namely, binge drinking and experimenting with other drugs. Of course, it doesn't have to be but, for many Americans, their times spent on college campuses is one filled with books and booze (and some other substances in the mix, too).
For this blogger, that was certainly the case. I started out with alcohol and weed in high school and, by the time I got to college, I was trying out many different things: mostly designer drugs, such as Ecstasy, Special K (ketamine), and LSD. Weed was always my constant, though, and I began to drink less and less.
That was in the early 2000s. More recently, colleges and universities have begun to take alcohol and other drug use on their campuses more seriously.  Alcohol and drug offenses are being more aggressively pursued and punished. And this even as the rate of serious crime on college campuses has dropped, according to a government report released Tuesday.
A federal law known as the Clery Act requires colleges and universities to report crime data, however, compliance is inconsistent across the board, and those who advocate on behalf of victims of campus crime say that many institutions of higher learning are either disorganized or intentionally misleading with their reporting.
The annual report from the Education and Justice Departments found that in 2011, colleges and universities started disciplinary proceedings for alcohol or drug offenses against 162 of every 10,000 students, not including those who were arrested. That was up from 132 in 2001.
Over that same interval, the rate of students being arrested on campus for alcohol- or other drug- related crimes was pretty consistent at 35 per 10,000 in 2011. The report did not differentiate between arrests by campus police officers and by outside law enforcement agencies, or indicate how often colleges called in outside police officers.
S. Daniel Carter, of the VTV Family Outreach Foundation, a nonprofit group dedicated to campus safety said that the increase in disciplinary actions "doesn't reflect actual increased offenses; it's about stepped-up enforcement. Typically, when something gets to the point of a liquor law violation being enforced, it's not just a kid having a beer in his room — it has escalated to something bigger."
According to statistics, there was a sharp decline in reports of serious crimes on campuses but, campus safety specialists cautioned that, while there had been somewhat of a drop, the figures shouldn't be taken at face value. In fact, according to these specialists, much of the decline was a result of new guidelines from the Education Department on how to define the most common of the serious crimes, which is burglary.
The reported rate rose in just one category of serious crimes, forcible sex offenses — from 1.9 in 2010 to 2.2 per 10,000 the following year. Specialists attributed this increase to victims being more forthcoming with being victimized and making reports.
Terry W. Hartle, senior vice president of the American Council on Education, which is a major organization of colleges and universities said, "I think it's very difficult to look at all of these numbers and draw really precise conclusions." He added that the exception is that "college and university officials are paying more attention to alcohol and drugs."
If you or someone you love is struggling with substance abuse or addiction, please call toll-free 1-800-951-6135.