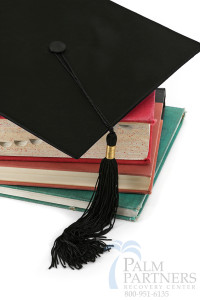 First of all, I just want to say that getting clean and sober – although tough at times – is a really exciting time for us recovering addicts. The reason I say that is because it's a time of new beginnings, self-discovery, and possibility.
When we recover from substance abuse and addiction, it's like a chance to reinvent ourselves and, for many, it's a chance to pick up where they left off, before the drugs and alcohol took hold. That said, many people in recovery, both young and old, see it as the perfect chance to start a new career, which often means getting some kind of certificate or degree. So, here are some resources for recovering addicts who want to go back to school.
#1. Get your GED
If you haven't already graduated high school and don't have a diploma, then you will need to get take the GED, General Education Test, which, once passed, provides you with something that is equivalent to a high school diploma. You will then be able to go on to attend college. There are several resources online that you can sign up for in order to get the resources, study guides, etc. for preparing for the GED, as well as finding out how to go about taking the exam.
#2. Get your transcripts
If you have graduated high school and even attended some college, you will need to get your old transcripts. In order to do that, you will need to look up the school or schools you attended and contacted each to make a request for your transcripts. Keep in mind that often times, there is a fee for getting your transcripts. You might be able to get that waived either by simply requesting it – so what if they say 'no' – it's worth a shot – or else there might be assistance available specifically for recovering addicts who want to go back to school. My advice is to research that online (see #s 5 and 6).
#3. Research schools in your state or that offer programs for the major you wish to pursue
In-state colleges and universities offer reduced tuition for residents so you might want to start there when researching possible schools to attend. If you have an idea of what field of study interests you, I suggest focusing on schools that specifically offer degrees in that area, however, this isn't always necessary. You also have the option of attending a community college and then transferring to a more desirable school. This is especially an option to consider if a.) You need to bring up your grades in order to attend the school you prefer and/or b.) You want to reduce costs at first as community colleges are more affordable than state schools and private colleges.
#4. Contact an advisor at the college/university that interests you
Reach out to the school and ask for guidance on how to go about applying to their institution as well as what coursework you will need to take. If you are not sure what you want to pursue as a possible future career, I suggest attending a liberal arts college. These institutions specialize in offering a wide range of studies so that you can sample many different things before you commit to just one (or two, as I did).
#5. Apply for scholarships and financial aid
Talking to the school's advisor might give you some pointers as to scholarships they offer. Also, checking online to see what scholarships are offered by your state or by particular groups, such as Kiwanis Club, Elks Club, Rotary Club, etc. is a good idea. Lastly, there is Federal Financial Aid (FAFSA) that you can apply for. Check online to see if you qualify and for how much.
#6. Research other sources of aid
There are several programs out there that specifically offer assistance to recovering addicts who are seeking higher education. Researching online for resources for recovering addicts who want to go back to school should point you in the right direction.
Good Luck!
If you or someone you love is struggling with substance abuse or addiction and you don't know what to do, take comfort in knowing that help is available and that there is life after addiction. Call us toll-free at 1-800-951-6135 and speak directly with an Addiction Specialist any time of the day or night with questions and requests for resources. We're here to help and you are not alone.