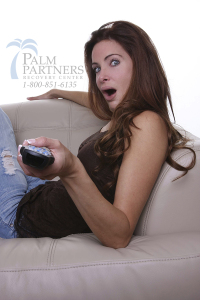 Celebrities seem to always be in the news for misbehaving. Here are 15 reality stars arrested for drugs.
#1. Ronald Dunlap, Cheer Perfection
Dunlap is the co-owner of the gym featured in a reality show on the TLC channel. He was busted along with another one of the gym's coaches last January for possession of marijuana and drug paraphernalia; and was subsequently suspended by co-owner – and wife – Alisha. Since then, the gym has established a new policy of drug testing its staff members and said they would welcome Ronald back once he tested negative for drugs.
#2. Salwa Amin, Buckwild
The 25-year-old was arrested in February of 2013 for Oxycodone and heroin. She received two felony drug possession charges. She later completed a court-ordered inpatient rehab and pleaded guilty that November to possession of a controlled substance with intent to deliver. Amin was sentenced one to five years in prison last January, with 192 days credited for time served.
#3. Mark Balelo, Storage Wars
The A&E reality star was arrested last February on suspicion of possession of methamphetamine and, just two days later, tragically committed suicide. Balelo admitted to being convicted on drug charges in 2009, but said he was innocent. "Friends of mine were using a hotel room that was rented in my name. They were partying in there I didn't do anything wrong," he said. "I wasn't even there. It's not a big deal."
#4. Florina Kaja, Bad Girls Club
"Flo" was a cast member on BDC's Season 4. She was arrested after checking into a hospital with another woman's ID and then using her hospital bracelet to fill a prescription under her that name. She was booked and later released on $10,000 bail. Then, last July, she was pulled in over NY for making an illegal U-turn and gave the officers a fake name. They found marijuana and what appeared to be cocaine in the car. Kaja was arrested for DWI and possession of a controlled substance. She also had an outstanding warrant for harassment.
#5. Devoin Austin, 16 and Pregnant
21-year-old Austin was one of the fathers on the third season of the trashy MTV reality show. He was arrested last April for possession of less than 20 grams of marijuana, drug paraphernalia and two traffic charges.
#6. Adam Jasinski, Big Brother
Jasinski won the $500,000 cash prize for the ninth season of Big Brother in April 2008. In October 2010, he pleaded guilty to possession with attempt to distribute, in addition to not paying taxes on his cash prize. He was arrested a year later outside of Boston for attempting to sell 2,000 oxycodone pills, in addition to several other painkillers. According to a DEA agent, Jasinski admitted to using some of his winnings to buy painkillers and sell them up and down the east coast.
Since his arrest, he spent four months at an inpatient drug treatment center, then went to outpatient treatment since for both drug addiction and bipolar disorder, and has passed all drug tests since then. He would have faced up to 14 years in prison on the original drug charge and a year on the tax charge, but was sentenced to four years in prison.
#7. Jessica Kiper, Survivor
Kiper, the third-place finisher on Survivor: Gabon in 2008, later appeared on Celebrity Rehab in 2011 for various addictions including alcohol, cocaine, marijuana and prescription drugs. She admitted to Dr. Drew that she hadn't been sober in over two years. Kiper received praise for her commitment to the program, but then chose not to go to sober living at the end of the season.
Last January, she was arrested in New Orleans for DWI. A "clearly hammered" Kiper took a selfie in the back of a squad car.
#8. Corey Epstein, Jerseylicious
Epstein, 23, was arrested last January for selling oxycodone to an undercover cop in Staten Island. His wife and fellow Jerseylicious star, Tracy DiMarco, said that her husband had a legitimate prescription for the painkiller to treat leg pain that he suffered during a bar stabbing in New York City. Epstein was arrested with 24 others in a police sting dubbed "Silent Hill."
#9. Amanda Lee Adams, Myrtle Manor
Adams was arrested in South Carolina in April 2013 for DUI, and notoriously yelled at police that she was "on a f*cking TV reality show!" The 26-year-old had slammed her truck into a power pole and exhibited bizarre behavior in a video leaked by TMZ. Adams appears unable to recall how much she had to drink, then begged officers to let her go because she had to "pee really bad." They refused, placing her under arrest after she failed a field sobriety test. Adams then sobbed that her "daddy's gonna hate me."
#10. Paris Hilton, The Simple Life
Hilton has her fair share of drug related run-ins with the law. She was arrested for DUI in 2006 and served a highly-publicized mere 23 days in jail the following year when she violated her probation by driving on a suspended license. Last July, she was detained in South Africa during the World Cup for marijuana possession, but the case was dropped after it was ruled that it was someone else who had been smoking.
The following month, she was arrested on the Las Vegas strip when police pulled her vehicle over after noticing the smell of marijuana and a small amount of cocaine fell out of her purse. Earlier this month, a drug bust turned up 400 kilograms of cocaine at her family's estate in Costa Rica, but the family denied having any involvement with drug trading.
#11. Amber Portwood, Teen Mom
The reality star was arrested for drug possession in December 2011, which was in clear violation of the terms of her probation on domestic violence charges from the previous year. She was sentenced to court-ordered drug rehab in order to avoid a five-year prison sentence, but sparked plenty of debate in June 2012 for telling a judge that she was using drugs regularly while in rehab and asking to go to prison.
However, Portwood apparently took advantage of a drug treatment program offered by the jail by completing drug rehab and getting her GED. She was released on parole in November 2013 after just 16 months behind bars. She has since told The Fix that she plans to open up her own drug rehab center.
#12. Farrah Abraham, Teen Mom
In March 2013, the reality-turned-porn star was arrested for DUI after blowing nearly double the legal limit. Abraham then went on record with a series of bizarre excuses for her behavior, telling reporters that she was "not driving at the time. I was simply turning a corner and parking my vehicle and that's when I was approached." She also claimed that she was "not trying to drink" that night and "was not drinking while getting arrested," and therefore was "not endangering anyone's life."
She then entered a 10-day rehab program in Florida, but was kicked out for bullying other patients, getting into fights with staff and inviting paparazzi to take photos of her.
#13. Jessica Sierra, American Idol
Sierra appeared on the show in 2005. In 2007, Sierra was arrested at a Tampa bar for possession of cocaine and assault in the form of throwing a glass at a patron. She was sentenced to 12 months of probation, but just one month before her season of Celebrity Rehab premiered, she was arrested, again at a bar, in December 2007 for violating her probation, disorderly intoxication and resisting arrest.
Sierra reportedly offered the arresting officer a sexual favor and then vomited in the back of the cruiser. She was then sentenced in January 2008 to a year of off-camera inpatient rehab and three years of probation. She has reportedly remained clean and sober since and credits Dr. Drew with saving her life.
#14. Nicole "Snooki" Polizzi, Jersey Shore
Snooki's July 2010 arrest for public intoxication and disorderly conduct was a hit-maker for MTV as it was prominently featured on an episode of the show. Approximately 8.9 million viewers tuned into to see the infamous bad girl get handcuffed while practically baring all in a barely-there miniskirt and t-shirt that read "SLUT." A source claimed that "She was passed out face down in the sand. She couldn't even stand up. She was on her knees and kept falling on the beach."
Snooki pled guilty to disorderly conduct that September and was ordered to pay a fine and complete two days of community service. Since then, she has considerably toned down her wild behavior and, just last week gave birth to her second child.
#15. Alexis Neiers, Pretty Wild
The reality TV star from Pretty Wild is actually best known for her role in a burglary ring that became known as the "Bling Ring" for robbing high profile celebrities' homes, such as that of Orlando Bloom and Paris Hilton. When police went to her home for a compliance related to her "no contest" plea of residential burglary, they found heroin inside and she was consequently arrested in December 2010 for possession of heroin. Neiers was then sentenced to inpatient rehab for a year and has been sober ever since.
Neiers is now married to a man she met in an AA meeting and has given birth to daughter, Harper. In a June 2013 interview with The Fix, Neiers admitted that she resorted to burglary with the Bling Ring in order to support her drug habit. "I had been making a bunch of money during Pretty Wild, but that money went pretty fast with a $10,000 per week habit. After the show, I was panhandling at gas stations in Reseda," she admitted. "I was that girl who gives you the whole long story about how her boyfriend left her stranded, her car was broken, that she needed a few bucks towards getting it fixed… that was definitely the low point in my addiction. I'm sure it could have gotten much worse, but I wound up in jail not too long after that."
If you are struggling with substance abuse, addiction, or have been arrested on drug-related charges, it's time to consider getting help in the form of treatment, such as inpatient rehab. You can call toll-free 1-800-951-6135 to speak with an Addiction Specialist who can answer your questions. We are available 24/7.