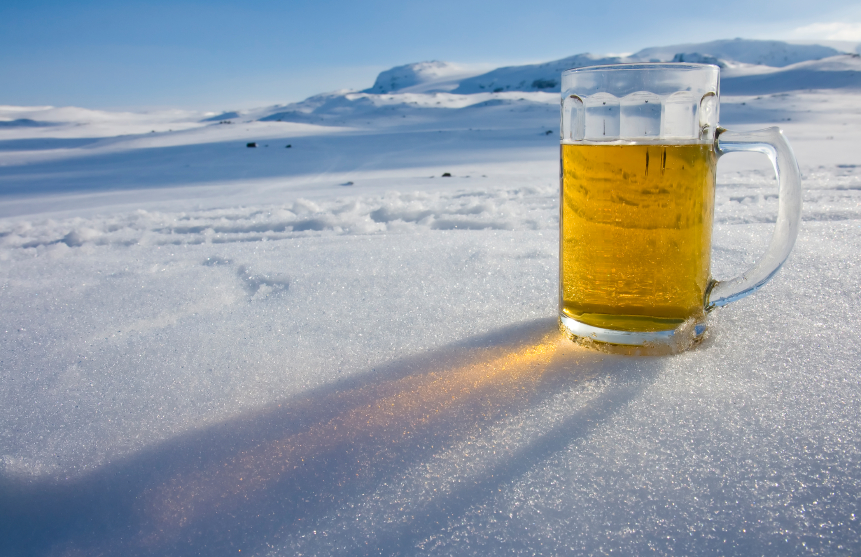 Author: Shernide Delva
Researchers in Antarctica have garnered a reputation for boozin' up to beat the cold and loneliness. Now, reports of possible intoxication, fights and misconduct have prompted government agencies to take action.  Due to reports of "unpredictable behavior," officials from the National Science Foundation (NSF) may begin giving their employees breathalyzer tests
The agency could be shipping several breathalyzers to areas where a total of 1,150 scientists and support staff are stationed. This comes after officials reportedly told auditors of "unpredictable behavior that has led to fights, indecent exposure, and employees arriving to work under the influence."
Drinking in Antarctica could lead to serious problems if not controlled. For one,  the closest medical care facility is at lead a few hours away from the bases. So if you were to get alcohol poisoning, it'd be a long ways before you get to a hospital.  As a result, the supervisors are solely responsible for keeping people safe. In one article, a worker stated:
"It's a fine line because you have to let people do their own thing and be responsible. The South Pole is such a small community, there's only one person for each job."
The agency claims that drinking is "not out of control" and the breathalyzer measure is preventative. The NSF officials told auditors that the real problem was the "ongoing culture class" between construct works and scientists. They often eat, socialize and drink separately. Contractors are treated lower and have to abide by more rules than scientists who are put on a higher pedestal, the article notes.  The agency went on to say that it feels the time is now to address the drinking issue before it becomes a serious issue.
However, there are some administrative roadblocks. Since Antarctica is not U.S territory, it makes it unclear who would conduct the breathalyzer tests and which employees would have the rights to appeal them. Even more complicated, the South Pole is at such a high altitude, the breathalyzer tests may not even function properly.  The South Pole Station is at an altitude of 10,000, atop a high plateau. At that altitude, the device would have difficulty calibrating.
Other countries with research bases on Antarctica, like Britain and France have distinct rule about alcohol use. The British Antarctic Survey asserts in its detailed alcohol and drug policy that "alcohol can play a useful role in providing a diversion from the pressures of work when used in moderation," but staff are prohibited from working under the influence.
To put it into perspective, the article describes how every winter; dozens of workers at the South Pole research station spend nine months in isolation. No airplanes can fly in or out until the base "warms" up to 50 zero ensuring the fuel does not freeze and kill the engine.
If you want to escape your problems, Antarctica is the place to go but after months in isolation, emotions can flare up. Families and friends can bring back old memories of home. Workers predisposed to seasonal affective disorder (SAD) are hit hard. The darkness and cold causes sleepiness and memory problems. Many scientists and workers  fall into alcoholism as a way of coping with the depression.
Working in Antarctica can be one of the most exciting jobs on Earth. Or it can be the most depressing. And the fact is, drinking during work hours is a serious problem, just like at any big company. As of right now, there is no clear policy in place to regulate drinking behavior.
Implementing new policies on how to control the drinking will hopefully prevent the alcohol consumption from getting out of control.  If you or someone you love is struggling with substance abuse or addiction, please call toll-free 1-561-221-1125