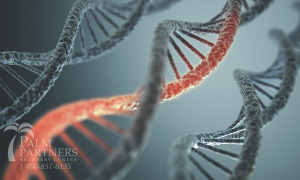 Author: Justin Mckibben
The link between our genetics and our addictions has long been pondered, studied, and speculated as a major factor in how we can trace and treat mental health issues, behavioral impulses, and even problems with substance abuse. Now some suggest that changing the way that a gene in the brain region operates may actually offer a new solution to reducing addictive cravings and depression at the source.
Studying the Science of Substance Abuse
According to the findings in a recent study conducted at the Icahn School of Medicine at Mount Sinai that has been published in the journal Nature Neuroscience, reducing the addictive cravings and the symptoms of depression is a matter of controlling the genetics. This study focuses on changes shaped in human genes by transcription factors. It centers on the concept of manipulating proteins that bind to specific DNA sequences and influence the function of a person's individual genes.
DNA is in everyone, and contains genes and the instructions needed for an organism to develop and survive. To carry out these functions, DNA sequences are adapted into messages that essentially "tell" the cells which proteins to make or how to react. That message dictates the response of a given cell when the body needs it to carry out a specific function.
While all cells contain the DNA that codes for every gene, most of these genes are not activate at all times. The expression or activity of a gene depends on the action of transcription factors, allowing some genes to be active and others to be repressed until the body calls upon them whenever needed.
The transcription factors can be transformed by contact to certain chemicals or by stress that will produce a response, which can make the genes more susceptible to stress or addiction. In the recent study, the research team introduced synthetic transcription factors called Zinc Finger Proteins (ZFPs) into a single gene. That FosB gene was located in the nucleus accumbens.
The nucleus accumbens certainly plays an essential part in the reward circuit. Its central function is based chiefly on two essential neurotransmitters:
Dopamine- which promotes desire
Serotonin- which promotes inhibition
Several studies done on test animals in the past have shown that all drugs increase the production of dopamine in the nucleus accumbens. Drugs also reduce the production of serotonin in the nucleus accumbens. That should come as no surprise, as drugs are commonly known as mood or mind altering substances. The synthetic transcription ZFPs were introduced into the FosB gene of mice as test subjects.
Exciting Evidence of Innovation
When FosB is stimulated and effectively activated in the brain, the individual typically experiences a more increased sensitivity to drug interaction and less resilience to stressors. Basically when this gene is expressed, it makes a person more likely to seek drugs to fulfill their needs and less capable to cope with stress or emotional compromises.
The combination of the FosB gene and the synthetic transcription (ZFPs) caused chemical modifications that actually produced the opposite effect on the test subjects. The test mice appeared to be more resilient to stress and less susceptible to cocaine dependency, suggesting that by manipulating this gene, depression as a major factor in both mental illness and substance abuse can be combated at a cellular level, and chemical dependency can possibly be something we are able to alleviate by the same means.
The authors of this study have indicated that their research is the first step in developing not only therapeutic alternatives to positively and effectively diagnosing and treating the diseases of depression and addiction, but this new data could also help to greatly improve on treatment of other genetic-based conditions.
The study's lead author, Elizabeth A. Heller, PhD claimed,
"The use of engineered transcription factors has broad implications outside of neuroscience, because gene regulation underlies many diseases, including most forms of cancer."
So as scientists and researchers look further into how genetics play their role in depression and addiction, they are beginning to understand how using synthetic proteins can actually trick a person's DNA into reacting differently to stress, and become less dependent on drugs to produce dopamine. Training the body to combat mental illness and substance abuse at a cellular level may actually change everything we know one day about addiction and addiction treatment.
The future may hold new hope for a better understanding and awareness of addiction and depression, and we may be opened up to a new world of possibilities for identifying and addressing these and other health and behavioral issues. Too many people have too little understanding of the disease of addiction and how intricate and deeply rooted it can be, and because of that they never seek the help that could save their lives. If you or someone you love is struggling with substance abuse or addiction, please call toll-free 1-800-951-6135