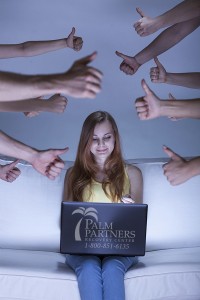 Author: Justin Mckibben
In the age of the iPhone and the era of social media, some are beginning to label this "Generation D"- meaning the digital-era generation which is comfortable and expert with computers and other devices; also called digital generation. So are we lucky to be this digitally immerced and dependent? In regards to the growing dependence on digital devices and technology as whole being the primary focus of most lives for young people. Teens and young adults under 25 are most susceptible to the effects of a problem that is being referred to as Internet addiction disorder, and some call this age group "digital natives" mainly because the Internet and digital devices are embedded in their culture.
The most recent statistics one of the most popular addictions are very enlightening in a way, as they reinforce the dangers of texting while driving. Scary that 40% of all American teenagers report having been in a car when the driver used a cell phone in a way that put people in danger. It's not just teens, either. The National Highway Traffic Safety Administration reported that in 2010 a discerning 18% of all fatal crashes as well as crashes resulting in an injury were caused by driver distraction, and one of those primary distractions is the devices we carry and use to coordinate our entire lives.
Internet Addiction Disorder
It's an obvious problem that we can't put our smartphones away, and that addiction has been mentioned more and more recently. We cannot even set aside our digital devices long enough to make sure we don't kill ourselves or someone else while driving. Dr. David Greenfield, a pioneer in the field of virtual addiction and founder of the Center for Internet and Technology Addiction in Connecticut, believes that texting is simply a subset of the larger Internet addiction disorder. According to Greenfield, Internet addiction disorder encompasses everything that uses the Internet, such as:
Surfing
Social media
Texting
Gaming
Streaming Videos
So far 'sexting' (texting sexual content) and online sex addiction are still the most rampant forms of Internet addiction, all types of excessive use can lead to addictive behavior in connection to the internet and dependence on digital devices.
"Everyone feels like they lose track of time and space when they use the Internet," Greenfield says. "That means that it's psychoactive—in other words, it's a digital drug."
Internet addiction disorder is not listed in the latest DSM manual (DSM-5, 2013) at this point. Yet Internet gaming disorder has recently become listed in the appendix of the DSM manual as a disorder that so far requires further more decisive study.
Symptoms of Internet Addiction Disorder
Behaviors that define Internet addiction, according to the Center for Internet Addiction, include:
Compulsive use
Preoccupation with being online
Lying or hiding the extent or nature of the Internet use
Inability to control or curb internet use
The symptoms of texting addiction said to include:
Preoccupation with the digital device
Craving to spend more and more time online or texting
Secretive behavior
Mood swings.
Dr. Kimberly Young is another pioneer in the field of studying and identifying the reality of internet addiction. She founded the Center for Internet Addiction in 1995 and she has written multiple books on the disorder, including Caught in the Net, the first to identify Internet addiction. Several countries seem to be ahead of the U.S. in the game of labeling, treating, and preventing Internet use disorder. Dr. Young recently attended the first International Congress on Internet Addiction Disorders, where Korea, Japan, Germany, China, Italy, and France are leading the way in addressing what they consider to be a significant mental health issue.
Young is working to change that here in the US. She has developed the "first empirically-based treatment plan for Internet addiction, showing that [Cognitive Behavioral Therapy – Internet Addiction] is effective for curing various forms of Internet-related problems."
Who is "Generation D"
Studies suggest that 1 in 8 Americans suffers from problematic Internet use. Those estimates are higher in China, Taiwan, and Korea, where 30% or more of the population may experience problematic use. Unlike other generations like "Generation X" there is no specific age group.
There's also the strange and often noted social phenomenon that has more traction as a trend. That issue of people not being able to live in the moment without broadcasting every detail in text, tweet, or social media share. As if you are missing out on everything unless you have connected it your profile for the world to see.
According to the Center for Internet Addiction, national surveys showed that over 70% of Internet addicts also suffered from other addictions: drugs, alcohol, smoking, and sex. So those of the recovery community are probably some of the most susceptible to Internet addiction disorder. One way or another, addiction is trending.
Another huge lead on is that the majority of Internet addicts suffer from emotional problems like:
Depression
Mood disorders
Social disorders
Anxiety disorders
While an outstanding 75% of Internet addicts also suffer from relationship problems, and they "use interactive online applications such as social media, virtual communities, video games or online gaming as a safe way of establishing new relationships and more confidently relating to others through the virtual world."
Evidence of the Addiction
While there is loads of behavioral evidence for the disorder—Greenfield says that in any given week, he'll see 30 clients, and half of them are being treated for some kind of excessive Internet use. Increasing neurological proof also stands to support that indeed, this is an actual, diagnosable disorder along the lines of any other behavioral addiction, like gambling, for instance dopamine is at least partly culpable.
"The main kernel of what I believe is responsible for excessive Internet use—whether it be surfing, gaming, sex, texting, social media—operates on variable-ratio reinforcement," Greenfield says. Essentially, you never know what you're going to get, and that keeps you coming back for more. "So what happens is, you hear a sound [alerting you to an incoming text message], and your brain says, 'There might be something good there, I'm going to check it.'" At that point, the mesolimbic dopamine circuits are activated, and a small surge of the neurotransmitter is released in the brain. "What you're getting addicted to is the dopaminergic hit."
Other researchers have gone on to explain that with texting addiction, there is an added element of waiting for a response, and because of this period of suspense, it is the anticipation that hooks us. Research suggests that dopamine malfunction is involved in all cases. With relates these digital addictions to other drugs of abuse, taking a hit causes dopamine levels in the brain to surge, followed by an experience of withdrawal once the excessive levels of dopamine decrease. Meaning you build a tolerance just like with any other drug, as the initial hit is no longer enough, because the neurocircuitry has been altered.
How Do We Unplug?
Among the over-all only a group of about 10% of people will become actual addicts, and Greenfield uses four defining criteria to determine addiction, but he is clear that the most important sign of addiction is that "it has to have some deleterious impact in their lives."
He treats it the same way he would treat other addictions. One attempting recovery might want to start with an effective strategy like a digital detox, and then develop other strategies to monitor use, identify their behavior, and prevent relapse. Medication may sometimes come into play, but behavioral approaches are more common.
At this point people can't be expected to abstain from technology completely, it is in everything we do. When experts suggest experimenting with moderation with text-free hours, or days, we have to think sadly moderation has never been an easy thing for addictions and alcoholics, and recovery has shown many of us a better way as far as drugs and alcohol. If I call or text my sponsor for help with my internet addiction disorder isn't that already a relapse?
That being said, maybe there is some possibility of efforts being made to avoid updating everyone on everything all the time… but you should still 'like' this article, and then share it with everyone you know… how else will they know you read it?!
Addiction is a powerful illness that can touch every aspect of our lives, and for the addict it may seem impossible to truly give up the thing that hurts them the most, but there is always another way. If you or someone you love is struggling with substance abuse or addiction please call toll-free 1-800-951-6135. We want to help. You are not alone.