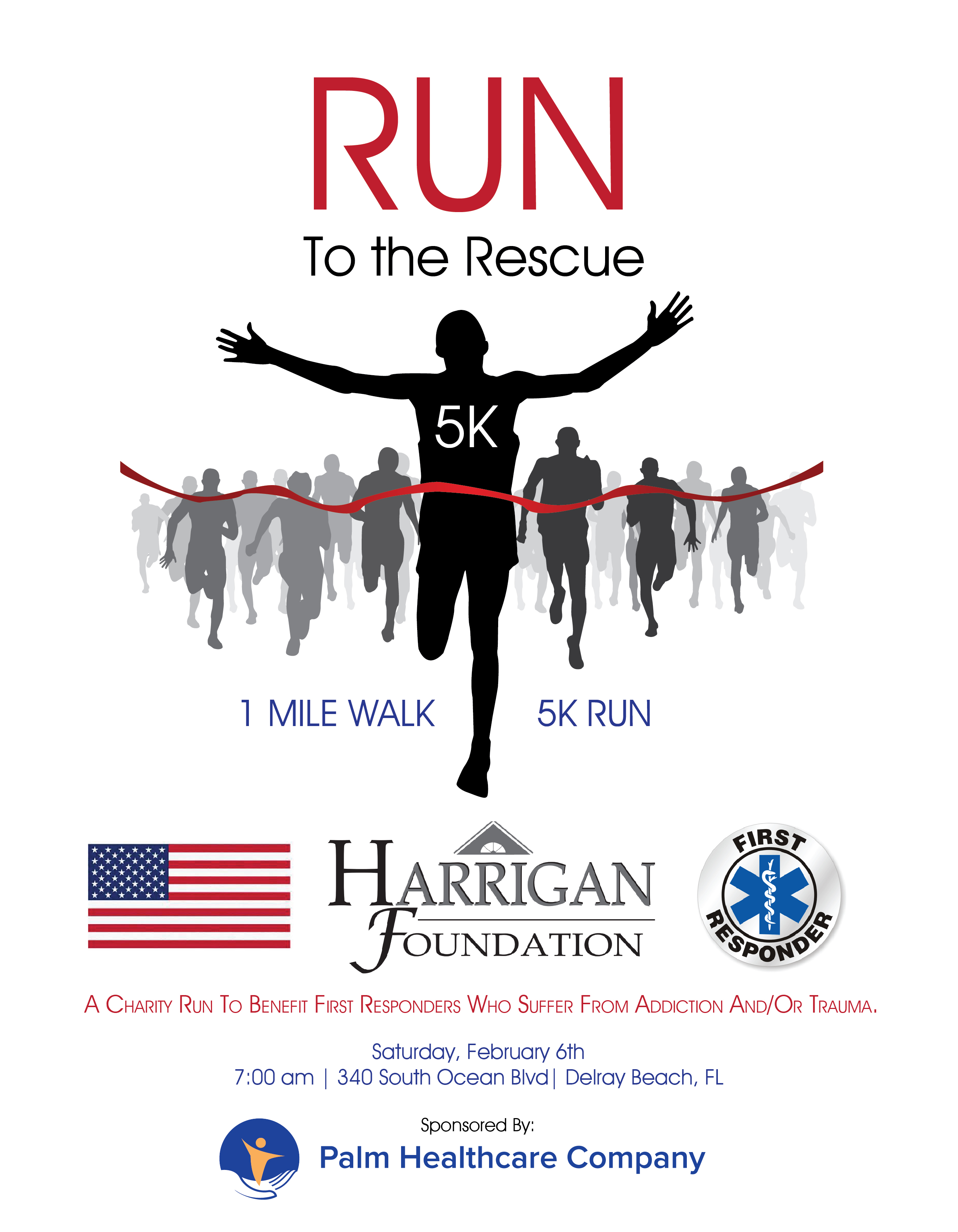 Author: Justin Mckibben
Runners, walkers and volunteers… take your mark and run to the rescue!
Palm Partners and Palm Healthcare are proudly supporting an event hosted by the Harrigan Foundation on February 6th, 2016 that is dedicated to trying to help find a way to best serve the amazing men and women who bravely serve their communities as First Responders.
What most people don't know is that after experiencing terrible accidents day after day first responders can actually suffer from very serious trauma or even develop harsh addictions. Some recent shocking stats have shown:
Firefighters: Up to 29% if firefighters engage in alcohol abuse.
Police: 25% believe drinking to be part of the norm yet 25% have been affected negatively by the drinking of other coworkers.
EMTs: EMTs have the highest rate of alcohol and drug abuse. It's been revealed that 40% engage in high risk alcohol abuse and close to 20% experience PTSD.
Run to the Rescue will be our first annual 5K/1 mile walk here in the incredible beautiful scenery of Delray Beach, Florida. The Harrigan Foundation is a non-profit organization designed to actively pursue new and exciting resources. The foundation plans to volunteer time and make a positive impact in the community. The Harrigan Foundation has previously committed itself to serving the community in other ways such as the Basket Brigade during the Thanksgiving holiday season, and now we are working toward making a difference in more lives than ever.
For the First Responders
The Run to the Rescue event is one organized by the Harrigan Foundation and supported by Palm Healthcare that is determined to sponsor First Responders who suffer from addiction and/or trauma disorders. This includes the amazing and courageous men and women who serve as:
Firefighters
Police Officers
EMT's
Honoring the great deal of devotion, sacrifice and compassion it takes to become one of these every day heroes the Harrigan Foundation has devoted itself to honoring the valiant individuals who work tirelessly to protect life and liberty.
Sponsor a Hero
The Run to the Rescue 5K/1 mile walk will be a fun and exciting way to help raise money to fund the Palm Healthcare scholarship program in order to sponsor any treatment our First Responders may need. These heroes have already done so much for us, and it is a chance for a call to action in order to give back.
The race is set to begin at Anchor Park in Delray Beach, Florida- 340 South Ocean Blvd. Starting whistle will be sounding off at 7:00AM with walkers following shortly after. Event details are as follows:
The Run to the Rescue 5K
Time: 7:00AM EST- 9:00AM EST
Price of Admission: $30 (price increases December 31, 2015 at 11:59PM EST)
The Run to the Rescue 1 Mile Walk
Time: 7:15AM EST- 9:00AM EST
Price of Admission: $10 (Registration ends February 1, 2016 at 11:59PM EST)
Volunteer Work
Time: 6:00AM EST- 9:00AM EST
Price of Admission: FREE (Registration ends February 1, 2016 at 11:59PM EST)
So for those who are not interested in running, there is still an opportunity to participate in the event and show support. The 5K will be a timed through AccuChip, while all people interested in walking the race are encouraged to bring their children.
There will also be snacks and refreshments before and after for all those who chose to step up and become part of this awesome experience with us. Not to mention an awards ceremony to celebrate those who came to compete with compassion.
For more information or to get registered to participate you can go to https://runsignup.com/Race/FL/DelrayBeach/HFRuntotheRescue5K and take part in this inspiring event to help change the lives of the remarkable and courageous men and women who work every day to save lives.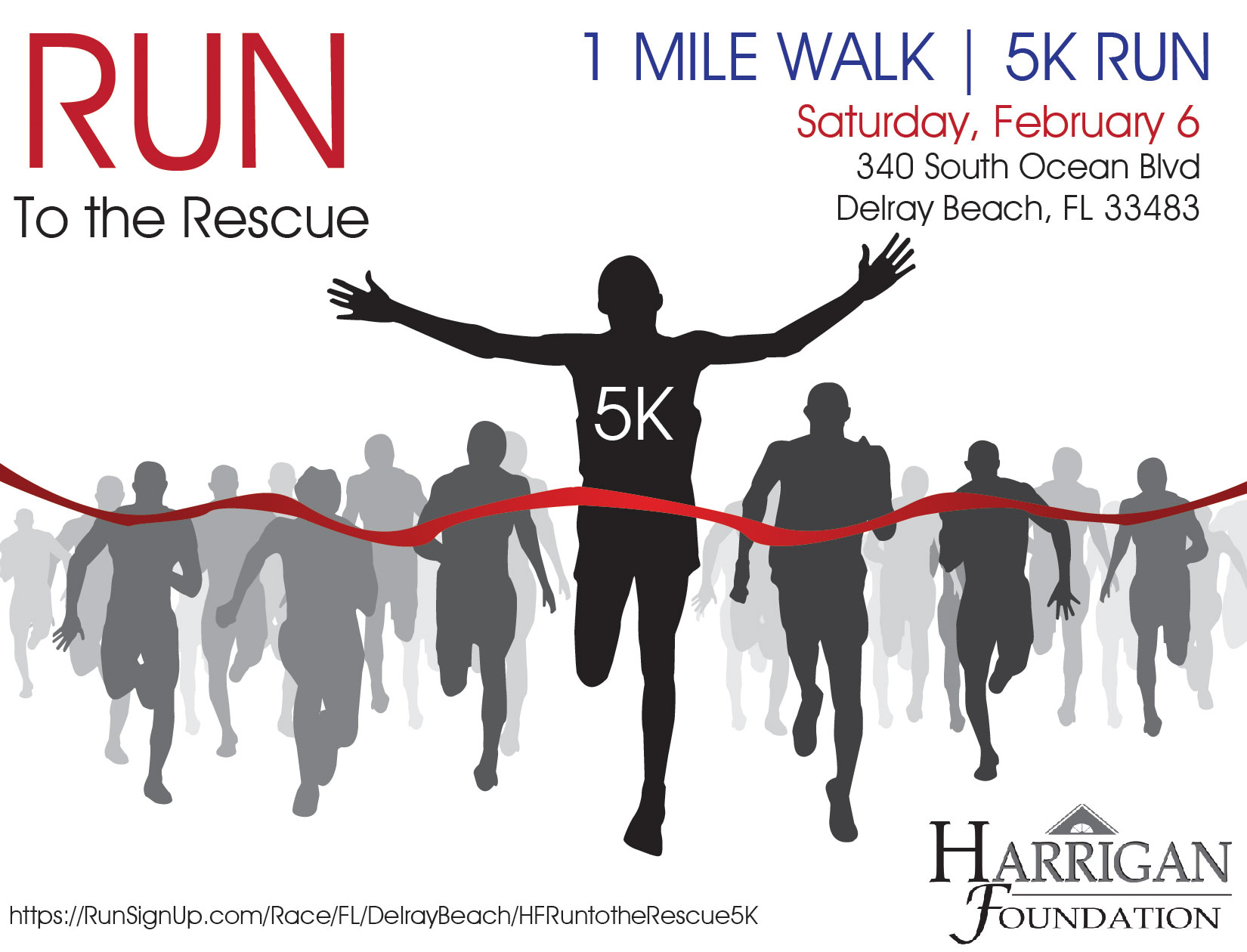 No first responder should have to stop doing their job because of the disease of addiction. If you or someone you love is struggling with substance abuse or addiction, please call toll-free 1-800-951-6135