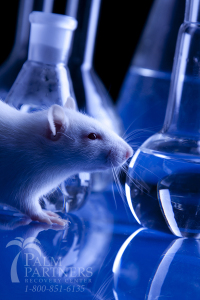 Author: Justin Mckibben
For years there has been research making an attempt at developing a specifically strategy for a substance to end all substance abuse. The cure for addiction has been guessed at and sought after by many incredible minds with a lot of experience and great enthusiasm. So is it possible that one doctor may have found a way to take one dangerous substance and manipulate it to serve the greater purpose of defeating addiction?
Dr. Stanley Glick, who is the former head of the Department of Neuropharmacology and Neuroscience at Albany Medical College, is an avid addiction researcher who developed an experiment based around cocaine addiction and mice. With an injection system set up to allow the mice to administer their own doses of cocaine when they desired more, and a popular Miles Davis song "Four" to recreate the sort of stimuli that is attributed to 'trigger' relapse in drug-addicted humans, Glick tests his anti-addiction drug to see if it curbs the desire to use.
Dr. Glick's 18-MC
Dr. Glick has developed this drug with potential to transform substance abuse treatment called 18-MC, which is short for 18-methoxycoronaridine. This is a drug to get people off of drugs! He has meticulously tested 18-MC on animals, observing rats that once were completely dependent out on cocaine suddenly lose their desire to get high after a few doses of 18-MC. The drug has also had a similar effect on animals addicted to methamphetamine, morphine, alcohol, and nicotine.
18-MC also even seems to work with sugar, indicating potential as an obesity treatment, but the process of getting this drug safely administered to humans is a very different element. The CEO of Savant HWP, which is the Bay Area biotech startup developing 18-MC is Steve Hurst, and he commented in regards to the future of the drug,
"We hope it's a paradigm shift in the way substance abuse is treated. But we're still trying to figure out if it's OK to give to people in doses that are safe enough to replicate what we see in animal models."
Although early indications suggest 18-MC is in fact safe, it is related to a naturally occurring substance known to cause severe nausea, intense hallucinations, and other serious side effects. Initial tests on humans haven't revealed those problems, and experts are optimistic that 18-MC may allow doctors to prescribe medication that blocks cravings and helps people stay clean, making Glick's 18-MC one of several promising new substances to emerge from the rapidly advancing field of anti-addiction science.
The Association with Ibogaine 
Ibogaine is illegal and considered a Schedule I drug in the United States which indicates it officially has a high potential for abuse and no medicinal value.  Ibogaine is something like the African equivalent of peyote or ayahuasca, a potent hallucinogen used to induce spiritual visions during tribal ceremonies.
Former addict Howard Lotsof was the one who first came to Dr. Glick with an unwavering certainty that Ibogaine could eliminate the intense cravings and unpleasant withdrawal symptoms associated with heroin and other opiates. Lotsof had even obtained a patent for the use of ibogaine in treating addiction, and reportedly had positive results administering it at a clinic in the Netherlands, one of many countries where the drug is legal and still available today. Glick became intrigued after his initial doubts when animals trained to self-administer morphine stopped taking the drug for days and even weeks after being dosed.
How 18-MC Works
Every addictive drug known to man stimulates an area of the brain commonly known as the reward pathway. When a person takes a drug, it triggers a surge of dopamine in this pathway. Many researchers have tried to create drugs that work directly inside the reward pathway by blocking the release of dopamine or preventing it from binding with neurons, but Glick's drug takes a different tact.
According to Glick, 18-MC works on a specific type of nicotinic receptor, an area strongly associated with tobacco addiction and cravings. The most important part is it also works in an "alternate reward pathway" that indirectly impacts the way neurons in the brain release and absorb dopamine.
Glick published his findings from the study in 2012, where Glick concluded that 18-MC "blocked cue-induced reinstatement," which means the addicted rats no longer had any interest in getting high, even when they heard the Miles Davis song (the 'trigger' they were trained to use with).
He also speculated that nicotinic receptors of the brain impacted by 18-MC "may be involved in the mechanism of craving, and that 18-MC may help prevent relapse to drug addiction in humans."
Bumps in the Road
Later on in 1995 the National Institute on Drug Abuse (NIDA)voted to halt the research due to concerns of the side-effects produced by Ibogaine. There were some other significant problems down the road. The pharmaceutical companies Glick sought to help finance and market the development of 18-MC presented 2 major problems.
Stigma
The negative image often associated with addicts was one that most of the big name drug companies did not want associated with their business
Money
In 2013 an estimated 1.5 million Americans used cocaine, but only a fraction of those could be expected to receive treatment in any given year, so pharmaceutical companies did not see the possibility for profit that would warrant their involvement.
The Progress
Despite this concern however recent years have shown pharmaceutical companies that major money can be made treating addiction, which may get some wheels truning. The big change was inspired by the resounding success of the anti-opiate medication Suboxone that generated $1.5 billion in sales in 2012, which outsold both Viagra and Adderall.
Also in July, after a lengthy back-and-forth with the FDA, Steve Hurst convinced the agency to lift the "clinical hold" on 18-MC to get an opening for human trials to eventually begin in the United States.
In a Sept. 23 press release, Savant announced the drug was reportedly "well tolerated by healthy volunteers" in the preliminary results of the first "double-blind, placebo-controlled human safety study" of 18-MC. Hurst noted that 18-MC appears to have none of the harmful side effects of ibogaine.
Something to Look Forward to
As far as today is concerned, no major pharmaceutical companies are interested in developing 18-MC because it's still possible that the FDA would refuse to make the drug available in the United States. The agency requires that any anti-addiction drug must result in an addict becoming completely abstinent, no exceptions. So of course pharmaceutical companies are naturally afraid to throw millions of dollars into developing the under-dog with hopes that almost every addict who uses 18-MC will stay clean.
Glick and Hurst are quick to acknowledge that 18-MC isn't likely to be a miracle cure. It would likely have to be combined with drug addiction treatment, and administered over weeks or months to be totally effective. But first 18-MC has to earn the FDA's stamp of approval, which Hurst admits it's still a long ways away. Before 18-MC is deemed safe and effective enough for American addicts, there is still much work to be done.
So far there is no way of knowing if science will ever be able to even come close to completely curing addiction, but with so many new and exciting innovations, there may be some serious salvation on the way as far as effective methods of treatment and combating cravings for those dealing with serious withdrawals. As of now the best possible methods are being experienced and innovated in holistic treatment centers across the country, and that option in combination with  working an active program of recovery is how thousands of addicts and alcoholics world wide have recovered. If you or someone you love is struggling with substance abuse or addiction, recovery is possible! Please call toll-free 1-800-951-6135