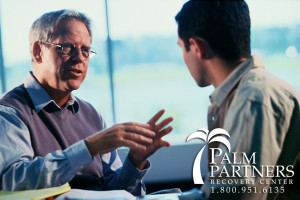 I have a sponsor, who has a sponsor (who has a sponsor), and I sponsor. This is little cliché if you've heard it before, but it is too vital to overlook. Recovery from substance abuse offers so many incredible gifts to the lives of those who seek it and the ones closest to them. In my own experience it restores families, rebuilds personalities, and creates spiritual and emotional relationships that are built on an intensely intimate foundation incomparable to others. Sponsorship in relation to a 12 Step Program is the most common example of one of these relationships. Working with a sponsor creates a new respect for the disease of addiction and its influence on our personal lives, and becoming a sponsor breathes new life and understanding into the blessing of sobriety. This relationship changes both individuals in aspects not always recognizable or deliberate, but the work one does with another afflicted individual is instrumental.
What a Sponsor is NOT
The way I was taught may be very different from any other party's experience, but holding to what I believe there are common misconceptions of the responsibilities of a sponsor. There is no age or time requirement. Some may say you need a sponsor with time, I once heard someone say you need a sponsor with 3 years sobriety while speaking to a room full of newcomers to recovery . Personally I have known men with over 30 years of clean and sober who have asked men with a few months to sponsor them because those newer men were so excited and serious about maintaining sobriety and staying active in recovery. Many new to these 12 Step Programs can put themselves under the impression that a sponsor is at your disposal for any number of random requests. As I understand it, a sponsor is not responsible for any of the following:
Making you put in the effort
Making you accept a religion
Keeping you from getting high or drinking
Giving you relationship advice
Giving you financial advice
Listening to your problems
Being your best friend
Giving you rides to meetings
What a Sponsor IS
As it was shown to me, the only qualification to be a sponsor is that you have done 12 Steps with a sponsor. My experience as given to me through my sponsor is that the list of responsibilities is actually short and simple.
To take you through 12 Steps
This job description may seem vague, and it does not mean that it has no other implications as far as how to handle this task. However the method of which any individual chooses to work with another through each step is at their discretion, and usually passed down from one person helping another. It is essentially important though to keep in mind a few things. A sponsor is not a therapist. Most sponsors do not possess psychiatric degrees or medical doctorates. Those who do may chose if they feel inclined to give opinions on such issues, but the primary purpose they are to serve as a sponsor is not to diagnose and treat your illness, but to suggest and facilitate the progression through a program of rigorous honesty and action to create change and inspire others. This is a transition with lasting rewards for both involved, given that both do what they can to carry out this task to the full extent of their understanding.
My sponsor put my hand in Gods hand, and has never once entertained the idea of taking credit or blame for any fragment of my life that has been transformed through the process of my getting sober, or my spiritual evolution.  Some sponsors take it upon themselves to punish, criticize, or convert whoever they work with, and mold them to fit their own expectations. This may even be done with good intention, but it is a reflection of pride and arrogance, and not what is outlined in a 12 Step Program as a healthy and effective sponsorship.  No sponsor can make the decisions for you, and they cannot keep you sober. If a sponsor has suggestions, it is always their freedom as an individual to express them, and to offer experience, strength and hope. The newcomer is then free to accept, digest, and act on their own, and as long as sobriety and spiritual principles  are nurtured and re-enforced, the work of a sponsor is to see that the individual participate in and complete their steps, to the best of the sponsors ability. They are there to fulfill their work of helping others and helping give the gift of recovery; to carry on practicing and sustaining their own sobriety and spiritual growth.
The Gifts of Sponsorship
Now it is conceivable to cultivate a resilient connection with your sponsor. It happens more often than not that this collaboration through a shared illness of mind, body and soul with similar experience creates an environment conducive to developing true friendships. I have a Sponsorship Family, because to me these men are my brothers in life, in growth and sobriety. The important thing to distinguish is that my sobriety did not depend on these relationships; in fact these relationships were only possible through my sobriety. I have sponsored and made it clear to those who asked for my help, my primary purpose in life is to help another person, to grow spiritually, and to take someone through the 12 Steps like it was done for me. Anything else is a blessing and a gift that is only possible through my new life, and the only expectation I have for them is once they finish the work, to sponsor another sick and suffering person so that they have the chance to receive the tools I was allowed for spiritual growth. Because men with decades of sobriety have told me they never got one person sober, it was a Higher Power, and they were just blessed to be there.
If you or someone you know needs help with substance abuse or addiction, please contact Palm Partners at 1-800-951-6135.