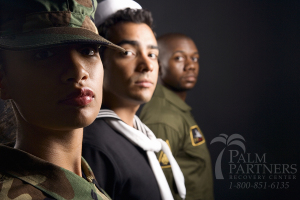 Author: Justin Mckibben
The commonality of substance abuse among service veterans of the United States military is often assumed to be a byproduct of conditions such as PTSD caused during active combat, but what if the reality of veteran alcoholism was actually fueled by the opposite? The onset of alcohol abuse or more consistent alcoholism is one of the most likely mental health consequences of military service to be diagnosed among veterans returning from active duty.
Very similar to other full-time military personnel, risks for the development of alcohol addiction or alcoholism also impacts members of the National Guard who are called up for active duty. In a study scheduled for publication in 2014 in the American Journal of Preventive Medicine, researchers from 4 different universities in America examined elements specific to national guardsmen that make alcohol abuse and addiction more likely to occur. This study concluded that the factor contributing most to the development of alcoholism in these veterans is actually the stress related to the return to civilian life after a period of active service, and not the stresses of service itself.
Alcohol Use Disorder- Alcohol Abuse or Alcoholism
The term 'alcohol use disorder' (AUD) is a diagnosis for what is typically considered mild, moderate or severe cases of alcohol abuse or alcoholism. In 2013 the term 'alcohol use disorder' was created by the American Psychiatric Association to encompass everything from mild drinking problems to severe alcoholism, designed as part of a larger reorganization of the terms used to describe substance abuse issues and other forms of addiction not related to substance abuse.
To be diagnosed with an AUD an individuals must meet certain criteria outlined in the Diagnostic and Statistical Manual of Mental Disorders (DSM). In the current DSM anyone meeting any 2 of the 11 criteria during the same 12-month period receives a diagnosis of AUD. The severity of an AUD ranging from mild, moderate, or severe is typically based on the number of criteria met.
A person with 'alcohol use disorder' has potentially overlapping symptoms previously associated only with alcohol abuse or only with alcoholism. Due to a recent scientific consensus indicating that the symptoms of the two conditions are usually interconnected,  physicians now give equal consideration to both alcohol-related problems.
AUD in the Military
Military service has been labeled as a problematic element with excessive alcohol consumption, particularly for veterans involved in active combat or those who serve in an area where combat exposure remains a possibility. These prominent alcohol problems don't often end when a soldier leaves active duty; in fact the problems can actually grow worse! The federal Health Resources and Services Administration has determined a number of reasons military veterans, whether they be full-time personnel in active duty or National Guard personnel, may run into more serious alcohol-related issues, or problems pertaining to other forms of substance abuse after returning home. Integration back into civilian life creates new stress, and starts to add  reasons for the development of AUD.
Military culture based largely around emphasizing and glorifying drinking, while de-emphasizing the legitimacy of drinking problems makes a massive contribution to the risk factors. The major stresses attributed to the return to civilian life include:
The relatively long tours of duty for today's active personnel
Loss of the structure and military routine associated with active service
Lack of understanding of the mental health resources available after active service
Decision not to access available mental health resources after active service
Wanted to hide the presence of serious substance abuse issues
Problems for National Guard Personnel
Researchers from Columbia University, Case Western Reserve University, the University of Michigan and the University of Toledo used Ohio National Guard troops deployed for active duty in 2008 or 2009 to determine to narrow down the primary risk factors for AUD cases after active duty in their study for the American Journal of Preventive Medicine.
1,095 veterans were chosen for the survey, and every single one of them had served in either Afghanistan or Iraq. All of the veterans agreed to be interviewed on 3 occasions over the course of 3 years to track results. The researchers gathered information from all of the National Guard veterans on topics that included:
Habitual patterns of alcohol consumption
Exposure to significant service-related stress or traumatic situations (e.g., combat or seeing other people get injured or die)
Exposure to significant stress in the aftermath of service (e.g., marital or financial problems, legal difficulties or employment disruptions).
Surprising Results
Researchers found that an estimated 60% of the soldiers participating in the study had some significantly stressful or traumatic experience related to active combat. In addition an estimated 36% experienced significantly stressful events after returning to civilian life.
The peak rate for alcohol use disorder was roughly 13%, and according to research had occurred at the time of the initial interview sessions; the lowest rate being 5% had occurred at the time of the last interview sessions. After analyzing the relative AUD elements of combat-related stress and the stress of a return to civilian life, the researchers ultimately came to the conclusion that the stress experienced after active service was actually the chief contributing factor, and not stress experienced while in active service as typically expected.
The survey also took into account the alcohol use disorder-related impact of experiencing sexual harassment from other service personnel while on active duty. Surprisingly 17% of the study's participants reported exposure to such forms of harassment. Thus it was concluded that exposure to at least one episode of sexual harassment also radically increased the chances that a National Guard veteran would develop AUD, which would either become an alcohol abuse issue or a more severe state of alcoholism.
These risks from civilian stress and sexual harassment were noted as they applied to people newly affected by alcohol abuse issues, not to people with previously existing alcohol problems. So through the course of this study researchers eventually came to understand that out of the population they had surveyed, more of the cases of alcohol abuse or alcoholism had developed out of stress and trauma from returning home after active duty, instead of as a direct result of experiences in active duty. Meaning that while much of the habits and a considerable variety of circumstances are related to a tour of duty, the things that a soldier experiences on the home-front are more instrumental in developing alcoholism.
So many men and women sacrifice so much for their country, and their service allows for the freedoms we as Americans are graced with today. It is a tragedy that so many men and women return home from active duty and suffer from such traumatic and stressful circumstances, and find themselves fighting a new battle with an enemy as cunning and insidious as substance alcoholism or addiction. But for those who have fought for our liberties, it is important to know this fight can be won, and it never has to be fought alone! If you or someone you love is struggling with substance abuse or addiction, please call toll-free 1-800-951-6135. We want to help. You are not alone.