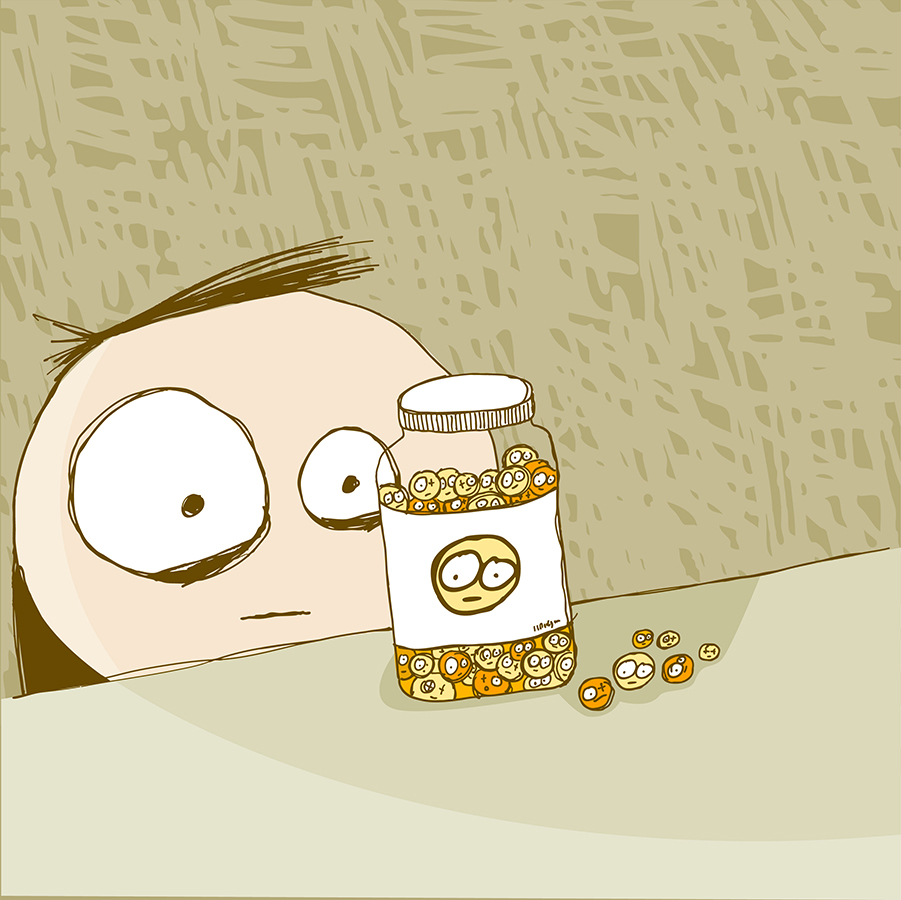 By Cheryl Steinberg
Benzodiazepines, or more commonly "benzos" are part of a class of drugs known as anxiolytics (also antipanic or antianxiety agent), which are medications that inhibit or ease anxiety. You know them as Valium, Xanax, Librium, Ativan, and Klonopin.
Benzos have been around for quite a while but, it wasn't until the 1970s when vast numbers of people began taking them for stress and anxiety, leading to concerns about the adverse effects of this group of drugs.
Benzos continue to be popular. For example, between 2002 and 2007, the number of U.S. prescriptions for them grew from 69 million to 83 million. Their popularity waned in the 1980s and '90s, when SSRI antidepressants like Prozac, Zoloft, Paxil and others outsold them. But benzo use and popularity is back on the rise, mainly due to Big Pharma practices and tactics such as the highly successful marketing strategy used to boost Xanax sales, which was done by marketing it for more than just Panic Disorder.
This is Your Brain on Drugs: Benzos
As with most other drugs, benzos can lead to dependence, both physical and psychological, as well as to addiction for some. There are significant risks to physical and mental health associated with the long-term use of benzodiazepines.
Cognitive Problems
The cognitive effects of long-term benzodiazepine use include impaired concentration and memory, and disinhibition, which is the inability to restrain yourself and shows up as a disregard for social conventions, impulsivity, and poor risk assessment. Users may also experience a generalized impairment of cognition, meaning difficulty with paying attention, struggles with verbal learning and memory. Benzos are the most common cause of drug induced dementia, which affects over 10% of patients who are often misdiagnosed as having Alzheimer's disease.
Mood
A benzo user's mood is also deeply affected by long-term use, even undergoing noticeable personality changes and showing signs of aggression. Users experience what's called emotional clouding, which can best be described as being overly sensitive and not being able to think rationally because their emotions cloud their judgment. Also, continued use of benzos can cause depression as well as the other mental health conditions, and benzo use can actually make those conditions worse. This includes anxiety, which is what this class of drugs is supposed to treat.
Sleep Problems
When someone uses benzos for an extended period of time, they develop benzodiazepine dependence. This condition is associated with possible adverse effects on sleep, including the causing and/or worsening of sleep disordered breathing.
Physical
People who become benzo dependent also experience physical symptoms such as nausea, headaches, dizziness, irritability, lethargy, and sexual dysfunction.
Immune System
Studies have shown that chronic use of benzodiazepines appears to cause significant immunological disorders, as seen in a sample of outpatient clients. Diazepam and clonazepam have been found to have long-lasting, but not permanent, immunotoxic effects in the fetus of pregnant rats.
Suicide and Self-Harm
Teenagers who already displayed signs of depression who were taking benzodiazepines were found to have a drastically increased risk of self-harm or suicide.
Sadly, suicide is common among chronic benzodiazepine users. Misuse or abuse of benzos, like with other medications that suppress the Central Nervous System (CNS depressants) increase the risk of suicide with 11% of males and 23% of females who abuse a sedative hypnotic, like Xanax or Valium, committing suicide.
Addiction
Benzodiazepine dependence often leads to an increasingly worsening quality of life for the user, which includes social deterioration leading to co-occurring issues such as alcoholism and other drug abuse. Benzo addiction goes beyond physical dependence; when someone who has been taking benzos over a long period of time starts to experience issues such as the deterioration of relationships, employment problems, and financial issues, then it is pretty safe to say that they have crossed over into addiction.
Withdrawal
The American Psychiatric Association Task Force devised a table that lists the withdrawal symptoms associated with benzos and categorizes them as such: "Very Frequent, Common but Less Frequent, and Uncommon."
Very Frequent withdrawal symptoms included anxiety, agitation, and irritability.
Common but Less Frequent withdrawal symptoms include depression.
Uncommon withdrawal reactions included psychosis, confusion, paranoid delusions, and hallucinations. The APA task force also found that these withdrawal symptoms "may persist up to several weeks (occasionally for months)."
But withdrawal from benzos doesn't end there. Benzodiazepine withdrawal syndrome is very similar to alcohol withdrawal syndrome in that it requires medical treatment because it isn't safe to quit cold turkey. In some cases, benzo withdrawal (like alcohol withdrawal) results in death.
The good news is that anywhere from 3 to 6 months of abstaining from taking benzos (with proper detox and tapering), there are noticeable improvements in the mental and physical wellbeing of the user. Although long-term use of benzos can actually create or exacerbate physical and mental health conditions, these issues usually improve after 6 or more months of abstinence. So, if you or someone you love is dependent on or addicted to benzos, recovery is possible. Please call toll-free 1-800-951-6135.