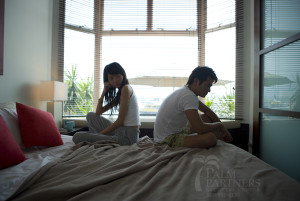 Author: Justin Mckibben
Today I'm going to give you 'The Talk'. Yes that talk. And it will probably get a little weird, but I promise it's for a good cause and it will all be over soon. Let's talk about sex, and the way your sex life is affected by addiction. I can already hear the 'oohs' and 'aahs' now. But in all actuality, how many addicts can say that their sex life was never affected by their addiction to drugs and/or alcohol? Drug and alcohol addiction harms our livelihood and relationships in every aspect, and our sexual relationships are no different. Be it physical, mental, or emotional our sex lives suffer. So let's get down to the 'nitty gritty' and talk about 7 ways addiction affects your sex life.
Physical- Libido
One problem caused by addiction, or so I'm told, involving sex is the physical impact it has on the sex-drive. Especially for men erectile dysfunction is very common for males who have a history of substance abuse. Perhaps the most common drug used that has this affect is alcohol. At low concentrations of blood alcohol, social inhibitions are reduced, though in higher concentrations it can also inhibit performance. Men who take drugs are more likely to have performance issues in the bedroom – even years after they stop taking them. Whether man or woman, new research has overturned previous thinking that the body recovers in a matter of weeks, issuing a fresh warning to those who take illegal substances or even drink heavily, as alcohol is the worst offender of all. So even after getting clean, you still have a while before you can be of maximum performance.
Self-Esteem
One thing more addicts and alcoholics may not be as open about is the affect that addiction has on their self-esteem when it comes to sex. Drugs and alcohol tend to magnify our individual insecurities, and especially when combined with any number of the other side-effect on this list. Self-esteem is not typically a strong suit for addicts, and in a way recovering addicts perpetuate the self-esteem problem by either avoiding the conversation, or becoming sexually active in unhealthy ways, which later threaten their relationships or self-esteem in a vicious cycle.
Sexually Transmitted Disease's
Perhaps one of the more obvious problems related to substance abuse and sex is the spread of sexual transmitted diseases (STD's). Addiction can sometimes result in hazardous exposure to blood and bodily fluids, and diseases can be transferred in this way, especially through IV users who inject drugs and share needles, including HIV. This can drastically effect your sex life when it damages your health and you are forced carry it into future relationships. Other times addiction leads individuals to behave in ways that put them at risk. Promiscuity or even prostitution are not uncommon among addicts and alcoholics in active addiction who have little or no control over what they do, or the dependence that they have on their drinking or drug use. It is one of the most terrible tragedies of addiction what addicts are sometimes subjected to in our addiction, and women are not the only victims in this case, but they are often the majority.
Unplanned Pregnancy
Addiction and the possibility of promiscuity or prostitution also open the door for unplanned pregnancies. Many addicts and alcoholics find themselves in a position where they had at no point consciously planned on having a child, or even staying with the person they were sexually active with, but they are so heavily influenced and controlled by their using that they do not take the proper measures to protect themselves, and this can result in unplanned pregnancy. Unplanned pregnancy has a profound effect on not just your sex life, but your entire life in general. For some this only puts more pressure on the battle to stay clean, and sadly the child is not given a choice, and their life is effected no matter what.
Relationship problems
For some, addiction can simply cause problems in their sex life based off of the issues that develop in the relationship itself. If they have a significant other and that person has given up on trying to trust them or help them, it drives a massive gap between the two people involved, and that tends to kill the mood fairly quickly. When fights out of fear, anger or frustration are a re-occurring situation in the home, it can remove all possibility for any form of a healthy physical relationship.
Isolation
Isolation and anti-social behavior may in a way go along with self-esteem, or it may just be that you sit home alone and do drugs or drink and have no desire to go outside yourself and build a relationship with any type of potential lover. It is basically impossible for an addict, or anyone for that matter, to find an intimate partner from the habitat of their own basement or living room. It is important to step outside your house, outside a bar, or outside the drug dealers home and seek for healthy relationships. Sex does not always just show up knocking at your door, and when it does it is typically not the kind you are looking for, that is to say you have any kind of desire for a real relationship and not just a booty call, which leads to the next one…
Emotional Availability
Now many addicts have a history in some way or another of relationship drama, and quite a few have actually experienced real loss of loved ones in their addiction. By allowing your addiction to both mentally and emotionally make you unavailable by numbing yourself to your feelings too long, it will have a more personal effect on your sex life. This does not mean that you will not have any sex either; it just means that the sex you do have will be meaningless and mundane in many respects. Sure, to some it seems like a perfect deal to be able to get the physical stimulation and personal pleasure out of the actual act, but then you have to consider deep down is that all you're ever going to want? And does this run you the risk of becoming addicted to sex as an alternative to your drug addiction?
If you're anything like me, emotional availability has been a tough part of addiction because I spent as much time as possible numbing myself to my feelings, that when I actually wanted to experience more fulfilling relationships I could only understand or contribute to a physical one. This became a problem that I was able to get a better understanding and work on in recovery, because I realized that not being emotionally available was against my newfound spiritual principles, and that in an effort to change and grow I must allow myself to love and be loved, regardless of fear or reservations, because in the end I cannot afford to be unattached and unavailable for my own life, sexual or otherwise. In the end, sex is about more to me than empty and efficient intercourse, it is another form of sharing yourself with someone you feel safe and protected with, and with someone who inspires you to grow, in more ways than one. Addiction has a habit of devastating every element of our lives it touches, and our romantic and intimate relationships are no exception. Sex, love, and emotional growth are all inhibited by the toll that drug and alcohol addiction takes on the mental, physical and emotional well-being of the individual trapped in the grips of this vicious disease. If you or someone you love is struggling with substance abuse or addiction, please call toll-free 1-800-951-6135