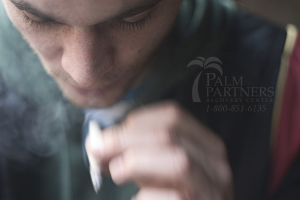 By Cheryl Steinberg
If you are habitually using marijuana – that is on a daily basis – and feel like you can't face the day without it, you might be asking yourself: "Should I go to rehab for marijuana?"
And that's a very valid question. More and more people are seeking help in the form of drug treatment such as inpatient rehab for their constant marijuana use. Even though weed isn't considered to be a "hard" drug, like cocaine and heroin, it's still proving to be a problem for many.
Drug Dependence and Drug Addiction Defined
Being drug dependent, no matter what the drug is – it can be sleeping pills, painkillers, cocaine, or even OTCs – means that you experience uncomfortable, unwanted physical and psychological symptoms when you stop using the drug. The physical symptoms – depending on the drug of abuse – might include physical discomfort, even pain, achiness, nausea, headache, and restlessness. Psychological symptoms of drug cessation include irritability, anxiety, and depression. If you experience anything like this when you try to stop smoking weed, then you might want to consider rehab for marijuana.
Similarly, drug addiction involves two parts: a mental obsession and a physical compulsion to use. People with a drug addiction experience this with a variety of substances, again even OTCs and even marijuana. If you find that your thoughts are mostly consumed about the getting and using of pot and then feel compelled to get and use it, then you might be experiencing marijuana addiction. Rehab for marijuana is available to treat this condition.
Rehab for Marijuana: What to Expect
Inpatient rehab for marijuana dependence or marijuana addiction involves a couple phases of treatment.
Rehab for Marijuana: Detox
Depending on your condition – how long you've been smoking weed and your particular symptoms – you may be medically detoxed. That is, especially if you are experiencing a lot of anxiety and depression, you could be administered medications that will ease these symptoms. You will be under the care of both a medical doctor as well as a psychiatrist. If you have a dual diagnosis, such as preexisting anxiety and/or depression, as many people who self-medicate with marijuana, then you will be treated for that, as well.
Rehab for Marijuana: Inpatient
The rest of the time you spend in rehab for marijuana – about 28 days in all – will be time well spent learning from peers and your therapist about your condition as well as healthy coping methods so that you can continue on with your life, outside of treatment, without the crippling need to use pot.
There will be group meetings, simply called 'groups,' that will either be led by a facilitator and have an educational approach, while other groups will be a time to talk things out with your peers and get feedback, facilitated by a licensed therapist. You will also have one-on-one sessions with your therapist in order to address your specific concerns and needs as well as what you plan to get out of treatment. You and your therapist will also develop a treatment plan for after rehab, called an aftercare plan.
Rehab for Marijuana: Aftercare
Aftercare refers to any ongoing treatment that you take advantage of after you complete your inpatient program. This might include attending an intensive outpatient program (IOP) that offers some structure but with a lot more freedom – sort of as a stepping stone to returning to your daily life after treatment. At the IOP, you will attend groups, like in rehab, as well as have an individually-assigned therapist. This program is a great way to continue to get support while attending to your other responsibilities, such as family and work.
If you are struggling with your marijuana use and/or facing any legal charges related to your marijuana use, going to rehab for marijuana is a helpful and effective opportunity for recovery and for getting your life back on track. Call toll-free 1-800-951-6135 to speak with an Addiction Specialist who can answer your questions day or night.