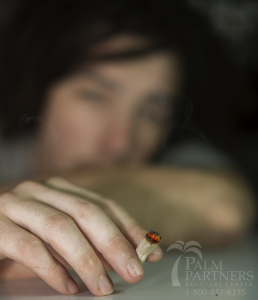 Laugh if you must but, more and more people are seeking rehab for marijuana addiction. Among its users, marijuana is generally considered harmless – and now more than ever, what with the legalization of medical marijuana and even recreational use of marijuana. But, for some, smoking weed is just as detrimental as abusing any other drug.
Rehab for Marijuana Addiction: What is Drug Addiction?
When they hear the term 'drug addiction,' many people think about the hard drugs, such as cocaine and heroin. But, an addiction to drugs can encompass any substance that you use in order to alter your state. Many people are drawn to the use of drugs to escape their situation in life or to self-medicate – whether it be physical or emotional pain.
Drug addiction simply means experiencing obsessive thoughts about a drug or drugs and a compulsion to use that drug or drugs. When you understand addiction in this way, you can begin to understand how someone could, in fact, be addicted to marijuana.
Rehab for Marijuana Addiction: Signs of a Problem
A good friend of mine, who dedicates his personal time to the recovery community, shared with me a story recently about a guy he helped out by getting him to a men's halfway house, or sober house. It seems the kid was 'only using pot' but had become homeless because of it and was scavenging for food in fast food restaurant Dumpsters. Now, this kid didn't think he was an addict because his drug on choice – and only drug he used – was marijuana. But it's not the drug that matters. It's the unmanageability of your life as a result of using that drug.
This kid was living on the streets as a result of his drug use. It just so happened that his DOC was pot. Signs that you have a problem with cannabis and may need rehab for marijuana addiction are that you spend a lot of time and money on getting and using marijuana.
You might have some legal issues as a result, such as possession, paraphernalia, and/or distribution. Another indication that you might need rehab for marijuana addiction is that you can't imagine life without the drug; you find yourself having obsessive thoughts about using, followed by a compulsion to act on those thoughts.
Lastly, you might have gotten to a point where you want to stop using marijuana but, every time you tell yourself "today's the last day," you find yourself giving in and getting and using more. If you want to stop but just can't seem to on your own, it's time to consider rehab for marijuana addiction.
Rehab for Marijuana Addiction: Help is Available
There are specific treatment programs available for drug addiction, such as addiction to pot. Rehab for marijuana addiction offers you a safe haven to temporarily remove yourself from the environment in which you are in the cycle of drug abuse while at the same time giving you the tools to recovery and create a new, healthy lifestyle without the need or even desire to use marijuana or other drugs.
Sobriety is possible. Not only that, it's a much easier, healthier, and happier way to live. I used to smoke pot on a regular basis because I couldn't deal with life without the use of drugs. But it was only making me more depressed and anxious. Recovery has offered me a way to live without weed. If you're struggling like I was, call toll-free 1-800-951-6135 to speak with an Addiction Specialist.