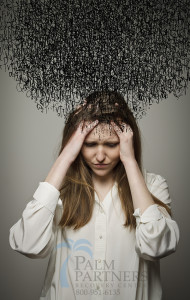 By now, it's probably safe to say that it's common knowledge that drugs have a profound effect on the brain, even to the point of mimicking mental illness. However, it might come as a surprise to learn that this profound effect can last anywhere from 6 months to 2 years from the last use. In other words, a diagnosis of a mental illness or psychological disorder that is made in this window of time is not necessarily accurate; it might just be the residual effects of the substance or substances that were being abused. If you are concerned about a loved one's erratic behavior, you might be wondering, Is it addiction or mental illness? How to tell the difference is outlined below.
Dual Diagnosis
First of all, it's also important to know that often times, mental illness and addiction go hand-in-hand. A term used for this is dual diagnosis, which means that there are co-occurring disorders present: mental illness, such as depression, anxiety, bipolar disorder, or borderline personality disorder to name just a few, and a substance abuse disorder such as alcoholism or drug addiction.
Physicians report an increase in cases involving patients from all walks of life who are struggling with a combination of substance abuse and mental health problems. Experts estimate that at least 60% of people that are battling one of these conditions are actually battling both, substance abuse and mental illness.
Alan Manevitz, MD, a psychiatrist with New York-Presbyterian Hospital in New York says, "Mental health problems and substance abuse are often seen together because one makes you more vulnerable to the other."
Often times, it's a case of chicken-or-the-egg but, what complicates the issue is that whether or not the psychological disorder preceded the substance abuse; drugs being introduced into the system have a majorly profound effect on the brain, so much so that a mental diagnosis made within two years from the last use is not always considered an accurate one. Doctors experience difficulty with diagnosing patients; therefore, it's nearly impossible for you to know whether your loved one is suffering from one condition or both.
Self-Medication
Substance abuse and drug addiction often go hand-in-hand and only serve to exacerbate an already existing psychological disorder. But people suffering with mental illness often turn to drugs as a form of self-medicating, in order to alleviate or numb their psychic pain and distress. Furthermore, it is known that the connection between mind and body is so strong that a psychological disorder can actually manifest in physical symptoms, such as is the case with depression and its commonly-associated aches and pains. This is noteworthy because it gives the person who struggles yet another reason or excuse to abuse drugs, such as painkillers, in order to treat the physical symptoms of their mental illness.
Shared Risk Factors
Yet further understanding of both addiction and mental illness show that there are risk factors in common, leading to the development of both disorders.
Genetics. There are genetic factors that predispose, or make susceptible, a person to both addiction and other mental disorders and even to having a greater risk of a second disorder once the first one appears.
Environmental triggers. Stress, unresolved trauma, such as physical or sexual abuse, and early exposure to drugs are common environmental factors that can lead to addiction and mental illness.
Brain changes. The systems of the brain that respond to reward and stress are affected by drugs of abuse and also may show abnormalities in patients with certain mental disorders.
Development. Drug use disorders and other mental illnesses are developmental disorders, meaning they often begin in the adolescence or even younger—periods of time during which the brain experiences dramatic developmental changes. Therefore, early exposure to substances may change the brain in ways that increase the risk for psychological disorders. Early symptoms of a mental disorder may point to an increased risk for drug use later.
Is It Addiction or Mental Illness? How to Tell the Difference
The best way to find out whether your loved one is struggling with addiction or mental illness is to encourage them to see a doctor because a comprehensive approach is necessary in determining whether both conditions are present. Those who seek help for either drug abuse and/or addiction or another mental disorder should be evaluated for both and then treated accordingly.
The bottom line is this:
Substance abuse can cause a mental illness
Mental illness can lead to substance abuse and addiction
Substance abuse and mental disorders are both caused by other common risk factors
If you or someone you love is displaying erratic behavior or thought patterns and you suspect that there is a substance abuse issue and/or mental illness present, help is available in the form of dual diagnosis treatment. Programs such as the one at Palm Partners are highly specialized and specifically designed to treat both addiction and mental illness simultaneously as this is the best way to help the individual who suffers. Please call toll-free 1-800-951-6135 to speak with an Addiction Specialist who can answer your questions. We are available 24/7.