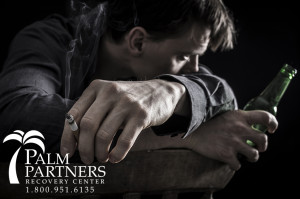 Depression and untreated alcoholism or other substance abuse often go hand-in-hand, so much so that many compare the situation to the "chicken or the egg" conundrum.
People with mental health disorders often turn to substances in order to manage their symptoms and to feel better. For example, people with anxiety or panic disorder will use drugs that help them to feel calm; people with social anxiety will take drugs that make them feel relaxed and less inhibited; and people who are in psychological pain, such as those who suffer from depression, will turn to substances that numb their pain.
Co-occurring disorders, referred to as dual diagnosis, are often difficult to diagnose. Here are 6 reasons diagnosing mental illness in substance abusers is so difficult.
So, is it depression or untreated alcoholism? 6 reasons diagnosing mental illness in substance abusers is so difficult.
#1. Substance abuse and mental illness can mimic one another
Symptoms of substance abuse or addiction can mask symptoms of mental illness, and symptoms of mental illness can be confused with symptoms of addiction. As mentioned above in the intro, many people with a mood disorder, such as depression, or other mental illness often engage in the use of mood-altering substances as a way to self-medicate. This can have a synergetic effect making it difficult for a treating physician to know where the symptoms of the psychological disorder stop and where the symptoms of the substance abuse start. And, really, often times they are over-lapping.
#2. Substances affect the impact of medications
Alcohol also interferes with medications prescribed for mental health disorders. In short, drug and alcohol use makes mental health disorders worse. Medications can be a diagnostic tool for figuring out if and what mental illness might be present so, if there is co-occurring substance abuse, which can affect the efficacy as well as induce certain, pronounced side effects, then this tool is of no use.
#3. Doctors have to rely on their patients to tell them what's happening
Other reasons diagnosing mental illness in substance abusers is so difficult is because, when it comes to some disorders, like depression, the best way for a doctor to diagnose the problem is by going on what the patient, themselves, reports to their doctor. Therefore, if the patient doesn't speak up about their feelings, the doctor doesn't know that there's an ongoing disorder. Furthermore, people with psychological disorders sometimes don't realize that it's important to address their substance abuse and/or their mental illness because they are simply unaware or in denial that both are present.
#4. The patient has poor coping skills
When people are abusing alcohol and other substances, they are unable to cope with life using healthy coping methods. The same can be true for those with mental illness. Therefore,
#5. It's difficult to sort out if it's a case of dual diagnosis
Untreated clinical depression, also called chronic depression or dysthymia, is a serious problem that often increases the chance of risk-taking behaviors such as abusing substances.
#6. Alcoholism and mental health disorders lead to issues with interpersonal relationships
Both substance abuse such as alcoholism and depression can both present in very similar ways: negatively impacting relationships, causing problems at work, moodiness, and even secretive behaviors such as lying.
If you or someone you love is struggling with substance abuse or addiction, please call toll-free 1-800-951-6135.