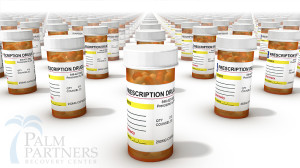 Other than a few extra, albeit foul, ingredients used to "cut" the final product, methamphetamine (illegal) and pharmaceutical – that is 'legal' – amphetamine are pretty closely related, chemically speaking. In fact, the only difference between the two boils down to one molecule that lets meth cross the blood-brain barrier a little faster, giving it that extra 'kick.' After that, meth breaks down fast into dextroamphetamine, the dominant salt in Adderall, which just so happens to be America's leading ADHD drug and favorite study aid.
There are a whole slew of reasons behind the whole "good" amphetamine versus "bad" methamphetamine but, actual chemistry isn't one of them. There is very little difference between Adderall and street speed that really comes down to politics and the almighty dollar. As you might have guessed, Big Pharma is mostly to blame.
In the earlier part of the twentieth century, Americans consumed a wide variety of patented amphetamines, from the bestselling Benzedrine, Dexedrine and Dexamyl, not to mention a number of generic versions of the drug. What's noteworthy is that more than a few of these brands also contained methamphetamine.
The 1960s and the Original Speed Epidemic
Post-war era in America saw a boom in amphetamine use as it was widely marketed to housewives as a way to keep trim while keeping up with all of the grueling housework. Let's face it, being a housewife is a lot of work, even though still today, it is highly under-valued.
However, also during this time, it became painfully clear that this trend of amphetamine use was causing all kinds of problems. In fact, researchers during the '60s concluded that habitual amphetamine use produced a more accurate "model psychosis" than LSD.
It was also during this period, what with the U.S. 'speed' market peaking at around four billion pills annually, that the then young field of neuroscience began to understand why pharmaceutical speed was so popular yet so dangerous. In the words of one scholar, "given access to enough amphetamine, any rat, monkey, or man would eventually self-destruct."
The World Health Organization got involved at this point, given that America's speed crisis was now at its height, and concluded that the dangers of amphetamine use far outweighed their benefits when it came to general medical practices. Indeed, every industrial nation agreed with the WHO's assessment, including the United States, therefore changing the laws accordingly. This led to a virtual backlash when it came to speed that was prevalent in critical press, public outrage, and even Congressional hearings that led to the creation of limits on the production, marketing, and sale of amphetamines.
The 1970s and American Speed
By 1970, nearly 10% of American women were using or were dependent on some form of amphetamine, most of whom were prescribed the drug for its weight loss properties.
With all the criticism coming to the forefront, even appearing in the form of exposés in women's magazines, high-profile hearings ensued. These led to the Controlled Substances Act and the classification of amphetamines as a Schedule II drug, defining it with having a high risk of addiction and potential for abuse. For the first time, federal limits were placed on annual speed production.
As you can imagine, there was quite a lot of industry (Big Pharma) resistance, which, with help from their friends in Congress, have led to the steady loosening in recent years of such restrictions. In fact, industry regulations are now more closely reminiscent of those predating the 1970s.
Current Legal Amphetamine Trends
In his book, on Running Ritalin, Dr. Lawrence Diller states that the use of legal speed has surpassed opiate addiction as the leading reason behind admissions to addiction treatment centers in California.
Currently, one-in-five teenage boys in the U.S. have received an ADHD diagnosis – a clear indication that the prescription amphetamine market is in full swing again – as this number is has nearly doubled since 2008. And the number of prescription speed users arriving at ER rooms and rehab facilities is growing at an alarming rate.
Legal speed in America is now a $10 billion market that accounts for more than four-fifths of the world's pharmaceutical amphetamine. And, by the end of 2015, America's speed consumption is projected to rise by another quarter.
What Does It All Mean?
The current speed explosion is eerily familiar. As they say, "history repeats itself" and, along with industry projections, it seems as though America's new trendy pill will soon recreate the same situation we've seen in the past – one that will end just as badly.
Now that legal speed has made its comeback as a treatment for Attention Deficit Disorder, it's the same epidemic, just with a new twist backed by so-called medical diagnoses. The Journal of Neuroscience published a study in which researchers wrote that amphetamine and methamphetamine, such as crystal meth, are "about equipotent" and "produce qualitatively similar behavioral responses." Both excite the central nervous system in nearly identical ways. That is, the brain responds the same way whether it's produced by Big Pharma or your friendly neighborhood 'cook.'
Substance abuse isn't limited to illicit drugs like crystal meth; even prescription speed such as Adderall, Ritalin, Vyvanse, or Dexedrine can pose a problem. If you or someone you love is being prescribed amphetamines and you feel that it has become a problem, help is available in the form of addiction specialists who are available to speak with you regarding amphetamine and methamphetamine use. If you're unsure about what constitutes a problem, give Palm Partners a call at 1-800-951-6135.