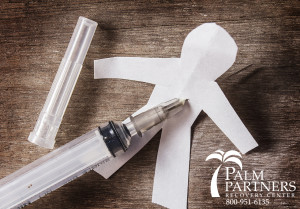 If you're struggling with heroin addiction, the first thing to realize that there is more to it than physical dependence. Sure, that's a BIG part of it, right now but, if you want to beat your heroin addiction and have lasting sobriety, it's important to understand a few things first. Then we'll discuss how to beat heroin addiction.
How to Beat Heroin Addiction: Heroin Addiction vs. Heroin Dependence
Heroin and other opiates are an inherently physically addictive substance which means that after being on heroin or painkillers for even a short time, your body and brain become dependent on the opiate. This becomes quite apparent when you try to stop your heroin use: you begin to experience really uncomfortable symptoms. This is called withdrawal syndrome and among people who are struggling with heroin addiction and dependence, it's known as being 'dope sick.'
Heroin addiction takes things a step further. You might get physically sick when you run out of your stash but, it's paired with an extreme obsession and compulsion to use, despite negative consequences, such as loss of job, legal issues (i.e. arrest), loss of relationships, and even literally losing friends to the disease of heroin addiction. Let's delve further into the idea of 'addiction-as-a-disease.'
How to Beat Heroin Addiction: Disease Model
There is scientific evidence that supports the theory that addiction is a genetic disorder that affects the brain of individuals who later develop addiction issues. Heroin addiction, and addiction, in general, is defined as a chronic, relapsing, progressive disease. As such, it is recognized by the medical community as a disease that is chronic, and for which there is no cure but there is treatment.
How to Beat Heroin Addiction: Specialized Treatment
The good news is that there is treatment available to help you learn how to beat heroin addiction. It is specially designed to deal with both the physical and psychological aspects of your heroin addiction. Treatment that involves a medical detox, inpatient rehab, and intensive outpatient (IOP) is probably the best route to take when addressing your substance abuse and addiction issues. That's because this process treats first, your withdrawal (during detox) and then educates you on the nature of heroin addiction.
How to Beat Heroin Addiction: Why Rehab?
Many people struggling with heroin addiction make the mistake of rushing their recovery by solely doing a detox program. If you really want to know how to beat heroin addiction, you will have to be willing to dedicate more time to your recovery than the mere 5 to 7 days that you are in a detox unit. Detox only treats your withdrawal symptoms. Heroin addiction involves much, much more than that.
During inpatient rehab and IOP, you will learn the necessary tools to support you in ongoing recovery and successful sobriety. You will gain self-awareness – learning your patterns, triggers, and facing any unresolved trauma, which is often at the root of substance abuse disorders – which is the first line of defense against relapse. Although addiction is defined as a 'relapsing disorder,' it's important to know that relapse is not always a part of recovery; that it's possible to recover without experiencing relapse but, you have dedicate the energy and time to the treatment process as well as to doing the work during the period of aftercare and onward.
If you or someone is struggling with substance abuse, addiction, or you would like more information on how to beat heroin addiction, please call toll-free 1-800-951-6135.