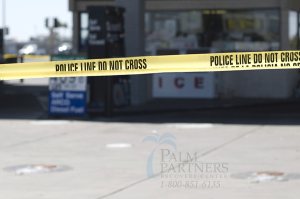 Author: Justin Mckibben
The strange chemical concoctions that have been created and marketed as 'safe' marijuana alternatives have become more popular and apparently, more dangerous due to the stories piling up about overdoses and other health problems involved with these toxic blends of mystery herbs and chemicals. So is the spice of life playing out be in be part of a larger problem with a potential synthetic epidemic?
What Is 'Spice"
These synthetic drugs go by several names to redirect attention and disguise new formulas of this hazardous illicit drug. Names including:
Geeked Up
Smacked
Biohazard
Scooby Doo
These and other aliases for synthetic marijuana or 'Spice' all cost only around five dollars apiece. That's just 5 bucks for a bag that has enough of whatever mystery mix in it to get more than a few people intoxicated, or would you say poisoned. Of course the different packages are decorated in a way to appeal to young people.
One of the biggest problems that has been presented by this whole situation is that even though synthetic cannabinoids are technically illegal in most states, the constant manipulation of the molecule that mimics the effects of THC keeps it so that by the time the authorities have time to weed out the new threat, they can simply re-label and re-market it. And even worse is that is has been made available in head shops and in gas stations.
The Power is in The Poison
Poison control centers throughout America are no stranger to 'Spice' or any of the current variations of the stuff, because in the last two years there have been about 8,000 "exposures" with help requested after someone smoked K2, or Spice, or Mr. Nice Guy.
JWH-018, JWH-073, and HU-210 are just a handful of the countless chemicals found in the colorful sachets, and many of these are believed to cause seizures, psychotic episodes, tremors, and hallucinations. 
Thankfully there have been some strides made to change the tide in the fight to stop the mass production and young consumption of these drugs. The DEA has managed to classify some of these chemical components and drugs as Schedule 1 narcotics. This new rating means they have no medical purpose and are only ever used for drug abuse.
Again the war has not yet been won, because of outlaw chemists often based in areas like China, twist the molecules in an effort to stay ahead of legislators, just to keep the stuff on gas station shelves. The molecule used as an active ingredient changes along with the law, the leaves in the bags are merely a carrier for it, which makes it easier to create and conceal from the law.
What is the easiest way to track the spread of K2? Emergency room visits. 11,400 people were admitted because of K2 nationwide in 2012.
Facing Statistics
Spice is often marketed as potpourri and because it does not come up as cannabis on a drug test is has become increasingly popular. There are special tests for its metabolites in urine, but they are expensive and used infrequently.
Places from prisons to your local high schools are swamped with the drug. Especially in the last ten years the substance was monetized, starting the war between legislators and chemists, but the concept of synthetizing marijuana has been around for years.
Having said all this about the numbers game, one very interesting conclusion became apparent in regards to that same tracking of where and how K2 damage has spread through hospitals. Looking at the problem state by state, it becomes immediately obvious where it no longer exists, and the irony of this should not be lost of anyone. Two states basically have no more problems with K2. Care to guess who? That would be Washington and Colorado, where marijuana has been legalized for recreational use.
Some people would take that as a sign that legalizing marijuana is the lesser of two evils in a situation such as this when facing the devastation that could come from a potential synthetic epidemic. Either way the damage is being done consistently by these K2drug manufacturers who have cornered the market with a very cunning and crooked business tactic.
In every aspect of this drug the makers are manipulating the consumer. From hiding the real danger behind it, to calling it a safer and legal alternative to another popular drug, to appealing to younger crowds, and even reaching older crowds. This may not be an easy fight to get through, but it is a fight that needs to be fought for the safety of the community. The first step may be to fight to get these drugs out of our gas station shelves and away from our schools. If you or someone you love is struggling with substance abuse or addiction, please call toll-free 1-800-951-6135