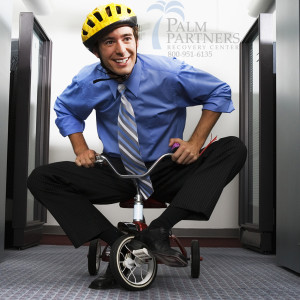 Anyone in recovery from drug or alcohol addiction is most likely familiar with the theory that once you start using, your mind stops aging. Drug and alcohol addiction is a disease that has a drastic impact on all aspects of an individual's life, including physical health, personal relationships, and financial security. So is there truth to the fact that actively abusing alcohol or drugs actually pushes the pause button on your emotional maturity?
Society puts certain expectations on adults, and as you grow into that age group you are expected to conduct yourself as an adult and take on specific responsibilities. Society says you are supposed to be wiser, more aware of others, and more conscious of the world as an adult. However, if you think about some of the choices you probably have made during active addiction, you will notice that a fair portion of your behavior and understand do not fit that description of adulthood. You probably did not weigh the consequences of your actions, and probably did not appreciate the importance of your responsibilities as an active alcoholic or addict.
Physical VS Emotional
There are endless studies available that include detail information on the human growth process. In this we are able to identify the characteristics and measure things like physical age.
Physical Age- as predictable as the time. Science and statistics can estimate things like the average age people begin to lose baby teeth, the age when bones will stop growing, or even when women are too physically old to have children.
Emotional age- emotions are unpredictable and adaptable. Abusing drugs or alcohol puts an individual at risk for restricting their emotional growth because frequently addicts and alcoholics hold on to their immature behaviors and attitudes.
Deep emotional trauma usually takes root in childhood. Many addicts and alcoholics may start to use drugs or alcohol to cope with the pain and help conceal issues with the feelings, so in a case such as this emotional growth is effectively trapped in that spot, because developing proper coping skills and adapting has been confined.
For those of us alcoholics and addicts who pick up drugs or drinking at a very young age, a lot of people would agree that we do not act our physical age. If a 30 year old man first got the habit of abusing alcohol at 15 years old, the people who interact with him may conclude that he acts like a rebellious teen instead of a grown man a lot of the time.
Then there is the nomad factor. Some people in active addiction or alcoholism display other characteristics that relate more toward a lack in personal responsibility.
Bounce from house to house (nomad)
Never really have any money saved up for emergencies
Have a long list of short-lived jobs
If you're anything like me you probably spent years blocking or numbing your emotions, and making a lot of mistakes in relationships, jobs, or just in general due to drugs and alcohol. You may have spent years working hard to block out reality because it was a place you felt you were mentally not able to survive. Translating the whole world from the perspective of a teenager is largely related to that being the time-frame you first picked up a drink or a drug. At this point you begin to develop by a different skill set, one that is tailored to addiction. So the problems have no place to be solved, because those problems along with everything else get pushed aside for chasing a high.
Scientific Studies Show
What society and people in active addiction typically don't know or take into consideration is that the human brain doesn't fully mature biochemically until between the ages of 24 to 26. At age 11 or 12, right before the first stages of puberty, there's only about 50% of the neurochemicals in the brain needed to make the brain work properly, and it does not reach 75% until around age 18. Not saying the brain is defective at this point, but that the part of the brain that handles decision making is not fully formed.
This and other information is primarily provided by the studies of Merril Norton who is a clinical assistant professor of pharmacy at the University of Georgia. The theory behind this research is that if addicts or alcoholics stop using drugs or drinking around the age 24, there is still enough time for the brain to catch up with the bodies development. Norton calls it "the hijacking of the adolescent brain."
So not only is there actually some scientific evidence and theories behind the idea that the addict or alcoholic has a maturity that is trapped in the same place they were when they began using, there is also plenty of information provided by individuals and psychologists which supports the idea that relationship and personal emotional growth is vastly effected by being intoxicated regularly and by the life-style and circumstances of addiction.
So as I celebrate my 25th birthday, it is probably safe to say I'm turning 15 again. So now I don't feel so bad about my Batman birthday cake. But in all seriousness, the disease of alcoholism and addiction is a powerful one, that can keep us stuck in misery, trauma, and confusion with how to deal with life. But there is help, there is treatment and there is a variety of solutions that can put an addict or alcoholic in a position to have a fighting chance.
 So many people who struggle with drug and alcohol addiction do not realize the extent of the damage they are doing to the emotional growth and well-being of themselves, the people around them, and the people who care most about them. In many ways they are unable to identify the feelings and trauma they experience because of the drugs and alcohol, but it is not too late for them to grow into their own emotional strength. If you or someone you love is struggling with substance abuse or addiction, please call toll-free 1-800-951-6135