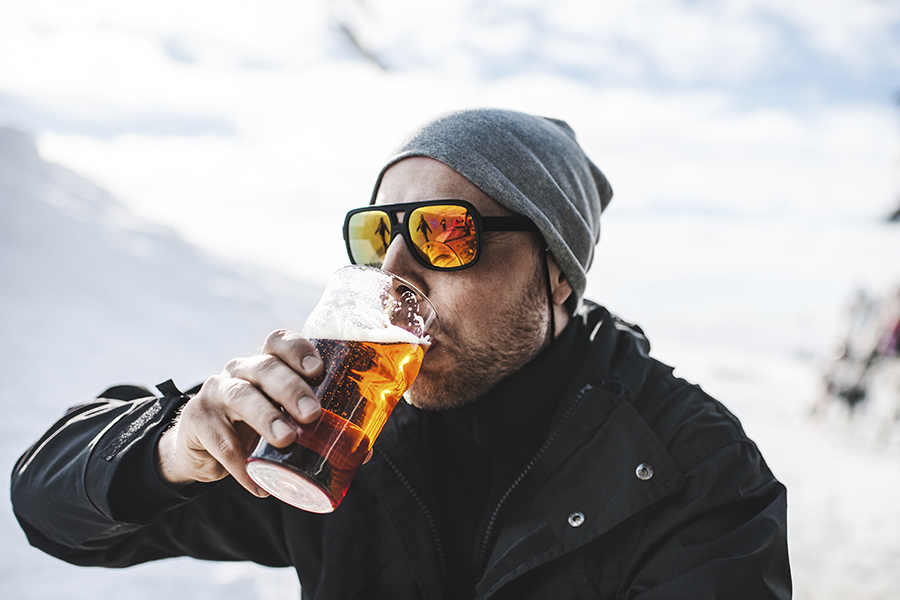 Author: Justin Mckibben
America has a pretty good reputation for over-glorifying drinking alcohol, especially in the media, and sometimes it may seem like you're seeing more and more alcohol use. Most people would guess that heavy drinking happens more often in summer and spring seasons, when there is better weather and more people are going out to bars or events. Some suspect it would be the summer because there are students on break from class, people are taking vacations, and most alcohol is advertised in the heat as a way to 'stay cool'. But is that the reality? At what time do Americans drink alcohol the most? The answer may be more surprising.
BACtrack App Stats
BACtrack, which calls itself "Leader of Breathalyzers," has invented a new smartphone app designed for drinkers to use as a means of tracking their drinking patterns. The app even features an option for drinkers to share their statistics with others in their network, and the company has used this technology recently to process and released a report with results that may seem a little shocking.
Apparently Americans are drinking much more than any other time during the winter. The data composed from the BACtrack breathalyzer results around the country shows that the highest occurrence of days where users had a BAC of 0.06% or higher fall between December and March. During this period more than 5 out of 7 days BAC is above 0.06%, which is when the more harmful effects of alcohol typically begin. Compared to the other months of the year:
75% of the days have a high BAC level in winter
47% of the days have a high BAC level in other months
Holiday Alcohol Habits
One fact that may not surprise anyone at all is that Super Bowl Sunday is the heaviest drinking day in February, and with St. Patrick's Day- the day of green beer and pub crawls- occurring in the same month as Super Bowl Sunday there's really no need to explain why winters are drunker.
Then of course there is Christmas and New Year's, which we are literally a couple days away from the first, and people in America have a going trend of drinking a lot during these holidays. New Years seems like a no-brainer, and who doesn't remember someone at Christmas dinner having way to much eggnog and passing out under the Christmas Tree… or was that just my house?
Valentine's Day people are apparently either toasting to love or drowning their sorrows, and this sappy drunk holiday just happens to occur during one of the drunkest weeks of the year. Apparently colder weather in general is just an excuse for a drink to most people.
Changing Seasons
It is quite possible that one of those major distinctions between why we visually imagine it more during those summer days is because the weather outside is frightful, so people are drinking in their own homes. Just because we can't see them, doesn't mean they aren't wasted under the mistletoe. As with most things- out of sight out of mind.
For all the sceptics who find it difficult to understand this concept, The Washington Post also created a collection of data for drinking trends during specific seasons, based on the presence of alcohol related stories in the news. This data was examined and ultimately established that there are more news articles citing "alcohol being a factor" during the warmer months, with July and August being the top contenders in this season.
This supports the theory that we assume there is more alcohol consumption around this time because people are out and about. In reality it all comes back to the fact Americans drink more in the cold, but they do it inside.
Strangely enough, fall and winter seasons also seem to be a time where people struggling with alcoholism or other substance abuse issues seem to seek treatment. Maybe this spike in alcohol consumption just stands to instill in alcoholics the need for help, or maybe after a binge through the holidays people decide to make resolutions- if they are lucky enough to get through the holidays. Not everyone makes it to the dinner table for the holidays.
No matter what time of year it is, alcoholism is real. Alcoholics and addicts don't wait on weather to to drink or get high, so don't wait on the weather to get better. Make the choice that will mean the most to your future seasons. If you or someone you love is struggling with substance abuse or addiction, please call toll-free 1-800-951-6135. We want to help. You are not alone.