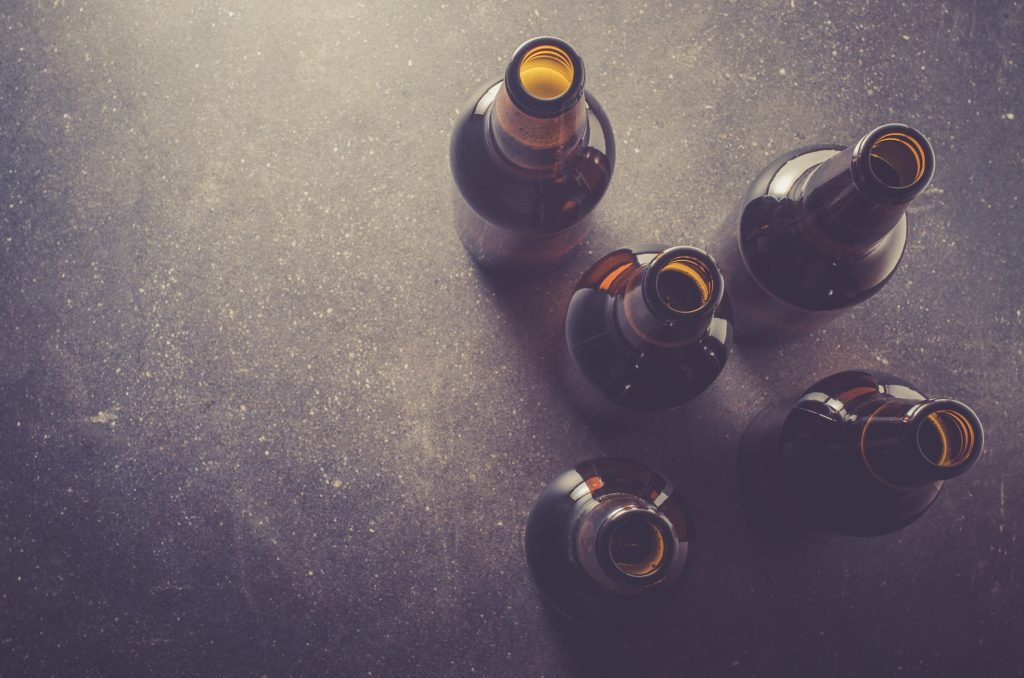 Author: Justin Mckibben
I came across an article the other day that asked a very interesting question- what if the media covered alcohol the way it does other drugs. To be clear, I'm not writing this to shame people who drink alcohol. This is all about perspective.
More recently the conversation about the drug epidemic in America has been focused on opioid abuse and addiction, of course with good reason. The rate at which opioid abuse, opioid overdoses and related deaths have risen immensely in the last few years. The alarming numbers prove that both prescription opioids and illicit opioid drugs are a very real threat. Thousands of people die every day, and experts see no sign that it will not get worse before it gets better.
And yet, similar statistics associated with alcohol are nothing short of staggering if you look at them the way we look at heroin or methamphetamine.
So, let us imagine for a moment a world where we treated alcohol like the drug it truly is. What if we treated drinkers like we do addicts?
Alcohol Drug Addiction
For decades a devastating and potentially fatal drug has wreaked havoc across the country, ending countless lives and altering countless others. This insidious substance can be found in pretty much every neighborhood in America. You can find it on almost every street corner, and the overwhelming majority of adults have consumed this substance at least once.
Alcohol has many aliases, include:
Beer
Liquor
Spirits
Booze
Drank
Giggle Water
Moonshine
The drug comes packaged in a long list of names, with a variety of mixes that can be more or less potent depending on the source. Some use massive labs to concoct their drinks, while others brew out of secret unregulated areas in their homes.
The Alcohol Epidemic
No matter where you go, there will be a prominent presence of alcohol users. According to the 2015 National Survey on Drug Use and Health (NSDUH):
86.4% of people 18 or older report to have drank this dangerous drug at some point in their life
70.1% of people report to have consuming this substance in the last year
56% of people admit to have taken the drug in the last month
Looking closer at the drug, we see that many users go from recreational consumption to excessive use. The NSDUH shows:
7% report to heavy use in the past month
26.9% of people 18 or older admit to binge drinking in the past month
As with most other drugs, this substance also leads to sometimes debilitating addiction, or alcohol use disorder (AUD). NSDUH reports:
Over 15 million Adults age 18 or older suffered from AUD in 2015
9.8 million of them were men
5.3 million were women
623,000 adolescents age 12-17 years old had AUD
All 50 states in America have been hit hard by the alcohol epidemic at some point or another. One reason the outbreak of this drug has been so tragic is because in so many places it has become social acceptable for people to consume alcohol!
In fact, many have minimized the use of alcohol or even celebrated it! In several communities around the country there are all-out events where drug use is actually publicly promoted! Events like "Craft Beer Fest" or the infamous "Oktoberfest" have become hotbeds for excessive abuse of this incredibly hazardous substance. Young adults often talk about getting "wasted", "tipsy" or "turnt" as slang for ingesting such high levels of the drug they are inebriated.
Alcohol Related Deaths
According to data collected by the federal government, alcohol is the second deadliest drug in America. If you combine:
Heroin- connected to almost 13,000 overdose deaths in 2015
Prescription opioids– 22,598 overdose deaths
You still have less than half of the deaths of alcohol. In fact, an estimated 88,000 people die from alcohol-related causes every single year!
Because of binge drinking and other risk behaviors, mild to moderate alcohol overdose has almost become far too common. Beyond that, there are numerous ways this deadly drug has contributed to an inordinate number of deaths over hundreds of years! On a global scale, the alcohol drug is the leading risk factor in premature death and disability.
In 2012, 3.3 million deaths in the whole world were alcohol-related
2013, 45.8% of liver disease deaths for individuals 12 and older were alcohol-related
In 2013, 47.9% of all cirrhosis deaths were alcohol-related
The health effects of the alcohol epidemic are very real.
Alcohol Epidemic Hurts Others
It isn't just the people who use this lethal drug that suffer from the adverse effects of the alcohol epidemic. Even the people are the users are often put in serious danger. For example, driving while under the influence of the alcoholic drug has been a very severe problem for a long time.
In 2014, over 31% of driving fatalities were alcohol-related- 9,967 deaths
Also, public health officials from all over America have stood up to expose other terrible effects of alcohol use. Alcohol use also has a great deal of influence on:
Domestic abuse
Sexual assault
According to the National Council on Alcoholism and Drug Dependence (NCADD) 90% of acquaintance rape and sexual assault on college campuses involves alcohol use by the victim, the assailant or both.
To that point, in 2010 sources indicated that more than 4.6 million emergency room visits were alcohol-related.
40% of violent crime is alcohol-related.
37% of current convicted offenders in jails admit to being on alcohol during their arrest
The War on Alcohol?
So with such glaring instances of the impacts of alcohol use on Americans, and young people in particular, surely drug policy officials and politicians are aggressively pursuing legislation to engage in a full on War on Alcohol, like they have with the War on Drugs, right?
Well… not so much.
It may come as a shock, but U.S. federal and state officials seem to think banning alcohol is out of the question! Citing the past attempts at alcohol prohibition as a major failure that instigated higher crime rates, while also claiming the vital part alcohol production and sales play in the economy, lawmakers seem content with allowing the drug to remain in circulation.
Thankfully officials are still willing to provide emergency response services to individuals who have overdosed on alcohol or been injured in alcohol-related accidents. While city officials are fighting for the option to deny the overdose antidote Narcan to opioid users who overdose multiple times, none of these officials seem to believe alcohol-related illness or drunk driving accidents should be ignored the same way.
Drunk driving in many areas on multiple occasions does constitute jail time, but it seems being in possession of one of the deadliest drugs in America still doesn't come with a mandatory minimum sentence. The Alcohol epidemic seems to have avoided a lot of the stigma that other drugs are held to, yet experts insist more should be done to decrease the astonishing rates of alcohol abuse and addiction.
Alcohol may be legal, and it may be more mainstream than most drugs, the alcohol epidemic in this nation is still a very real threat. The fact it is legal and easily accessible makes the problem so much more serious. This article isn't meant to demonize alcohol, but it is meant to point out the severity of alcohol use and the damage that comes with it. Maybe this kind of perspective can also diminish the stigma attached to other illicit addictions if we are willing to acknowledge the similarities.
Alcohol is more dangerous than people give it credit, and alcohol addiction is incredibly dangerous.