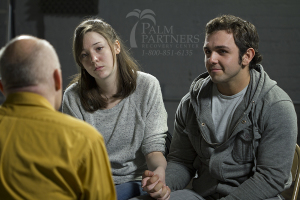 Drug Rehab for Couples: Substance abuse, Physical Dependence, and Addiction
Substance abuse and drug addiction, including alcohol addiction (alcoholism), are both medical conditions that are chronic, meaning life-long, but that can be successfully treated and long term recovery is then possible. Drug rehab for couples is specifically designed to treat you and your significant other for these medical issues.
Substance abuse means that you are using a substance more than it is prescribed or in ways other than how it's supposed to be taken. For example, if you are prescribed painkillers and you crush them and snort them instead of taking them orally. Although alcohol is a legal substance, it too can be abused.
When you have become physically dependent on alcohol or other drugs, it means you have built up a tolerance, needing more of the substance to achieve the same effect you used to experience in the beginning. Physical dependence also involves the experience of certain symptoms, known as withdrawal symptoms, when you suddenly stop or "cut back."
Drug and alcohol addiction involves both substance abuse and physical dependence but is even more intense and all-consuming. Couples who are addicted to alcohol or other drugs will often fight over drug-related issues, turn to crime to support their habit, and begin suffering the negative consequences related to drug use. These include legal issues, such as being charged with possession or DUI; social impact, such as losing friends and family members; financial woes, such as job loss and even loss of their home.
Drug Rehab for Couples: Why Go to Rehab
If you and your spouse experience any of the above conditions, you should consider going to a drug rehab for couples. It can be difficult enough trying to quit on your own. When your significant other is also using, then you are both more likely to keep using, even if you both want to quit.
For one, withdrawal symptoms, which are both psychological and physical, can be so uncomfortable and even painful that one or both of you might 'cave in' and decide to get more of your drug of choice to make the pain and discomfort stop.
Another reason you should consider rehab for couples is that families that are affected by addiction tend to also be affected by codependency. What that means is that there is an unhealthy dynamic of dependence on one another. When two people are codependent there is a greater likelihood of failure to quit.
Drug Rehab for Couples: Pros
Couples who are using drugs need family therapy as well as individual therapy. At drug therapy for couples, you will get both of these services. Though you and your spouse will likely need to continue attending therapy for a while after returning home, the healing can begin in a safe place – rehab – for both parties. Working with a therapist who specializes in substance abuse treatment can really help both of you get the help, support and encouragement you need to work through the difficulties that come with new sobriety.
Drug Rehab for Couples: The Bottom Line
The main purpose of rehab is to help you get medical and psychological treatment for drug addiction. It is not the goal of rehab to save your relationship/marriage; it's to save you. Nothing can save a relationship except for the two people in it who are willing to do what it takes to salvage it. That means that rehab cannot make you or your spouse go get therapeutic care, stay sober, attend therapy, or go to codependency groups, etc. The action and work has to be done by the two people in the relationship, drug rehab for couples can get you headed in the right direction by helping you heal and be clear-headed. The effort and willingness must be there in order to save your relationship or marriage.
Is your spouse or significant other struggling with substance abuse or addiction? Are you both struggling? Going to drug rehab for couples can be one way to start over. Call an Addiction Specialist today at toll-free 1-800-951-6135.