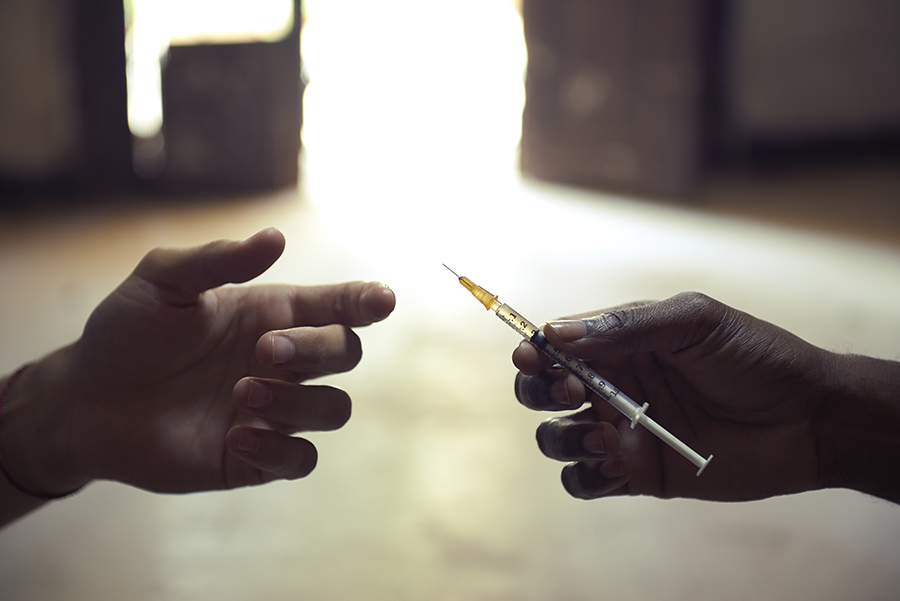 The anti-drug stance and policies that have come from the "war on drugs" are to blame for rising rates of hepatitis C all over the world, according to a new report by the Global Commission on Drug Policy (GCDP).
The cost of enforcing drug laws totaled approximately $545 billion over the past 40 years – and that was just in the US. That doesn't take into account the billions more spent the world 'round.
Experts argue that resources being poured into this futile "war" are better redirected towards treatment and prevention for the estimated 16 million people worldwide who use drugs intravenously. Of that number, 10 million are living with hepatitis C.
Increase in Hepatitis C Infection Related to the War on Drugs
Hep C is an infectious liver disease that is often contracted by sharing needles. The Global Commission—which includes seven former presidents, ex-UN chief Kofi Annan and other world leaders—says that, by criminalizing drugs, it only makes it harder for IV drug users to get public health services, and therefore increases the spread of hep C infection.
"The war on drugs is a war on common sense," says commissioner Ruth Dreifuss, who is also the former president of Switzerland. "Repressive drug policies are ineffective, violate basic human rights, generate violence and expose individuals and communities to unnecessary risks. The hepatitis C epidemic, totally preventable and curable, is yet another proof that the drug policy status quo has failed us all miserably."
The GDCP's report revealed that the highest number of Hepatitis C infections are in the US, China and the Russian Federation – which just so happen to be some of the countries that are the strictest when it comes to their drug policies.
People who inject drugs are still one of the main sources of hepatitis C infection, according to the European Monitoring Centre for Drugs and Drug Addiction (EMCDDA). In fact, they just might be the leading source of the potentially fatal, highly infectious (read: contagious) liver disease.
A recent report from the agency estimates that as many as a million people who have injected drugs may be living with hepatitis C. In addition, anywhere from 40% to 90% of European IV users in a given population are infected. Even worse, the EMCDDA estimates that 30% of patients with untreated hep C go on to develop cirrhosis of the liver in later years.
And injecting drug users are more frequently infected with hepatitis A, B, and D viruses as well.
Then you have proactive countries that have employed harm reduction strategies in order to address what they recognize as a public safety issue. The Commission has lauded Scotland's Hepatitis C Action Plan, launched in 2006, which has shown to have decreased the rates of infection by offering health services and sterile injecting equipment to users.
"If you compare rates of hepatitis C in drug users in countries with good harm reduction and more enlightened drug policies with those in countries without, it is clear that regarding drug use exclusively as a criminal justice issue is a health disaster," says a spokesperson for the World Hepatitis Alliance. "Hepatitis C, its prevention, care and treatment must be addressed and must be addressed as the health issue it is."
Harm reduction strategies like needle exchange programs can be just one way to combat the spread of all types of hepatitis. Furthermore, the EMCDDA also recommends a combination of opioid substitution treatment, such as methadone maintenance or buprenorphine (Suboxone), and needle exchange programs.
If you or someone you love is struggling with substance abuse or drug addiction, there are ways to stop the cycle and begin to heal. If you have contracted Hep C or another disease, there are new treatments that can improve your health, along with recovering from your substance abuse disorder. Please call toll-free 1-800-951-6135.