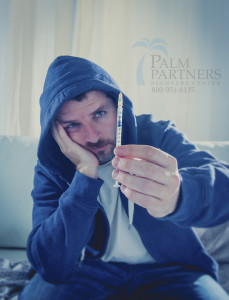 By Cheryl Steinberg
As a recovering IV drug user, I can say absolutely, without a doubt that yes, you can be addicted to the needle and to that 'needle high.'
For many, if not all drug addicts, the ritual of using – preparing the drug in whatever form they prefer to use, whether it's crushing and snorting pills or cooking dope and shooting it up – is just as 'exciting,' if you will, as the actual high from the drug.
When I was out there using, I would feel a level of excitement and anticipation, especially after I finally had my DOC in my possession. Then it was all about setting the scene. Whether it was a public bathroom or my bedroom, there was a specific ritual that went into the preparation of the drug and the needle. I'd start sweating and feel the strong urge to pee. I would get so shaky that, many times, I'd actually spill the dope before I could actually draw it up into the needle. Which sucked so bad.
So, Can You Really Be Addicted to The Needle?
To sort of prove my point that you can be addicted to the needle, I can tell you that I've heard other IV users say that there were times where, even if they ran out of drugs, they'd 'push' water or shoot alcohol just to get that needle high. And I'd be lying if I said that I didn't do that a couple times, myself, when I was in my active addiction and desperate for a high.
I knew I was making progress, though, when I was still at the IOP (intensive outpatient program) level of treatment and went over to my sponsor's house to do some step work. She had some friends over and forgot to mention to me that one of them is an insulin-dependent diabetic, which means that he has to inject insulin periodically. Now, this is all important to my little story because, at one point, I walked into the kitchen to get a glass of water and there he stood, at the peninsula counter facing me, with his "works" all laid out right in my line of vision. The needle was even the same exact kind I had used in my active addiction; the skinny ones with the orange caps. And, honestly, I didn't even flinch.
I shared about my little experience in group the next day, not really realizing just how meaningful it was to my progress in my recovery. As the therapist facilitating the group pointed out, the fact that my first thought upon seeing the syringe was about diabetes and medical use meant that I had broken the association with that needle high and being addicted to the needle, and using drugs, in general. Overall, it was an optimistic sign of growth and healing.
And today, with nearly 2 years clean and sober, I can tell you that things definitely get better and that craving for that needle high goes away. In fact, not only do I not associate syringes with illicit drug use anymore, the sight of them and thought of people injecting actually grosses me out.
Recovery is possible and help is available. If you are struggling with IV drug use or any other substance abuse or addiction issues, call us toll-free at 1-800-951-6135 to speak directly with an Addiction Specialist. We are available around the clock to answer your questions and share with you our resources. You are not alone.