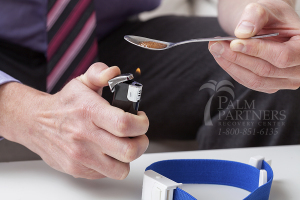 By Cheryl Steinberg
When I came across this article, I have to admit, my interest was piqued. After all, I was what would be considered a functional addict and I was one of the people this article is talking about: I used heroin in my place of employment – in my active addiction, of course. Today I'm glad to report that I'm 2 years sober and happy, joyous, and free!
But, before I went to treatment, I was a bank teller for one of the top five banks. I was really good at my job. And, I was using heroin on a daily basis. Being a functional addict, in my opinion, is probably worse than being what's called a low bottom addict, the stereotypical idea of what many think of when they think "heroin addict." You know, homeless, dirty, and toothless. I say it's worse in that it kept me from realizing I had a problem because, I wasn't experiencing all of those negative consequences that other addicts do and so my denial ran deep.
Back to the story at hand:
More People Using Heroin in the Workplace
Currently, the American workplace has seen a drop in the overall rate of reported drug use; however, the presence of heroin- and other opioid drug-use is still on the rise, and its effects are far-reaching, hurting more than just the users.
As you can imagine, more people using heroin in the workplace means lower productivity. And not only that, having more employees using heroin on the job, spells a higher employee turnover.
U.S. employers are struggling with the fall-out of increased heroin use in their businesses. A steady-increasing number of workers are using opiates on the job, leading companies to suffer from lower productivity and higher turnover, as well as an increase in accident rates.
Quest Diagnostics conducted research that shows the overall rate of workers who tested positive for drugs declined by 18% from 2003 to 2013, but the positive rate for heroin increased by a staggering 82% in just 3 years, from 2010 to 2013.
For instance, in Ohio and Indiana, many of the workers involved in work-related accidents later tested positive for heroin or other opioids. The companies affected by this type of accident are facing yet another problem: they're having a hard time filling the vacant positions, because as much as 70% of applicants fail the required drug screen.
Mark Jurman is the plant manager at a piston factory in Marinette, Wisconsin and said that heroin use at his factory had become so obvious that local drug dealers boldly set up shop in the plant's parking lot, waiting to sell their goods to employees during shift changes. "Our parking lot was seen as one of the best places in town to buy drugs," Jurman said.
As a result of the growing heroin-in-the-workplace epidemic, many companies are taking a proactive approach, such as implementing of zero-tolerance policies as well as Employee Assistance Programs (EAPs) for those workers who are seeking treatment. Some employers are even drawing on local resources, such as law enforcement to train people in positions of management, such as supervisors, to know the signs of drug use among their employees.
"The goal is not to force them out of work," said Brian Bourgeois, human-resources and employee-development manager at ChemDesign in Marinette. "The goal is to get them help, rehabilitate them and get them back into the workplace."
Are you struggling to balance both your job and a drug habit? It's like working two fulltime jobs, I know. Even if you're managing to hold down a job, there's a problem if you find yourself having to use drugs on a daily basis in order to deal with work – and life – in general. There's a better way and recovery is possible. Help is available. Call toll-free 1-800-951-6135.