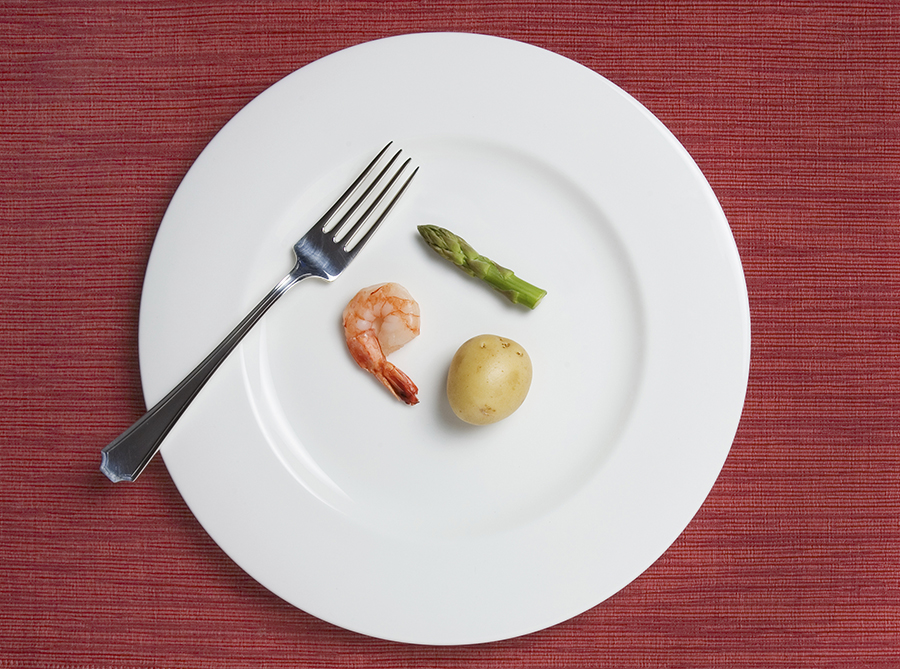 By Cheryl Steinberg
Mostly, when you hear "eating disorder," you think anorexia or bulimia. Now, more thought has been given to other types of eating disorders – on the other end of the scale, in which, instead of restricting food, sufferers binge on it and not necessarily to purge afterwards. Overeaters Anonymous bears witness to the need for others who struggle with food issues – food obsessions of a different kind.
With a spectrum of too much restriction (anorexia) to then binging then purging (bulimia) to then over-eating, not to mention a whole slew of eating disorders not otherwise specified (identified as ED-NOS) in the DSM 5, it can be hard for some people to get it "right" when it comes to eating healthy.
There's a newly recognized eating disorder that's becoming more talked about lately – as evidenced by the articles popping up on my Facebook feed: that of orthorexia nervosa. Just like any other eating disorder, orthorexia has to do with extreme, patterned eating but it's distinct from these other, longer-established disorders in a major way.
Orthorexia: Newest Eating Disorder
Orthorexia nervosa is a "pathological fixation on eating only healthy or pure foods, or what an individual perceives as healthy or pure." Orthorexia refers to a pattern of restricting one's diet to eating only what they deem as 'proper food.'
The term orthorexia nervosa was first coined in 1997 by Steven Bratman, M.D. to describe his own regimented and patterned approach to eating.
Although not yet a recognized mental disorder by the American Psychiatric Association and not listed in the DSM-5, it is still used as a diagnosis by some health care providers who have documented the damaging results of the condition that they have observed in some patients.
In fact, many health care workers and nutritionists have been expressing their concern at the number of people they're treating who exhibit such behaviors as being obsessed with food purity and quality, so much so that they are restricting their diets in dangerous ways. There have been increased numbers of patients who present with an obsessive preoccupation with eating certain foods while avoiding a vast many other foods because they consider them to be unhealthy. As a result of this mentality, such patients enact strict food restrictions on themselves, only allowing themselves to eat what they consider to be "pure" foods.
How does orthorexia differ from anorexia?
It may be confusing at first to understand orthorexia as something separate from anorexia because both conditions are described by the main symptom/behavior which is extreme food restriction.
However, when someone is diagnosed with anorexia it's because, among other signs, their main concern is with losing weight. Those struggling with anorexia are focused on numbers: the number on the scale, the number of calories they eat in a day; with an overall goal of being "thin."
Someone who displays signs of orthorexia, on the other hand, is not so much focused on weight as much as they are obsessed with the idea of an extremely 'pure' diet. In a nutshell, someone with anorexia will restrict everything they eat – for the most part, whereas someone with orthorexia focuses more on the quality of the food items they allow themselves to eat.
What's the difference between orthorexia and simply eating healthy?
Eating healthy and orthorexia are totally different. One is eating conscientiously and mindfully while the other is basically an extreme version of that, to the extent that it is no longer 'eating healthy' but is now a problem.
In cases of orthorexia nervosa, the person restricts their diet to an extreme extent. They may have started out choosing to eat and healthier diet with more whole foods but, it then takes off on an extreme bent.
For example, someone who is considered to be "health-conscious" may choose to cut out certain unhealthy or fattening foods such as candy, sugar, and certain fats like saturated fats. But, someone with orthorexia is likely to cut virtually all fat from their diet. And this is actually quite unhealthy, as there are good fats that are necessary to our diet in order to allow us to absorb all the nutrients from food. That's because fat is necessary in the absorption of fat-soluble nutrients as well as all of the antioxidants that are found in fruits and vegetables.
That is, someone who displays orthorexia patterned eating might eat what seems to be a very pure diet: salad with vegetables and fruits but, they're not actually reaping any of the benefits from those foods because their bodies are physically incapable of absorbing the nutrients, which leads to malnourishment.
It's understandable – and common – that people who choose to live a clean and sober lifestyle then tend to try to lead a healthy lifestyle as well, after years of neglecting their bodies and their health. Many people in recovery begin working out, meditating, eating right, and doing other things that will support their health and well-being. But, just as we as addicts have a tendency to go overboard with drugs, we do so with other things as well. That's why it's so important to avoid black and white thinking and to find balance. If you or someone you love is struggling with a substance use disorder or eating disorder or other psychiatric disorder, please call toll-free 1-800-951-6135.