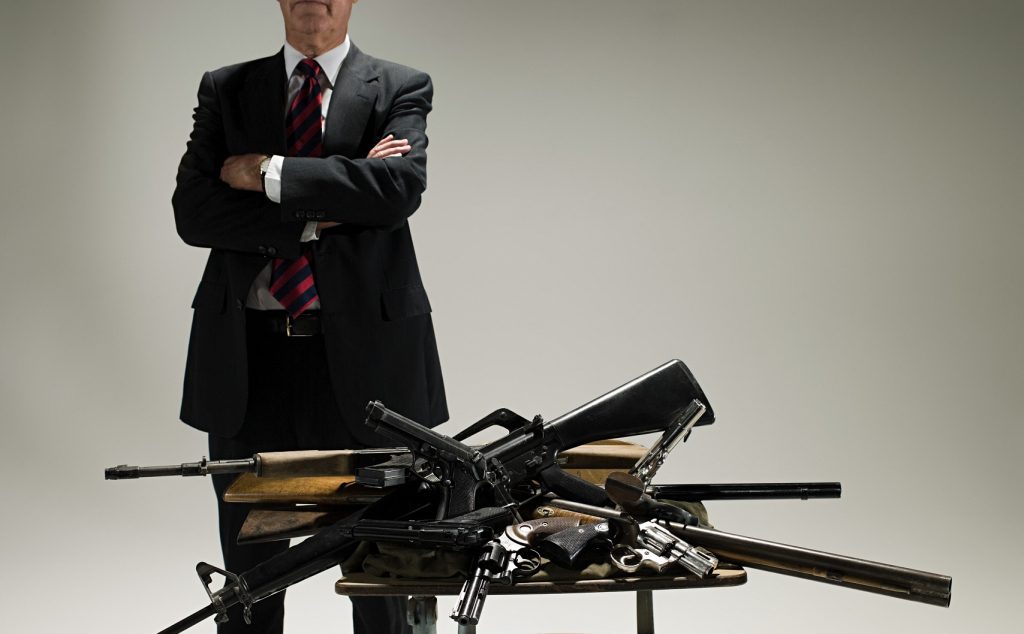 Author: Justin Mckibben
It seems politicians are telling people- take your pick; guns or marijuana… you can't have both.
Back in 2016, you may recall that we did an article covering the story of S. Rowan Wilson, a Nevada resident who in 2011 was denied when attempting to purchase a handgun when the gun store owner recognized her as a medical marijuana cardholder. In court, Wilson maintained that she does not herself use marijuana, but in August of 2016, the 9th U.S. Circuit Court of Appeals decided in a 3-0 vote that if you have a medical marijuana card, you can't buy a gun.
Recently the ideas behind this case have sparked renewed outrage and discussion over whether or not medical marijuana users should be permitted to own a firearm. The gun control debate is one that is already being consistently argued in the shadow of recent mass shootings and pushing from politicians to address the issue. But drug policy impacting gun policy adds a new perspective to the conversation.
Now there are several states cracking down on marijuana users, and it has some people up in arms about how even though states are legalizing medical marijuana use, federal law and many state governments are cutting them off from their right to gun ownership.
Under Federal Influence
According to federal law, gun purchases are already prohibited to people who are described as:
"-unlawful user and/or addict of any controlled substance."
Back in 2011, the Bureau of Alcohol, Tobacco, Firearms and Explosives (ATF) insisted that the law applies to marijuana users-
"regardless of whether [their] State has passed legislation authorizing marijuana use for medicinal purposes."
So it seems the ATF and the federal government are pulling out all the stops when it comes to making sure marijuana users aren't allowed to own guns.
The decision in the care of Wilson and the 9th U.S. Circuit Court of Appeals includes the areas:
District of Alaska
District of Arizona
Central District of California
Eastern District of California
Northern District of California
Southern District of California
District of Hawaii
The Supreme Court ruled that it is NOT a violation of 2nd Amendment Rights to deny guns to marijuana patients. The impact of that ruling has now begun to spread. It would seem the federal government thus far is standing by this. Special Agent Joshua E. Jackson of the U.S. Bureau of Alcohol, Tobacco, Firearms and Explosives in Washington D.C. states:
"There are no exceptions in federal law for marijuana used for medicinal or recreational purposes."
And as far as things look now, there will be no change anytime soon to the federal government's stance on marijuana. Especially with the current administration emphasizing so heavily a law and order approach to drug policy.
More States Against Marijuana and Guns
Even though there are 29 states and Washington D.C. that have voted to allow patients to have access to medical marijuana, several of these states are choosing to trade that opportunity for a shot at gun ownership. In fact, just this week a few state officials announced their own stance against allowing gun owners to be medical marijuana patients.
Hawaii
In a move that spurred a backlash of viral videos and other reports, Hawaii took a bold step in this effort. Last week the Honolulu Police Department sent letters to medical marijuana users saying that they will need to turn in their weapons within 30 days of receipt. According to Leafly, a copy of one of these letters states:
"Your medical marijuana use disqualifies you from ownership of firearms and ammunition."
However, the letter also apparently says that the medical marijuana patients can get their firearms back. The stipulation being they would need a doctor's clearance to do so.
Pennsylvania
A similar situation happened in Pennsylvania. The state police director of the Bureau of Records and Identification, Major Scott C. Price, made an announcement on Tuesday stating:
"So, in fact, an individual who is issued a medical marijuana card in Pennsylvania who is a user of medical marijuana, that individual would be prohibited from purchasing or technically possession of a firearm under federal law."
So Pennsylvania won't allow people to even be in possession of a firearm at any time with a medical marijuana card.
Ohio
Ohio's medical marijuana program becomes operation in September of 2018. Information from industry analysts estimate that 24% of the state's population have qualifying conditions; that's 2.8 million Ohioans. But just this week it was announced that people in the Buckeye State who register to legally use marijuana for medicinal purposes will also be prohibited from possessing firearms.
According to the ATF letter from back in 2011, marijuana users are also prohibited from:
Shipping
Transporting
Receiving
Possessing firearms or ammunition
So anyone in Ohio who is applying to purchase a gun from a licensed dealer must sign a form attesting her or she is not "an unlawful user of, or addicted to, marijuana or any depressant, stimulant, narcotic drug, or any other controlled substance."
Under federal law, lying on the form is a felony punishable by up to 10 years in prison. Even Joe Eaton, southwest spokesman for the Buckeye Firearms Association says they are confused at this point,
""There is definitely a conflict between the state laws and the federal laws,"
Some Ohio law enforcement officials are also unsure at this point how to enforce these situations as of the moment, and are depending on their prosecutors to provide more clarification through the conflict with state and federal law.
Will Marijuana Users Go Molon Labe?
For those unfamiliar with the term, molon labe is Greek for "come and take [them]". This declaration has been repeated by many generals and politicians to express an army's or nation's determination not to surrender. The motto ΜΟΛΩΝ ΛΑΒΕ is on the emblem of the I Army Corps of Greece and the Second Infantry Division of Cyprus, and is also the motto of United States Special Operations Command Central (SOCCENT). The expression "Come and take it" was a slogan in the Texas Revolution.
It is also a popular choice of words for many 2nd Amendment advocates.
The question becomes, how will the hardcore 2nd Amendment supporters react to this ruling against medical marijuana and guns? Some actually believe this may actually inspire the National Rifle Association (NRA) to become pro-medical marijuana at the federal level. Will this kind of shift in support turn the tide?
Will avid gun owners come out in strong opposition to taking away guns from medical marijuana patients, or will they agree that drug use should disqualify them from owning or possessing weapons and ammunition?
How should authorities proceed? Is this a safe political sit rep or another war of opinions waiting to happen?
Treating Marijuana Abuse
Whether or not you support gun ownership of medical marijuana patients, we should all be able to get behind having treatment resources for anyone who struggles with substance abuse.
Marijuana, much like any other substance, can be abused and have an adverse impact on the overall quality of life for many people. No matter what the legal status of any drug, it can still have a negative impact on people who grapple with substance use disorder. We know this all too well, as plenty of prescription medications helped create the opioid crisis in America.
There still needs to be resources available to help people who suffer from abuse. Supporting addiction recovery means breaking the stigma and offering holistic and effective solutions. Palm Healthcare Company is here to help. If you or someone you love is struggling, please call toll-free now.