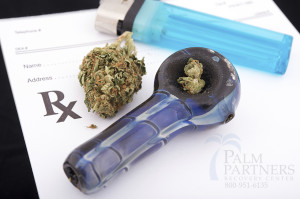 By Cheryl Steinberg
A new study reveals that access to medical marijuana appears to already have saved thousands of lives over the past few years by reducing accidental overdose deaths from prescription painkillers such as Vicodin, Percocet and OxyContin.
According to the study, states where marijuana has been made medically legal saw, on average, 1,700 fewer deaths per year from prescription drugs than they would have otherwise, before the introduction of medical marijuana.
The study was conducted by researchers from the Johns Hopkins Bloomberg School of Public Health and the Philadelphia Veterans Affairs Medical Center. However, the study has its critics, who claim say that it's flawed, saying that it makes "sweeping" conclusions that are not supported by the data collected.
Medical Marijuana for Pain Management
Federal officials say that prescription narcotics, specifically painkillers, are among the most abused drugs prescription medicines in the U.S., and are responsible for the deaths of more than 15,000 deaths of Americans annually. Those who are proponents of medical marijuana say pot is a far safer and more effective alternative for relieving pain; however, research is still lacking to support their claims. The authors of the study say their research is groundbreaking – indicating that public health officials need to look more closely at the potential benefits of marijuana for treating and managing pain.
"It suggests the potential for many lives to be saved," said study senior author Colleen L. Barry, an associate professor in the Department of Health Policy and Management at the Bloomberg School. "We can speculate … that people are completely switching or perhaps supplementing, which allows them to lower the dosage of their prescription opioid."
Medical Marijuana: Spreading Like Wildfire
Twenty-three states as well as the District of Columbia now permit doctors to prescribe some form of medical marijuana.
In the states that permit medical marijuana, prescription drug overdoses dropped by 25%. Barry admits that the study doesn't explain why this phenomenon but, raises important questions. What is known, however, is that federal officials are making it harder for patients to legally acquire large qualities of certain opioid drugs like Vicodin and other painkillers. Opiate painkillers are highly addictive, and patients who get hooked build up a tolerance, having to take increasingly higher doses in order to feel the drug's effects.
"There's a lot of rethinking about relative harms and relative benefits right now," Barry said. "Medical marijuana is not susceptible to unintentional overdose … What we don't know, and that's because we haven't had enough research done, is how good of a job medical marijuana does for people with chronic pain."
Could Medical Marijuana Reduce Drug Overdose Deaths? Study Says Yes
Director of the Drug Policy Institute at the University Of Florida College Of Medicine, Kevin Sabet, said he has concerns about the methods used by the study's authors when collecting and analyzing the data. According to Sabet, they failed to differentiate between states when it came to which had strict and which had lax medical marijuana laws, and didn't examine emergency-room admission and prescription data. Moreover, he says the researchers failed to see what impact methadone clinics might have had. He said it's hard to believe there was such an across-the-board reduction in predicted deaths.
"In today's supercharged discussions, it could be easily misunderstood by people," he said of the study, which he faulted for drawing distinct conclusions based on limited data. "There may be promise in marijuana-based medications but that's a lot different than 'here's a joint for you to smoke.'"
Although marijuana is becoming legalized, for both medical grade and recreational use, it can still become a problem for some people. Cannabis dependence, abuse, and addiction are real conditions for which more and more people are seeking rehab and treatment. If you or someone you love struggles with marijuana or any other substance, please call toll-free 1-800-951-6135 to speak directly with an Addiction Specialist today. We're here around the clock to help.