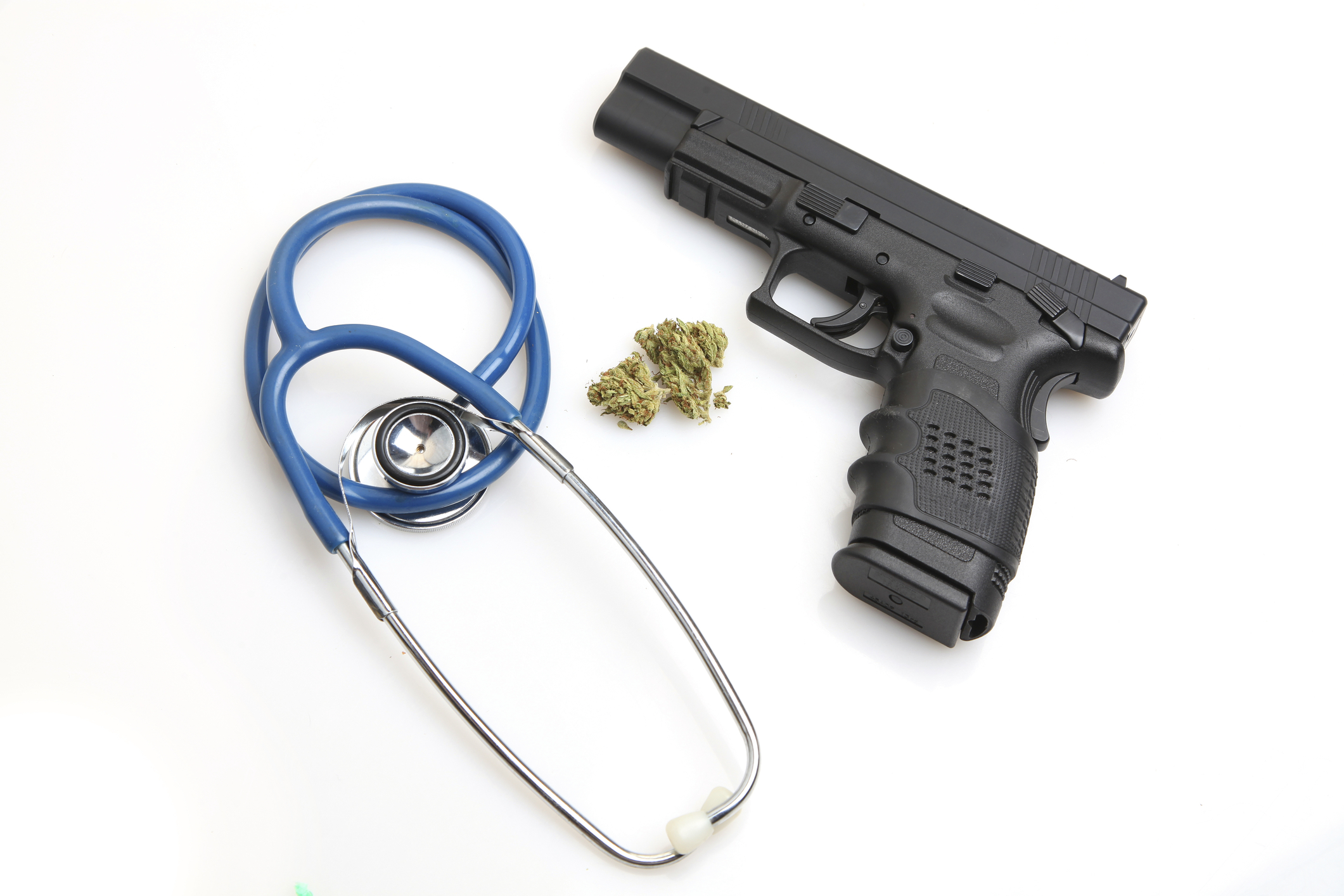 Author: Justin Mckibben
Recently the big election season of 2016 came to a close. Not only do we have a new president, but also a few new states with big marijuana reforms. Florida is among the states to turn the tide and legalize medical marijuana, with specific restrictions of course. But one restriction that could be imposed most people probably don't know about with medical marijuana is one on gun-ownership. So when taking a look at what some U.S. courts have ruled in the past, should medical marijuana block your gun ownership rights? How could this impact medical marijuana in Florida?
Rowan Wilson VS 9th U.S. Circuit Court
The case of S. Rowan Wilson, a Nevada resident, is what recently brought this subject to light. In 2011 Wilson attempted to purchase a handgun but was denied when the gun store owner recognized her as a medical marijuana cardholder. She insisted that she only obtained the card as a political statement in solidarity with legalization. In court Wilson maintained that she does not herself use marijuana.
In August of 2016 Wilson's hopes were shot down. The 9th U.S. Circuit Court of Appeals decided in a 3-0 vote that if you have a medical marijuana card, you can't buy a gun. This result came based on the idea that medical marijuana:
"-raises the risk of irrational or unpredictable behavior with which gun use should not be associated."
This isn't only limited to regular marijuana users or even specifically addicts, but to anyone who has a medical marijuana card. According to the court, this ruling actually does not violate the 2nd Amendment. They claim to be in agreement with the federal Bureau of Alcohol, Tobacco, Firearms and Explosives, saying that firearms retailers should assume that medical marijuana card holders use the drug, even if they do not. This courts jurisdiction includes:
District of Alaska
District of Arizona
Central District of California
Eastern District of California
Northern District of California
Southern District of California
District of Hawaii
So how will it play out now that there is medical marijuana in Florida?
The 4th Circuit and the Federal Level
Federal law already prohibits gun purchases by those who are described as:
"-unlawful user and/or an addict of any controlled substance."
Back in 2011, the Bureau of Alcohol, Tobacco and Firearms insisted that the law applies to marijuana users-
"regardless of whether [their] State has passed legislation authorizing marijuana use for medicinal purposes."
This makes sense, since even though many states are legalizing marijuana for medical or recreational use, marijuana remains illegal for any purpose under federal law. So medical marijuana in Florida is subject to the same idea of federal regulation.
In the case of United States v. Carter in 2014 the connection between marijuana and violence came as the court cited a number of studies suggesting a significant link between drug use and violence. This included marijuana. In the words of the 4th Circuit, those studies found:
"Probationers who had perpetrated violence in the pastwere significantly more likely to have used a host of drugs — marijuana, hallucinogens, sedatives, and heroin — than probationers who had never been involved in a violent episode."
"Almost 50% of all state and federal prisoners who had committed violent felonieswere drug abusers or addicts in the year before their arrest, as compared to only 2% of the general population."
"Individuals who used marijuana or marijuana and cocaine, in addition to alcohol, weresignificantly more likely to engage in violent crime than individuals who only used alcohol."
Among adolescent males, "marijuana use in one yearfrequently predicted violence in the subsequent year."
The 4th Circuit argues that the question of correlation vs. causation doesn't matter. They insist it was not the government's responsibility to prove a causal link between drug use and violence. Simply put, they didn't need to prove if drug use causes violence or if violence causes the drug use. To ban someone from owning a gun all they need is to make any connection.
Which, when you think about it, seems almost lazy.
Medical Marijuana in Florida VS Other Substances
So what we want to ask is- should using medical marijuana keep you from owning a gun?
Essentially the courts say that anyone who uses medical marijuana or any substance has an increased chance of risk behavior. They say that if someone has a medical marijuana card, basically they are too dangerous to allow a firearm.
But given this logic, it should apply to every substance. There are plenty of other drugs that technically fit the bill, and not just illegal ones.
Tobacco
Drug policy researchers Mark Kleiman, Jonathan Caulkins and Angela Hawken have pointed out that research also indicates that tobacco users also are more likely to engage in crime relative to the general population. The team published a book in 2011 called Drugs and Drug Policy: What Everyone Needs to Know. In this publication they wrote:
"Compared with nonsmokers, cigarette smokers have a higher rate of criminality,"
"Smoking in and of itself does not lead to crime, but within the population of smokers we are more likely to find individuals engaged in illicit behavior."
Alcohol
Then of course there is the obvious other substance that should be on the chopping block; alcohol. The authors wrote that there's a much stronger link between violent behavior and alcohol than there is for many illegal drugs,
"There is a good deal of evidence showing an association between alcohol intoxication and pharmacologically induced violent crime,"
The truth is, alcohol is probably one of the most dangerous drugs in the world, yet because it is "socially acceptable" it is not under nearly as much restriction. So if we are going to consider medical marijuana in Florida as means to restrict our 2nd Amendment, shouldn't we see it the same for alcohol, or even other prescription medications?
We have said it time and time again- a drug is a drug. If we truly believe any substance, legal or not, that can be abuse is equally dangerous in terms of addiction and risk behavior than should we treat them equally? Should we restrict the right to own a gun for anyone who uses anything? Does medical marijuana make someone too dangerous to own a gun? Or is this discrimination?
Overall, the issue of marijuana reform is an increasingly complex issue and in the future, solutions to the problems of legalization will be addressed. But for those who struggle with addiction marijuana can still be a dangerous substance. If you or someone you love is struggling with substance abuse or addiction, please call toll-free now. We want to help.