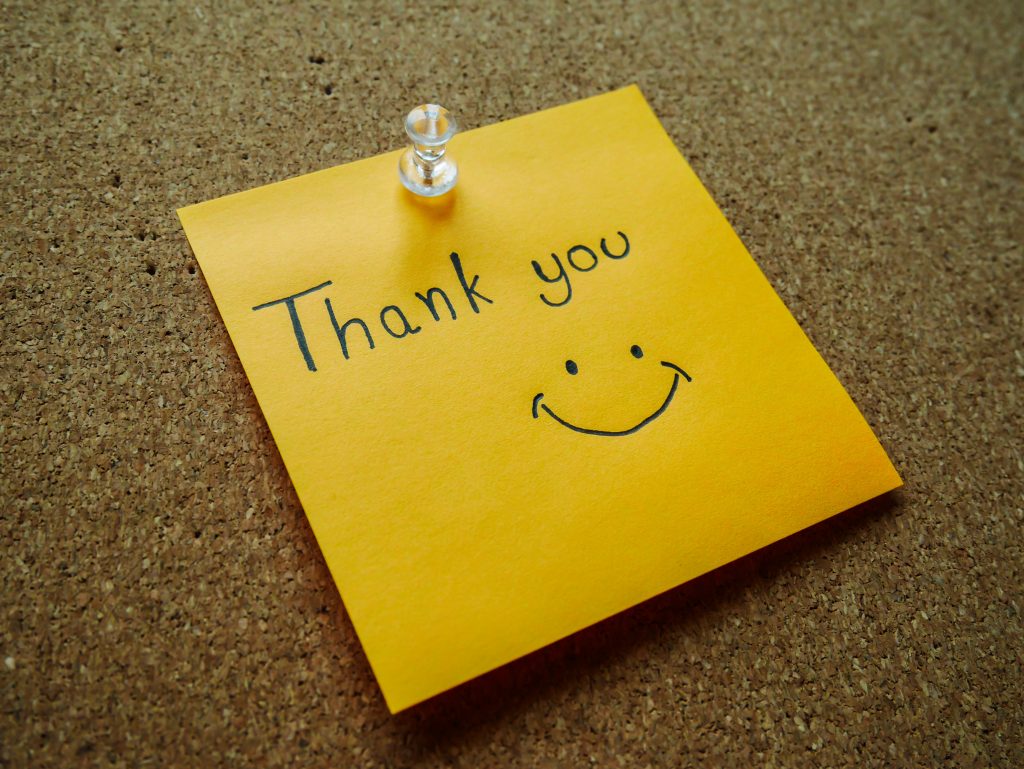 Author: Justin Mckibben
Being the month of THANKSgiving, not to mention the month of Veterans Day to show appreciation for the armed forces, it should come as no surprise that November is recognized by many as National Gratitude Month.
But we know that true gratitude is more than saying "thank you" for what others may do or the things we are fortunate enough to have. Gratitude gives us the ability to look past the negative parts of our situation, our lives or the world we live in and focus on appreciating all the good that we do have. Practicing daily gratitude allows us to create a more profound understanding and connection with ourselves, our loved ones and the world around us. Gratitude creates compassion and empathy; it helps us to be more involved and more self-aware.
But this writer believes that true gratitude takes action. So this month, in observance of National Gratitude Month, I encourage people to take action to share that gratitude with others.
The Practice of Being Grateful
Back in 2015, November was officially proclaimed National Gratitude Month throughout the US and Canada by National Day Calendar. The initial announcement for the observance comes from Stacey Grewal, an author, spiritual mentor and coach who advocated for the proclamation. Grewal stated,
"Gratitude is an essential ingredient of a happy, fulfilling life,"
Grewal herself has been proclaimed a "gratitude guru" who wrote the book Gratitude and Goals.
10 years ago in 2007, Robert Emmons began researching gratitude and found that expressing gratitude improves mental, physical and relational well-being. Practicing gratitude also impacts the overall experience of happiness. All this is typically not a momentary improvement. Many of these benefits turn out to be long-lasting.
Benefits of Gratitude
Improved physical, emotional, and social well-being
Greater optimism and happiness
Improved feelings of connection in times of loss or crisis
Increased self-esteem
Amplified energy levels
Strengthened heart
Improved immune system
Decreased blood pressure
Improved emotional and academic intelligence
Extended aptitude for forgiveness
Decreased stress, anxiety, depression
Reduced headaches
Improved self-care and greater likelihood to exercise
Heightened sense of spirituality
There are even a number of events and activities to get involved with this month, including the 30 Day Gratitude Challenge where one can sign up for a daily email that suggests opportunities to practice gratitude in new and interesting ways.
But you don't have to commit to any event or challenge to help promote gratitude.
Giving with Gratitude
Looking at the definition of gratitude on the all-knowing Google, we find it as:
"The quality of being thankful; readiness to show appreciation for and to return kindness."
Right there we see the inclusion of the concept that gratitude means to at least be willing to take some kind of action, i.e. showing appreciation and returning the kindness.
The way I express my understanding of gratitude is like this:
If I am grateful for my job, I show up and work hard
If I am grateful for my home, I respect it and honor it, along with anyone who may live there
Being grateful for those who have helped me, I help whoever I can when I can
My expression of gratitude means making every attempt possible to ensure I do not take the gifts I have for granted. We should not neglect the things or the people we have in our lives as if we know they will always be there. When we become complacent, our gratitude might slip away.
Recovery from addiction gives us so much more to do with that gratitude.
Grateful for Recovery
In recovery from drugs or alcohol, it can be especially important for many of us to stay grateful. In the recovery community, we hear people all the time talking about how grateful they are to be alive, or how grateful they are to have another chance at life or a fellowship of support in recovery. All of this is so important, but again it takes action.
If we are grateful for the opportunity to get better, we should not squander it with defiance and neglect.
If we are grateful to be alive, we should focus on living better lives and doing something meaning with our lives; even if to you that simply means being a better parent/spouse/child/sibling in your family.
Being grateful reminds us of the kindness of others and the strength that they gave us to get ourselves out of addiction. So we should live by example and help those who still need help, recovering or not. With all the benefits of gratitude we've mentioned, it only makes sense that someone in recovery from addiction would want to take advantage of National Gratitude Month as an excuse to exercise that part of themselves. Treating others as if you are already grateful for the opportunity is training for the mind, body, and spirit. For those working to overcome addiction, gratitude can be a
Share the Love for National Gratitude Month
If you want to get involved, it is pretty easy. Just be grateful every chance you get.
In the world, as it is right now we could use more love and gratitude. With so much going on in such divisive times, like the opioid crisis and overdose outbreak tearing apart so many lives, we should take every chance to bring our communities together.
Or if you want to help share the love and raise awareness, share this article with your friends and use #NationalGratitudeMonth on social media posts.
Have an amazing November! Remember to be grateful and to show that appreciation and kindness with action and goodwill toward others!
It's been said that healing can come from the places you least expect it. Make sure to appreciate the opportunity. For those who are looking for something to be grateful for, it starts with the fact you are still here. If you are suffering or lost, maybe its time for a new foundation. If you or someone you love is struggling with substance abuse or addiction, please call toll-free now.