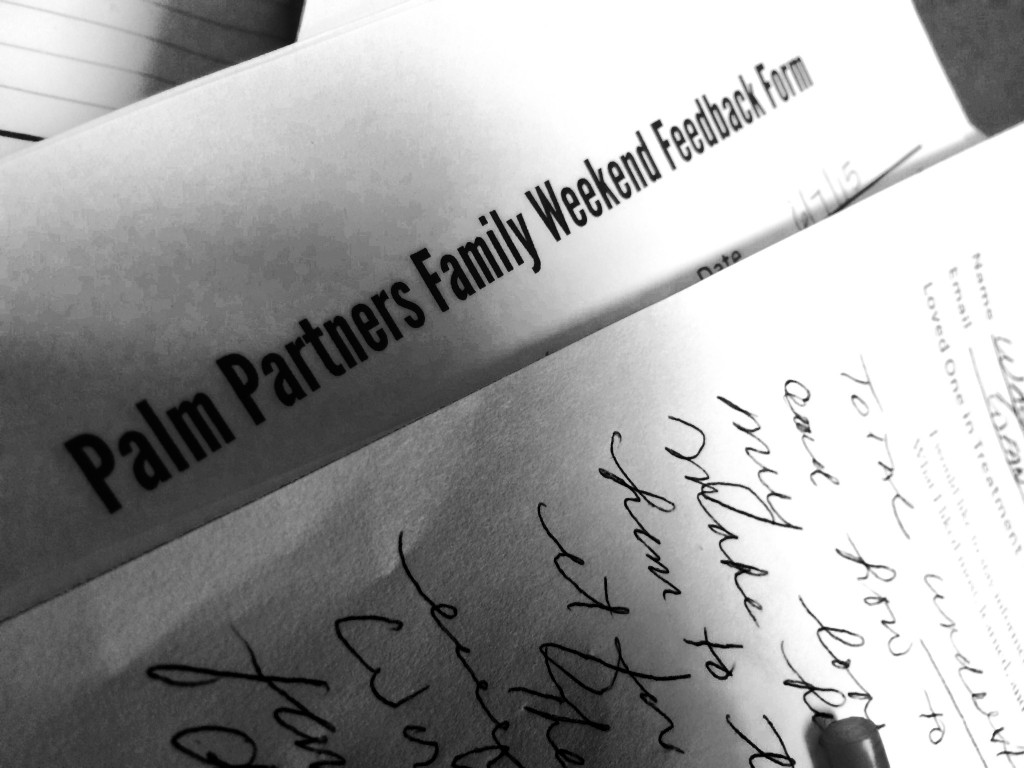 On a monthly basis the Palm Partners treatment program offers an opportunity for the families of patients to attend events and therapy over the course of an empowering and productive weekend. There are a series of work-shops and group activities they can participate in, and loved ones are always welcomed and encouraged to get involved in their loved ones treatment process.
Countless mothers and fathers, brothers and sisters, husbands and wives have taken this chance to not only support their loved ones in this stage of their recovery, but also to learn more about the disease of addiction, which often is an enlightening and life changing experience.
After a weekend full of exciting challenges and intimate counseling, families have so much to say about the Palm Partners family program, so we have given them a chance to share those thoughts in hopes to inspire others.
The parents of one patient recently attended the family program, and chose to share with us a few words on how much of an impact it has made on their part in their loved ones recovery.
(Letter 1)
I learned that most of my thoughts about addiction were very wrong. You [Palm Partners] helped me have a better understanding. If I lived in Florida I would come monthly for this program.
I am hoping I will be able to feel as hopeful and confident at home as I do while sitting here with all this feedback and support,
Thank you very much for sharing your knowledge and your time.
(Letter 2)
I showed up not knowing a lot about the disease. The information I got was extremely helpful. The way the brain works with the drugs, the way we think, the way our state of mind means so much.
The information I was given, is now my responsibility to apply. Setting boundaries for myself and our family. Stop trying to fix things. I am also overwhelmed with it all, but I know I have the strength.
Thank you, Dug and Heidi
Some families need to learn how to set boundaries with the ones they love while they are in treatment, and while that is not always easy, there is a healthy and constructive way to go about creating those expectations, and the Palm Partners family program is all about making the recovery process a team effort, but also an enterprise for each individual.
Families suffer when their loved on suffers, and it is equally as important to learn how to take care of yourself and know what support is available to you.
So if you're considering whether or not to get treatment, take into account what resources are available for those closest to you to get involved in your care and rebuilding your future. The Palm Partners family program is an incredible way for you to let your loved ones be part of that growth so you can nurture one another. If you or someone you love is struggling with substance abuse or addiction, please call toll-free 1-800-951-6135