Halfway house living is not the easiest thing we do in recovery, but then again it honestly is not anywhere near the hardest. Living in a halfway house is a great way to get some humility, learn to budget, and surround yourself with like-minded people who are trying to get clean and sober the same as you are. It puts us in a position to be held accountable, and sometimes to even help or influence others in recovery to do the right thing. We can learn valuable lessons from those who came before us, or we can lead by example for newcomers.
There are a few luxuries we sometimes cannot afford while living in a halfway house, but as addicts and alcoholics we typically have a pretty good knack for ingenuity and problem solving. Here is a list of 11 life hacks every person living in a halfway house should know.
Dryer sheets on Fan
This is a nifty way to create a cheap and effective air-freshener for your halfway house apartment. Stick a few dryer sheets on a house fan and it floods the room with whatever fabric scent you're using to keep your room smelling better than an over-flowing laundry basket.
Lap-top Lock
Sometimes we have a few electronics when we show up to the halfway house, given you're not like me and pawned most valuables. If you have a lap-top, invest in a lock that will keep that precious compact computer from roommates who may be using it for the forces of evil.
Hiding Money in Chap-stick
This hack is interesting and effective. If you have any issues trusting others, or even yourself, with your money, keep spare cash stashed in an emptied out chap-stick tube. Odds are none of your roommates will want to use it after you, so that secret spending money will be safe.
Take a picture of the fridge before shopping
If you have a tough time remembering what you and your roommates are running short on, take photos of the refrigerator before hitting the grocery store so you have some frame of reference, and can keep track of who is purchasing what.
Water-down soaps
Dish soap and other cleaning products can be stretched out over a considerable period of time while your sharing them in the halfway house, and the products do not lose their cleaning power when you dilute them with a little water. Get more washes out of the essential soaps and keep from having to restock frequently.
Label your utensils
If you're anything like me you hate a sink full of dishes, and probably try your best to wash them directly after using them. Even if not, if you make a point to label your utensils it has a way of making it easier to keep track of your own imprint on the dishes, and can be useful when you and your roommates have a more independent system for chores set up.
Pop-tabs on hangers
This can be great space-saver if you and your halfway house roommate have too many clothes versus closet space. By placing pop-can-tabs on hangers and hanging another hanger on the other loop, you can double the amount of clothes you fit into your area of the closet.
Hair Straightener- Collar Iron
I have no idea how to iron a shirt. Seriously, none. What I do know is that I hate it when my collared shirts have a slight curl on the collar, and the easiest way to straighten that out and create the illusion that you know what an ironing board is, use a hair-straightener to get that crease back.
Toilet-paper Roll Speakers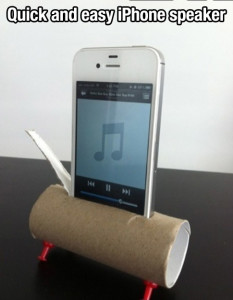 If you have an iPhone and no speakers to help you jam out, there are several easy ways to make a makeshift speaker. One cheap and easy way is to take a toilet-paper roll and cut a slot to place your iPhone in, then the sound is projected out both ends of the cardboard tube. Turn down for what?
Take pictures of people with items they borrow
In the halfway house sometimes roommates and neighbors have to borrow stuff. Only makes sense right? Well the easiest way to solve something like this is to keep record, and the best way is to take out your cell phone and take a photo of the person borrowing anything from a DVD to a phone-charger and keep track of that, then if needed take another picture when you get it back, in case you forget to stop harassing them about it.
Decoy cigarette pack
This is one I have used a few times in my day when down on my luck. Now it is true that we are supposed to help others, but sometimes we are not in a position to do so. To conserve your cigarettes keep a pack with maybe one or two cigarettes on you at all times, and if people start bugging you for smokes, pull that baby out and show them you need to keep them to yourself.
Now even though these are all funny and inventive strategies for clever ways to make yourself more comfortable at a halfway house, the real strategies for recovery need to be more proactive. The tools and techniques for recovery can be easily found and understood with a great foundation for that recovery to spring from, and the facilities of Palm Partners have the programs and professionals to teach you or your loved one those strategies.
If you or someone you love is struggling with substance abuse or addiction, please call toll-free 1-800-951-6135