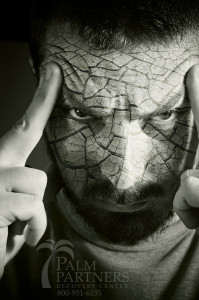 Some people say that the only thing worse than living with a drunk, is living with a dry drunk. Especially if you have had to live with one.  At least a drunk who actively drinks has their solution at hand. Although the drink is hurting them far more than it is helping them, when they are a 'dry drunk' they  try to grit their teeth and bull-doze through the day on a regular basis just to get by, and it tends to create even more problems. When reality settles in and there is no solution or program of action to help them address the problem head on and work on their defects of character, the typical drunk will only fester in their misery and resentment. That is while they are able to stay dry, and you can bet WHEN (not IF) they drink again, it will be worse than ever!
It's no easy task to tackle, but there are at least 5 ways to deal with living with a dry drunk who has a serious alcohol problem, but no concept of solution.
Set Healthy Boundaries
Living with a dry drunk is definitely emotionally stressful. Someone who is an alcoholic but has no program of recovery to help them cope with their alcoholism and to learn to function effectively and compassionately is most likely going to put a lot of pressure on your relationship.
Setting healthy boundaries is important because when the dry drunk has their moments of conflict, and they stir up trouble in the relationship by lashing out emotionally, you want to be able to protect yourself and your interests. When a dry drunk wants to pick a fight, throw a pity party, or even seek out an enabler you need to be prepared to stand your ground and remain rooted in your values.
Seek Personal Therapy
Again, the stress accompanied with dealing with living with a dry drunk can be very overwhelming, and the moods swings, arguments, worries and resentments can put a serious strain on your emotional well-being.
Seeking you own outlet for personal therapy can be an effective method of dealing with the situation on your own terms. The truth is you can only control what you do and how you react to their behavior, and one of the best ways to remain calm and centered is to seek out ways to consistently easy your own mind and express your own feelings.
Personal therapy can also help you to understand the feelings and coping mechanisms you develop, so that you can keep those in check as well.
Learn More about Alcoholism
Being an alcoholic trying to recover can be the hardest thing a person has ever done in their life. The disease of alcoholism is infamously cunning, baffling, and powerful, and many people who don't know how to take action in a program of recovery will find it infinitely difficult to stay a dry drunk and be content.
To deal with living with a dry drunk, you should make an honest effort to educate yourself on the disease of alcoholism. If they have the knowledge themselves or not, it is best for you to get some idea as to what kind of symptoms, behavior, or even mental health disorders typically accompany alcoholism. Once you have learned more about alcoholism, it will be easier to interpret the actions of a dry drunk.
Get Involved in Support Groups
There are support groups, very much like those specifically designed to help alcoholics, which cater to helping the families and friends of individuals suffering from alcoholism. These support groups consist of others like you who need helping dealing with living with an alcoholic.
Some may have family members who are actively in recovery and want to continue to understand the disease and grow on a personal level to better support the alcoholic in their lives.
Others may be like you, and have a loved one that is a dry drunk, and they attend these anonymous family support groups in order to share their experience from others in the community, and get the advice and insight they may need to better deal with their situations at home.
Assemble an Intervention
At the end of the day, no one should be forced to deal with living with a dry drunk. If the situation escalates to a point where you are consistently living in fear or worry, or you are constantly being put through emotional or physical abuse than you should absolutely assemble an intervention.
If the individual is familiar with a recovery program, you may want to reach out to their sponsor and ask for their assistance in the matter. You should be able to lay out your concerns and see if there are other influences within the program to help you resolve the 'dry drunk' issue.
If they have no sponsor and no program of action, then you can gather up a group of friends, family members, and even therapeutic professionals in order to stage an intervention and confront that person about the problem. They may get upset because in their mind they have quit drinking, and therefore the problem does not exist. It is essential during this type of intervention that those involved acknowledge the individual is not drinking, but that for the 'real deal' alcoholic the behavior must change if there is to be real relationships and lasting sobriety.
Alcoholism is a serious illness that affects every aspect of an individual's life, whether they can recognize the damage or not. Abstinence is essential to recovery, but for those afflicted with alcoholism there must be a program of recovery enforced by action in order to maintain a healthy and happy life-style. Otherwise the alcoholic and all their relationships will suffer. If you or someone you love is struggling with alcoholism or substance abuse, please call toll-free 1-800-951-6135