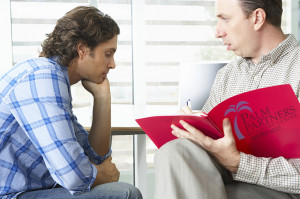 Addiction Therapist Boynton Beach: Why is There a Need?
According to the Substance Abuse and Mental Health Services Administration's (SAMHSA) National Survey on Drug Use and Health of 2009, of the 23.5 million who suffer with addiction, only 2.6 million receive treatment in specialized facilities. Addiction therapists are a necessary part of the workforce as there is an increasing need for their expertise; they serve as an integral part of the substance abuse treatment industry.
Addiction Therapist Boynton Beach: What Does That Mean?
Quite simply put, addiction therapists specialize in the treatment and recovery of people with substance abuse and addiction issues.
An addiction therapist, also called an addiction counselor or substance abuse counselor, is a professional in the mental health field who specializes in treating people who struggle with addictions and addiction-related issues. These professionals are often in recovery themselves but this is not a requirement for the job. Addiction therapists work in private practice, substance abuse treatment facilities such as rehab, in group practices, and in hospital settings.
Addiction Therapist Boynton Beach: What is Required to be Certified?
In order to become an addiction counselor, you must complete a training program which includes learning about chemical dependence, psychology, legal issues, and the various different treatment modalities used in treating people who struggle with addictions.
Some addiction therapists hold an MSW, Master of Social Work, while others are either LSWs (Licensed Social Worker) or LCSW (Licensed Clinical Social Worker). Any of these certifies you to become an addiction therapist and the main difference among them is length of time in an institution of higher learning.
Addiction Therapist Boynton Beach: What Do They Do?
An addiction therapist works with the addict or alcoholic a therapeutic setting, such as their office within a treatment facility. Their purpose is to help the client find the root of their addiction and as well as help clients adjust to and progress into a life in sobriety. The addiction counselor develops an individual treatment plan for each client, taking into account the underlying cause or causes of their substance abuse, identifying what course of action to take in treating them, such as type of therapeutic modality or modalities.
In order to assist their clients in working past their addiction, these specialized counselors educate them about the nature of addiction as well as teach them how to develop healthy coping skills in order to be able to live a life without substances. The main goal of an addiction therapist is to guide – with counseling – their clients into recovery from their addiction so that they can have a greater chance of success at recovery.
Treatment for drug abuse and addiction varies from client to client and often includes a combination of therapeutic modalities, such as cognitive-behavioral therapy, family therapy, among others.
Addiction Therapist Boynton Beach: How Can They Help?
Many people think of hard drugs when they hear the words 'substance abuse' and 'addiction.' However, addiction can include so-called soft drugs, such as marijuana. Addiction is a chronic medical condition which affects an individual in two main ways: they struggle with obsessive thoughts that lead to compulsive behaviors. This cycle brings about negative consequences, such as loss of relationships, job, money, or legal and health issues.
Addiction therapists in Boynton Beach also work with people who are struggling with addictive behaviors, like gambling, shopping, eating disorders, and sex, to name a few. Some addiction counselors specialize in a particular area of interest, while other addiction therapists in Boynton Beach treat a wide range of addictions. In all cases, addiction therapists meet with clients in both private and group settings to provide talk therapy in which they discuss ongoing issues and develop treatment plans and ways to cope with life on life's terms.
Addiction therapists in Boynton Beach see the importance of including family members in their treatment plans and so they offer family therapy in which they educate the loved ones of addicts on the nature of the disease of addiction as well as help to facilitate family communication. Lastly, addiction therapist Boynton Beach help to run addiction programs which range from residential or inpatient facilities for treatment to intensive outpatient programs (IOP).
If you or a loved one is struggling with substance abuse or addiction and you are seeking an addiction therapist in Boynton Beach, please call toll-free at 1-800-951-6135 to speak directly with an Addiction Specialist who can answer your questions and share with your some resources. Call us any time, day or night. We are always available to help.