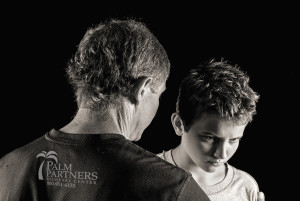 By Cheryl Steinberg
I don't know if you know this but, recent statistics say that as many as one in three people are affected by addiction. Now, that is a staggering number but, keep in mind that "affected by" also refers to those who are family members and loved ones of addicts, not just people with the disease of addiction. Nonetheless, that's a lot of people with drug addiction running around, whether in active addiction or in recovery.
So, it's only natural that parents are just as concerned with whether their kid will develop an addiction as they are about whether they're kids are safe at school, clothed sufficiently, and adequately fed.
Is your child at risk for addiction? Find out here:
The first thing to look at when asking yourself if your child is at risk for addiction is whether there's a family history of the disease.
What a Family History of Addiction Means
Many people don't understand (or disagree that addiction is an inheritable disease); in actuality genetics accounts for about half the risk of developing addiction. Those with a family history of addiction, meaning that one or more blood relative has had a drug problem, are at a significantly higher risk of developing addiction and other mental health disorders. Children of alcoholics, for example, are four times more likely than other children to become alcoholics themselves. They also tend to suffer from low self-esteem, poor academic performance, abuse and neglect, and other issues at higher rates than other children.
Environmental Factors
Even if addiction runs in your family, the good news is that that's not the only deciding factor when it comes to figuring out whether your child is at risk for developing addiction. Environmental factors also play a major role in your child's growth and development – and whether they learn healthy coping tools. That is, upbringing and parenting style make up the other half of a child's addiction risk or lack thereof.  And these are, to some extent, within our control.
As with anything else, we can't yet foresee anything reliably, including their actual risk for developing addiction. With that said, you best serve your child by preparing them for all eventualities. Just as you would talk to them about their risk for diabetes or heart disease, having your own version of "genetic counseling sessions" with your child can help educate and inform them about addiction and their risk for it with the intention of empowering them by making healthy choices so as to never turn those genes on by using drugs and alcohol.
Behaviors to Look for
Besides genetics and environment, some kids and teenagers will display behaviors that could be warning signs for the potential to develop drug addiction later on. So many times, I hear other people in recovery share their stories and say that they had so-called "addict behaviors" as children, well before they ever picked up a drink or drug. Some share about how they could never feel satisfied with what toys they were given or how they always took things to the extreme. Others were worriers, even as young children. In my case, I can identify two major behaviors – though processes really – that I can now see were red flags for my drug addiction that was to develop many years later.
For one, from a very early age, I was a perfectionist and extremely hard on myself. For example, if I got an 'A -' on a school assignment – and we're talking about elementary school age – I would literally beat myself up, punching myself in the side of my head, because it wasn't an "A+." I don't want you to get the wrong impression of my folks. They didn't give me these ideas; in fact, they were very easy going when it came to grades.
Another major factor in my developing a drug addiction is my psychological disorder (depression), which began around the age of 11 – well before I ever picked up a drink or a drug. As with many other alcoholics and addicts, I turned to drugs as a way to self-medicate. And just like drug addiction, mental illness runs in my family, so I was genetically predisposed to both disorders.
Does substance abuse, mental illness, or drug addiction run in your family? Are you concerned that your child or teen is at risk for addiction? Do you suspect that they are already abusing substances? Take comfort in knowing that help is available. Call toll-free 1-800-951-6135 to speak directly with an Addiction Specialist. We are available around the clock to answer your questions and share with you our resources.