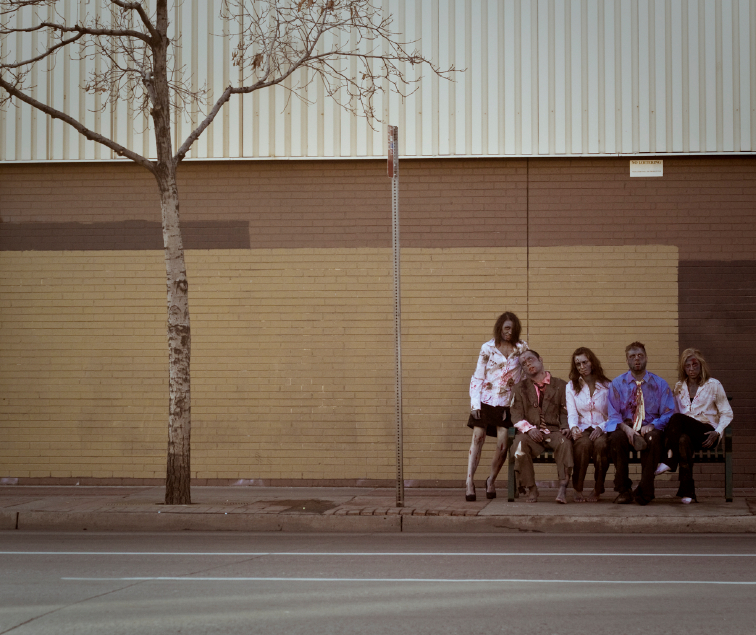 Author: Justin Mckibben
It's been a little while since I had a chance to write about the crazy news going on. With Halloween knocking at our door and no shortage of wildly odd individuals in this world to keep things interesting, I figured this was a great time to check out and talk about some pretty weird or just plain goofy Halloween headlines that have come across the web lately.
With that hint of the spooky spirit, we celebrate this haunting time of year with some pretty freaky crazy news stories.
Face Piercing Addict Holds Record for Flesh Tunnels
This guy definitely doesn't need to buy a Halloween mask to freak out a few people this year.
22 year old Joey Miggler has now broken the world record for "the most number of flesh tunnels" in the upcoming book of Guinness World Records, and he says his "addiction" has him looking forward to the future, saying he wants to "stretch my face even more- to be the most unique person."
Mr. Miggler has eleven… yea, eleven… 'expanders' in total spread across his face, including his nose and lips, and 34mm holes in his cheeks, which he plans to stretch out to 40mm soon enough.
While he is definitely a unique individual, he says most people in person are pretty respectful. Still, I bet he has the cheapest costume on the block when it's time to terrorize the neighborhood kids.
Man Caught with Zombie Baby on Board
Just in time for trick or treat this Halloween, one driver from the state of Washington tried to his way through the carpool lane with a pretty spooky passenger. Unfortunately for him and his undead ride-along, the police caught him, and what a treat this tweet was.
Washington State Patrol stated the man had actually buckled a zombie baby doll into the passenger seat of his vehicle before crossing into the high-occupancy vehicle lane on Interstate 5 near Tacoma during the Tuesday morning commute. The terrifying toy toddler was complete with a bright pink onesie, blood stained ghastly grin and ski-hat.
But hey, at least the guy was practicing safety first, right?
Washington state Trooper Guy Gill said the violator was pulled over and given a scare of his own for the goodie bag, only it wasn't exactly as sweet as he might have hoped. His treat came in the form of a $136 ticket.
But the man was let off the hook when the agency "gave him a break for not having a car seat," Gill joked. Maybe the guy should have got a 'zombie baby on board' bumper sticker. Gill managed to snap a photo with the disturbing dummy riding shot-gun and tweeted:
"At least he's in the (Halloween) spirit," with the hashtag #TrickOrTicket
Zombie Killer Arrested for Murder
A story that is a little more ridiculous, and in the same token tragic, a man from New Mexico was binge-watching "The Walking Dead" a few days ago and apparently got WAY too into the spooky spirit.
Now 23 year old Damon Perry, is facing a real life murder charge.
Grants Police were in the process of responding to a call 9-11 call on October 22, 2015. Once Officer Lt. Jason Frank arrived on scene he discovered two maintenance men restraining the suspect. When he approached the suspect, the officer saw the body of 23 year old Christopher Paquin with obvious trauma. Paquin was pronounced dead soon after the officer arrived.
Now Perry is being charged with allegedly beating his acquaintance to death, but Perry claimed his friend began "to change into a zombie."
According to police, Perry cited the hit TV series on survivors in a zombie apocalypse for the impulse behind his actions. Allegedly Perry told officers he and Paquin had been drinking "large amounts of alcohol" and that Paquin tried to bite him.
Perry has allegedly beat Paquin with his hands and feet, in addition to using an electric guitar and a microwave oven to assault the young man, before allegedly rushing out of the apartment and threatened others.
Thankfully, this zombie killer is in police custody.
While there are still plenty of other crazy stories that we could surely cover, given the time of year and the full moon and all, there will probably be plenty more after this wicked weekend is over. Until then, we want to wish everyone a safe and exciting holiday, and remind you that it's crazy out there, but hey… at least there's candy.
Some stories seem crazier than others and some get worse before they get better, but that doesn't mean a crazy story can't ever have a happy ending. If you or someone you love is struggling with substance abuse or addiction, please call toll-free 1-800-951-6135