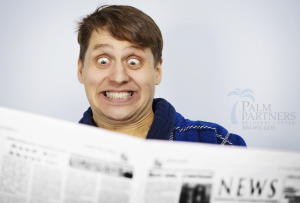 Author: Justin Mckibben
Hey there kids! Who's excited about this weeks crazy news stories?! OK, so maybe it's just me. But hey, I love reading about the ridiculousness that goes on around the world, especially being reminded that at one point I was a leading contributor to a lot of shenanigans myself. Now that I no longer feed too much into the tom-foolery of today, I appreciate the little things in life, like a laugh at the expense of some very crazy people, or some people just victims of crazy situations. Here you go, served on a black bun with a extra large side of stupid, here are the crazy news stories of the week!
D.A.R.E. Doll Drug Smuggler 
The acronym D.A.R.E. has been famous since it was originally conceived in 1983 by Chief Daryl Gates of the Los Angeles Police Department and developed by Dr. Ruth Rich of the Los Angeles Unified School District as a substance abuse prevention program for grades K-12. D.A.R.E. stands for Drug Abuse Resistance Education, a program that aims to educate young people about staying away from drugs, gangs and violence by making presentations at schools and in communities.
The irony here is that Gregory Bolognese, a 22-year-old New York man, was charged with criminal possession of a controlled substance and unlawful possession of marijuana by state police. It couldn't be determined if he has a lawyer. State police say Bolognese was found with marijuana, cocaine and LSD hidden inside a stuffed animal dressed in a D.A.R.E. anti-drug T-shirt. Apparently Mr. Bolognese missed the point.
Troopers say Bolongnese was arrested Monday at his hometown bus station near the Canadian border, after it was stated officers had discovered two grams of marijuana, about a half-gram of cocaine, and some LSD inside a stuffed lion doll wearing the D.A.R.E. shirt. The stuffed D.A.R.E. lion was also taken in for questioning, although it is currently unclear as to whether or not either has obtained a lawyer.
Bad Cop Butt-Dial
Next time you want to buy and sell drugs, make sure you don't butt-dial your local police department. A Middle Tennessee man has been arrested this week after dispatchers heard him discussing drugs on an accidental 911 call. Apparently the police dispatchers traced the call when they wear able to hear the suspect talking about getting high and going to a drug dealer's house on an open line. That's one smooth operator.
The police report explained that an officer was able to spot the suspect, Grant O'Connor in a vehicle leaving a restaurant parking lot. Upon searching the car the officer found a bag of marijuana and drug paraphernalia underneath O'Connor's seat.
The local news reports claim that Grant O'Connor was charged with simple possession and possession of drug paraphernalia after his arrest in Mount Pleasant, Tennessee this part Friday. O'Connor was later released on $3,500 bond the following day.
Breaking and Entering… and Napping
William Duffy, a 35-year-old Bradford, Pennsylvania resident faces a preliminary hearing Thursday on criminal trespass and public drunkenness charges, for sleeping at the wrong place at the wrong time. According to Pennsylvania State Police the man broke into a northwestern Pennsylvania bar, where he was found sleeping it off… on a table.
Duffy was arraigned Sunday morning, about four hours after he was found black-out drunk inside the Mountain Inn Bar in Mount Jewett, about 110 miles northeast of Pittsburgh.
Police say the bar owner called to report someone loitering near the business. By the time police arrived shortly after 4 a.m., they found that Duffy had actually broken into the bar through a window and was napping on a table in the kitchen. Apparently he didn't get around to cooking breakfast, but I guess that was close enough.
Burgers are the New Black?
Is burger the new black? Once burgers go black will they ever go back? Are we trying to market to a more 'metal' crowd here? Or is it just a weird new Japanese thing?
Since 2012 apparently Burger King Japan has made a reputation for unleashing its "Kuro" black burgers on the masses. This strange and gothic burger with all the 'emo-ish' trimmings is brought to the dark-side by way of squid ink and bamboo charcoal, according to company press release. Thankfully the actually burger-meat is broiled, and not really all that black. So I guess the question is, does it just look the most morbid burger ever, or does it taste equally as depressing?
Going Postal
If you're looking for a reason to waste some stamps, and would like to grab up a record for some serious junk mail, take a crack at getting a real piece of trash shipped through the post office and glory awaits at the Ripley's Believe It Or Not annual Strange Mail Contest!
Participants in this prestigious contest have sent all types of strange and puzzling things in, like tree trunks, a traffic cone, or even a prosthetic arm to the Orlando, Florida headquarters of Ripley's. There was a catch for the contest: The items could not be packaged in a box, envelope or any wrapping of any kind, and the postage and address must be placed directly on the item. This made for several interesting entries indeed.
And the winner is… drum roll please… Pat Moser of King, North Carolina! Judges weren't stumped when it came to picking the winning entry. It was an actual tree trunk with a horseshoe embedded in it. I don't even think 'random' is enough to describe such an idea.
Surprisingly there was an equally intriguing story to the item. At some point a wind storm had uprooted the 75-year-old tree. When Pat Moser started cutting it up the trunk, he discovered the horse shoe inside. At 19 pounds, the trunk was the heaviest item in the contest. It cost all of $30.45 to ship, according to Edward Meyer, Ripley's vice president of exhibits and archives.
As his reward for submitting the strangest item, Moser is being sent the last 10 years of Ripley's Believe It Or Not! books. Although truthfully the weirdest thing about the contest may be the fact the odd objects made it to their destination in the first place.
"We want to give a lot of credit to the U.S. Postal Service. They delivered some very strange and sometimes very fragile items a long way with a 99 percent success rate, " said one of the head Ripley's officials after the contest was all said and done.
Between bad butt-dialing, black burgers, and one of the worlds worst drug smugglers this has been a pretty interesting week for crazy news stories. The best part is, a lot of us addicts and alcoholics can remember similar situations, and those of us in recovery are definitely glad we didn't have to make this weeks head-lines. If you or someone you love is struggling with substance abuse or addiction, please call toll-free 1-800-951-6135 and try and get some good news out of it.