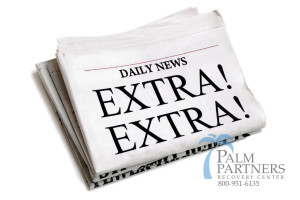 Your latest edition of crazy news stories of the week…but first a couple of updates on previous stories we've shared…
#1. Update: Peaches Geldof Dies of Heroin Overdose
It looks like we were right…it seems the untimely death of Peaches Geldof, British celebrity, was in fact due to a heroin overdose. Reports are still unclear, perhaps hesitant to say for sure that Peaches' death was drug-related because autopsy results were inconclusive. Wikipedia states that the inquest into Peaches' death "revealed that the toxicology report showed that she had heroin in her system and that it was "likely" to have played a role in her death." The daughter of Bob Geldof (of The Wall fame) was also known to struggle with an eating disorder. It's likely that this was also a contributing factor in her death. At the time her body was found, police reports stated that there was no evidence of drug use. However, Peaches' husband, musician Thomas Cohen, has been in the news since the tragedy – apparently as a person of interest in possibly having supplied the fatal heroin to his wife. We can infer that her husband, upon finding her body, got rid of any drug paraphernalia. Peaches leaves behind two young children. Ironically, her mother also died of a heroin overdose when Peaches was just 11 years old.
#2. Update: Wu-Tang Rapper was on Drugs
In mid-April, we reported the case of Wu-Tang Clan-affiliated rapper, Christ Bearer –aka- Andre Johnson, who cut off his, well, 'johnson' and then jumped off his balcony in an apparent attempt to commit suicide. The one-time Northstar rapper was rushed to the hospital and, although having survived his injuries, doctors were unable to successfully reattach his penis. At the time of the incident, a witness on the scene stated that Johnson was "not on 'any hard drugs that would cause him to do such a thing.'" However, it has come to light that Johnson had indeed been under the influence of PCP, also known as 'angel dust.'
#3. Woman 'helps' neighbors move
62-year-old Ana Maria Moreta Folch decided she didn't like her neighbors and so she hired a heavy equipment operator to bulldoze their trailer and septic tank. Problem solved.
The woman told the contractor that she owned the trailer on Dusty Road and wanted it and its septic tank destroyed, according to her arrest report.
She even had a key and showed the bulldozer operator that no one was currently living there before he got down to work on the place.
Ana Maria Moreta Folch was charged with criminal mischief, a third-degree felony.
#4. Thief steals truck and…meat?
A deputy pulled over 54-year-old Daniel Chapman, for failing to stop at a stop sign.
"Man I wasn't even thinking about it," Chapman said.
The deputy noted that the truck hadn't been registered since 2007. When asked how he acquired the vehicle, Chapman admitted that he stole it, saying that he jumped a fence and "hot-wired" it.
Chapman allowed the cop to search him and the vehicle at which time a marijuana pipe was found in Chapman's back pocket and packages of grocery store meat were found on the front seat. When confronted about the meat, Chapman said he stole it from Publix, saying "he grabbed the meat and tucked it under his arm like a baby and walked out of the store."
Chapman was arrested on charges including possession of drug paraphernalia, petit theft, driving with a suspended license with knowledge and grand theft auto.
#5. Mom of the Year
A very drunk woman who was driving with her two small children in the car crashed into a parked car in her apartment complex parking lot. She apparently didn't know where she was, according to the arrest report. Tonia Grange, 36, had her children ages 10 and 6 in the car with her.
According to the report, police arrived at the Olive Grove Apartments after a witness who heard Grange crash into a car at the apartment complex called police.
The report states that the witness stated she saw Grange's car circle the parking lot several times before finding a spot and parking in it – diagonally.
Grange was charged with two counts of child abuse that could result in physical or mental injury of a child and DUI. Grange's breath test registered her alcohol content level at 0.292 and 0.306, nearly four times the limit of 0.08, when a driver is considered impaired under Florida law, police said.
If you or someone you love is struggling with substance abuse or addiction, please call toll-free 1-800-951-6135.