Reading this book could save your life, or the life of someone you know!
Below is the link to view and download the free EBook. To download the EBook to your computer, right click on the icon and select save linked file. To view the book, just click once on the icon.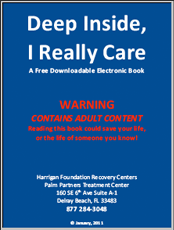 Table of Contents
Facing Uncertainty?
You Are Not Bound By the Past!
What We Know
The Future of Recovery
Why Are We Breaking From Tradition?
It's A Change For Life!
Empowering The Change For Life
A Secret Revealed
Do You Understand Yet?
Life Is A Process
Understanding Moods
Good Feelings Motivate!
The Conclusion