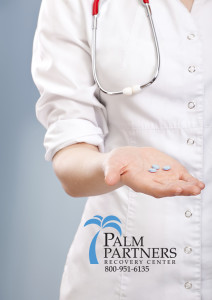 Fifteen years ago multiple Emmy-award winner Edie Falco was well known for a powerful and moving embodiment of Carmela Soprano on the famous series "The Sopranos". That role, along with other dramatic and compassionate characters, has put her career in an exciting place and she is able to relate these characters much to her own struggles with substance abuse and addiction, as she does very tastefully and playfully during a recent interview with Stephen Colbert on his satire set "The Colbert Report".
Nurse Jackie Peyton
Edie Falco's character of Carmela which was framed around the scripts of writer David Chase's shatter the general assumption and redefined the conventional image of a woman married to the mob. These days it has been her role as troubled nurse Jackie Peyton on "Nurse Jackie", whose work life is entangled with family stress, and is functional only by abusing pharmaceuticals.
Showtime's "Nurse Jackie" is currently through its sixth season. For five years Falco has taken the abrasive and easily unlikable character of Jackie Peyton created by Liz Brixius, Linda Wallem and Evan Dunsky and transformed the perception into one of a loving, competent, nurturing women. The character also plays into being deluded, self-obsessed, and destructive. All of which are typically glaring symptoms of drug addiction.
Research into Recovery
From the beginning of the interview with Stephen Colbert the mood was light, and Edie Falco even joked when asked about how much 'research' she had to do to prepare to play a woman who abused several prescription medications. She jested to say '…as we speak I am doing research… '
The media in society is noticeably accustomed to alcoholic and drug addicted characters in many different stages of addiction or sobriety. The character Jackie may be a 'functioning addict' in that she remains thus far a very good nurse. This last season saw Jackie go through rehab, only to blow it in the finale.
Falco went on to say in her conversation with Colbert that she considers herself lucky that her role as Jackie Peyton makes her grateful to not be in her own active substance abuse anymore, and that she gets to remember the pollution and chaos of those times and does have that life anymore. According to her, playing an addict helps her in many ways. But all jokes aside she seems to be very conscious of the effects drug addiction have had on her and how her recovery has inspired much of her future.
The Role of Recovery
In other interviews when asked about the future of her character on "Nurse Jackie" and how the show may eventually end, she made a point to note the seriousness of addiction and alcoholism and how she feels the story should evolve, especially after the finale of season six where her character relapses into using after her stay in rehab.
"I was so glad she slipped," Falco says, "She doesn't go to enough meetings, and I don't want it to end pretty for her unless she does the … work. Addiction lasts a lifetime, and I know a lot of people who do not get it," she adds, referring to recovery, "the first, second or third time around."
By this statement alone it is safe to assume she knows her stuff when it comes to meetings and doing the work to stay in sobriety.
It's also probably safe to say that Edie Falco has been through her fair share of trials and tribulations. Undoubtedly she was effected by the tragic loss of her close friend and co-star from "The Sopranos" James Gandolfini who she says she learned a lot about the role as a liar and related it to addiction. However she maintains her strength in her recovery, and openly expresses gratitude for her current work, which keeps the past chaos familiar and real while still allowing her to grow artistically.
If you or someone you love is struggling with substance abuse or addiction, please call toll-free 1-800-951-6135