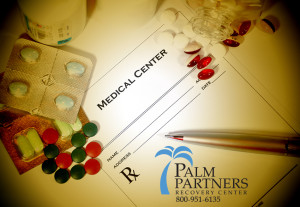 It is quite a common occurrence that many people end up with a prescription pill addiction due to being prescribed powerful narcotics that are supposed to "help" them with their chronic pain. Often times it can be scary for a chronic pain patient to realize how far into a painkiller addiction they have gone. That is why most drug treatment centers offer a specific approach for people with chronic pain.
The cold, hard truth is that there a lot of people living with chronic pain issues. Common pain conditions are chronic back pain, usually due to an injury, or nerve pain as a result of a medical condition, such as diabetes (a condition known as neuropathy) or even as a consequence of a botched medical procedure such as surgery.
Unfortunately, the main way that we treat chronic pain in this country is by prescribing potent narcotic painkillers. This has become more and more of a trend in recent years. Painkillers such as oxycodone (Oxycontin), hydrocodone (Vicodin), and Fentanyl were initially developed to treat the most severe type of pain and for only a short duration, an example of these situations being major surgery.
This isn't to say that your condition isn't real or that it doesn't cause you anxiety. There are many people in your position. The good news is that there are things you can do, instead of relying on these powerfully addictive drugs, to manage your pain.
I'm Addicted to Prescription Pills But I Have Real Pain, What Can I Do?
Prescription Pills: Addiction vs. Physical Dependence
When you have been taking prescription pills, such as narcotic painkillers, for an extended period of time, you will develop a condition known as physical dependence. This means that your brain and therefore your body have become reliant on these powerful drugs. If you have ever tried to stop, you probably experienced some very uncomfortable symptoms – diarrhea, sweating, body aches, runny nose, chills, anxiety, insomnia – known as withdrawal syndrome. This is an indication that you have become dependent on your medications.
Also over time, you might build up a tolerance to your prescription pills, meaning that the initial dose you were prescribed doesn't seem to be working as well anymore. Your doctor might prescribe more pills or stronger dosages of pills. When you start taking more than you are prescribed in order to feel better, this is an indication of the beginnings of an addiction. If you find that you are looking for other ways to get more pills (i.e. doctor shopping or buying them on the street) and that you are experiencing negative consequences, such as loss of your job, legal problems, and problems with family and loved ones, then your addiction to prescription pills is in full swing.
You realize, I'm Addicted to Prescription Pills But I Have Real Pain, What Can I Do?
There are many people in your position and there are many things you can do without the use of these kinds of prescription pills. First thing's first, though. You will need specialized treatment in detoxing you from these narcotic medications in a safe and effective way. Medical detox and rehab is available for people in the very same situation you are in. Once you are detoxed, this can be a very useful period in the treatment of your chronic pain; you can see what your actual pain level is without the prescription pills masking your pain. From there, you will be given options to consider going forward with your treatment.
Pain Medications Don't Work
Prescription painkillers are just a stop-gap anyway, meaning that they don't treat the underlying problem of your chronic pain. They act like a Band-Aid, merely covering up the symptom of your condition – the pain – with a temporary "fix." And, in fact, pain management that relies on prescription pills actually makes the pain worse over time.
So, instead, your doctor can prescribe different medications that have a lower risk of causing addiction or abuse issues that can be just as effective in managing your chronic pain. There are non-narcotic medications that treat pain safely and effectively.
Counseling Can Be an Effective Tool
At a drug treatment for people with chronic pain, you will receive specialized counseling to assist you with addressing your addiction to prescription pills. It's important to recognize that being addicted means that you have a psychological attachment to the drugs you were taking and that, by simply detoxing from them, you might still experience this attachment. That's because narcotic painkillers actually alter your brain in profound ways and it will take learning new information to re-wire your brain. This is where counseling comes in.
Besides addressing your addiction, the counseling sessions can also address your chronic pain by:
Reducing the pain
Reducing pain related behavior
Improve daily functioning
Reduce stress and distress
Alternative Therapies Treat Chronic Pain
Going to a drug treatment program for your prescription pill addiction can introduce you to alternative therapies that will both support you in your recovery from addiction as well as treat your pain symptoms. Alternative therapies such as specially-tailored exercise programs, yoga, acupuncture, acupressure, sound therapy, and massage therapy are just a few ways in which you can decrease your overall pain level while at the same time improving your mood.
Treatment for prescription pill addiction and chronic pain aims to help you become your healthiest self so that you have an improved quality of life – all without the need for prescription narcotics.
I'm Addicted to Prescription Pills But I Have Real Pain, What Can I Do? Help is Available
If you or someone you love is struggling with substance abuse or addiction, or needs help getting off prescription pills and seeking alternative pain management, Palm Partners can help. Please call 1-800-951-6135 to speak with an admissions specialist today.