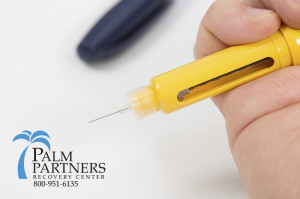 Much like the argument against teaching and promoting safe sex in schools – "if you hand out free condoms, you're encouraging kids to go have sex" – there's an argument against making naloxone (the generic name for Narcan) more widely available. Naloxone is also known as the 'overdose antidote' as it is a quick response treatment given to someone who is in overdose from opiates such as heroin or prescription painkillers.
Already across the country, in places such as New Jersey and Ohio, first responders (police officers, EMTs) are now carrying the antidote with them because of the current heroin scourge that's taking lives at an astonishing rate.
Maine is poised to vote on whether to make Narcan more readily available but, it's not so cut-and-dry for "The Pine Tree State."
According to its governor, Paul LePage, who vetoed a naloxone bill that passed in 2013, says that he plans to veto it again in early March, calling naloxone an "escape."
And, although it passed in 2013, the naloxone bill widened the gap along party lines, with the Democrats voting for it and the Republicans, of course, voted against it. Democrats proposed a new bill this past January.
Le Page went on to say that passing such a bill and making the opiate overdose reversal drug more accessible was like giving addicts "an excuse to stay addicted," and instead proposes a crack-down that's more heavily dependent on increased law enforcement. This 'solution' is clearly oriented from the draconian 'war on drugs' approach, which has failed miserably as an answer to the so-called drug problem in this country.
Maine Gov. LePage might be part of a dying breed of politician, however. According to the Network of Public Health, as early as 2001, the state of New Mexico became the first state to amend its laws to make it easier for naloxone to be prescribed, dispensed, and administered without fear of legal repercussion. And, as of May 15, 2014 NY, IL, WA, CA, RI, CT, MA, NC, OR, CO, VA, KY, MD, VT, NJ, OK, UT, TN, ME, GA, WI, and OH and the District of Columbia have all made similar changes to their laws, for a total of 24 states in the ranks.
LePage needs to look at his state's numbers when deciding something that could determine the fate of Maine's public health and safety. Currently, Maine's overdose rate hangs around the middle of national numbers. As of the most recent data, which was back in 2012, 140 of the 163 overdose deaths were related to prescription drugs, with oxycodone being the leading factor in fatal overdose cases, according to the Department of Health. Heroin deaths are on the rise in Maine.
Naloxone has been standard in emergency rooms since the 1970s. Distribution of the opiate antidote among drug users, that is, underground then burgeoned with the first official take-home program starting in Chicago in 1996. In 2012, the American Medical Association endorsed widespread access of naloxone, in response to the number of overdoses surpassing car accidents as the number one cause of accidental death in America.
If you or someone you love is struggling with substance abuse or addiction, please call toll-free 1-800-951-6135.