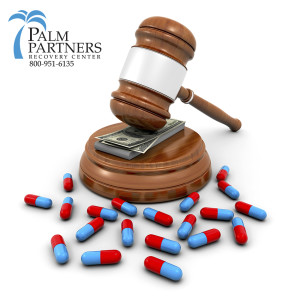 You might recall the legal action taken by several U.S. states on tobacco companies that occurred about 20 years ago. Much like that, two California counties, Santa Clara and Orange, are suing painkiller manufacturing companies on the basis that they make misleading and false claims about the safety of their products, which are consumed by millions of Americans each year.
The Centers for Disease Control and Prevention reported that opioid painkillers, such as Oxycontin and Vicodin, were to be blamed for 16,651 deaths in 2010, a number that is more than twice the number of deaths that could be attributed to cocaine and heroin combined.
The two California counties have filed a lawsuit against five drug companies: Johnson & Johnson's Janssen Pharmaceuticals, Purdue Pharma, Actavis, Endo Health Solutions Inc., and Teva Pharmaceutical Industries' Cephalon Inc. – accusing them of waging an intentionally deceptive campaign in order to boost the sales of their powerful painkillers – the same ones that currently the driving force behind our booming prescription narcotic addiction problem.
The suit, filed Wednesday in Orange County Superior Court, alleges false advertising, unfair competition and creating a public nuisance. The lawsuit goes on to say that the ever-increasing drug overdose cases serve only to burden already-busy hospital emergency rooms as well as add to rising medical costs.
Though filed by two specific counties, the lawsuit is being filed on behalf of the entire state of California; it intends to halt the opiate painkiller marketing campaigns in the state as well as to collect an unspecified amount for compensation due to alleged damage to the public's health and California citizens.
In the News: Two California Counties Sue Over Painkiller Marketing
Besides the lawsuit against the tobacco industry, there seems to be another precedent to this latest litigious action.
Previously, Purdue, which manufactures OxyContin and is one of the 5 Big Pharma companies named in this latest suit, and three of its former executives paid $634 million to settle criminal and civil charges. The charges were filed by the U.S. Department of Justice and claimed that Purdue misled regulators, doctors, and patients regarding their product's potential for abuse and addiction.
Despite its claims that it has since put certain practices into place in order to prevent misinformation and mishandling of Oxycontin, Orange County District Attorney Tony Rackauckas said that Purdue continues to mislead the public despite the previous settlement.
"That didn't change anything and that's why this lawsuit can't just be about money. We aren't just looking to tax them on their profits. We are looking for them to change their behavior and to start telling the truth," Rackauckas said in an interview Thursday.
————————————————————–
The Wednesday lawsuit alleges that the named companies sought to expand narcotic painkiller sales back in the 1990s by promoting their use for more than serious pain-related cases such as those involving cancer patients and other terminally ill patients. It also claims that upwards of 254 million prescriptions for opiate-based drugs were filled in 2010 to treat a wide-range of common conditions, such as arthritis, back pain and headaches.
"Opioids — once a niche drug — are now the most prescribed class of drugs — more than blood pressure, cholesterol or anxiety drugs," the lawsuit states. If you or someone you love is struggling with substance abuse or addiction, please call toll-free 1-800-951-6135.