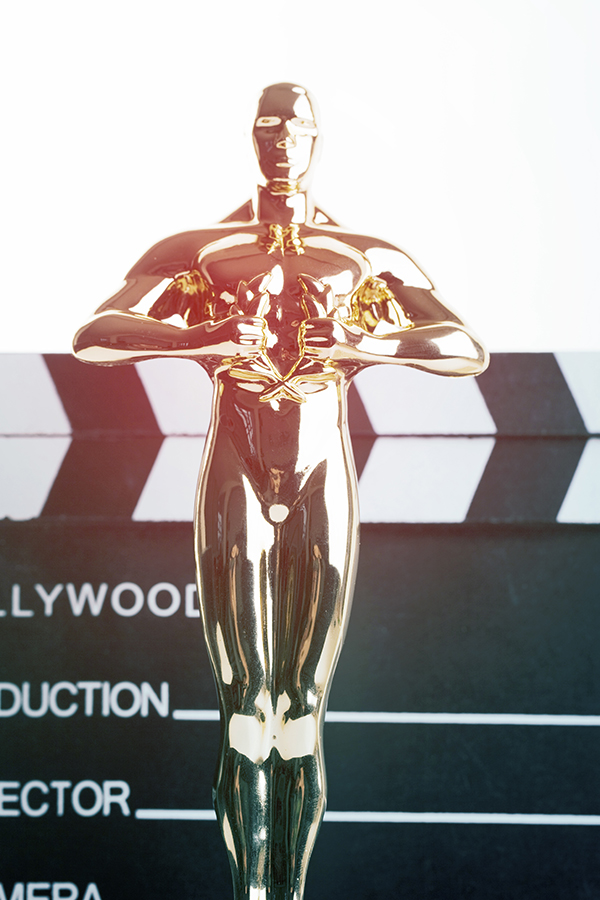 Author: Justin Mckibben
Just last weekend was one big night for some of entertainments biggest stars, and many are already talking about who got to take home a little golden man, handed out to some of the industries most talented performers, well… except it seems for Mr. Decaprio. But those aren't the only golden statues getting some serious publicity for a major role. Another one with a very serious message has been erected to catch some eyes and raise some awareness.
Los Angeles based street artist who goes by the name "Plastic Jesus" placed a life-size Oscar statuette on Hollywood Boulevard at La Brea Avenue last Thursday morning, at the edge of where the street was closed ahead of Sunday's 87th Academy Awards ceremony, but there is one big difference between this piece and the trophies handed out Sunday.
In addition to being big, this Oscar is bent down on all fours and snorting two lines of cocaine, with a straw in one hand and a credit card on the ground next to it. The signage for the award says,
"Hollywood's Best Party."
Plastic Jesus is known for making pointed social commentary through eccentric and compelling public installations, and this year he planted his recent installation of expression art in front of Elvis Presley's star on Hollywood Boulevard, unmasking the dark truth of drug addiction in Hollywood using the industry's most prestigious iconography. One report stated that Plastic Jesus suggested,
"We often hear about it when a high-profile celebrity perhaps goes into rehab," he said. "People like directors, producers, hair and make-up people, electricians, sound guys and so on, these people don't get the care, the treatment that the high-profile people can access."
Surely it seems that Plastic Jesus is pretty conscious of the issue, and is making a point to bring it to the attention of the industry.
Last Year's Similar Stunt
Last year around the same time Plastic Jesus pulled a similar stunt when he erected an 8 foot Oscar award statuette with a needle in its arm on Hollywood Boulevard, which was meant to depict an interpretation of the death of the celebrated actor Philip Seymour Hoffman due to a heroin overdose weeks earlier to the event in February.
Plastic Jesus installed the golden statue with a belt strapped across its left arm, mid-injection, on the Friday morning prior to the Oscar award ceremony at the corner of Hollywood Boulevard and La Brea Avenue, according to his Instagram account, with a signage at the foot of this statue that read,
"Hollywood's Best Kept Secret."
The artist in the past had divulged that his cousin and his cousin's wife both died from heroin overdoses, and that he has been making the task of addressing drug abuse in the industry a priority.
Plastic Jesus removed the heroin shooting statue as he was told by a friend on the scene it appeared someone from the academy was trying to remove it, and it was returned to his studio.
The Message to the Madness
The artist behind these incredibly bold and forward statements has a lot to say about the way drugs and addiction is intertwined with the entertainment industry. In an email Plastic Jesus wrote to one news outlet that while everyone may claim to not use cocaine, it's still a $40 billion business in the U.S. alone, including his statement that the world's " 'war on drugs' is clearly not working." In that email Plastic Jesus stated,
"At the time of the Oscars many people attending the parties, either in Hollywood or at home with friends will indulge their passion for cocaine. To so many people this becomes a controlling factor in their lives,"
The piece from Thursday was up for only a couple of hours before an official from the Hollywood Chamber of Commerce ordered the installation be removed at 11:40 a.m. The security team that was present for Plastic Jesus quickly and without confrontation disassembled the piece and removed it before any conflict was brought up. Nick Stern, a photographer who works with the artist, made a statement on Plastic Jesus' behalf,
"The piece is intended to draw attention to Hollywood's hidden problem of drug addiction that effects hundreds of people in the showbiz industry and is largely ignored until the death of a high profile A list celebrity,"
So this piece is not just about commemorating the well-known celebrities who have lost their lives to drug abuse and addiction, but also to bring attention to the lesser known people behind the scenes and in every aspect of production who are suffering due to the drug culture that they are so deeply involved in with a city like L.A. where A-listers and high-rollers come out to party hard.
According to several sources the piece was to be back on display that weekend in front of the Urban Outfitters store on Melrose Avenue, showing that while some may feel this kind of expression is distasteful, Plastic Jesus has no intentions of letting his message about the evils of drug abuse and addiction be silenced.
Stigma may convince most that only the criminal and the impoverished struggle with addiction, or it may fool you into thinking only the wealthy and powerful can get the help they need. Drug addiction ruins and ends lives,it does not discriminate. But neither does recovery. If you or someone you love is struggling with substance abuse or addiction, please call toll-free 1-800-951-6135