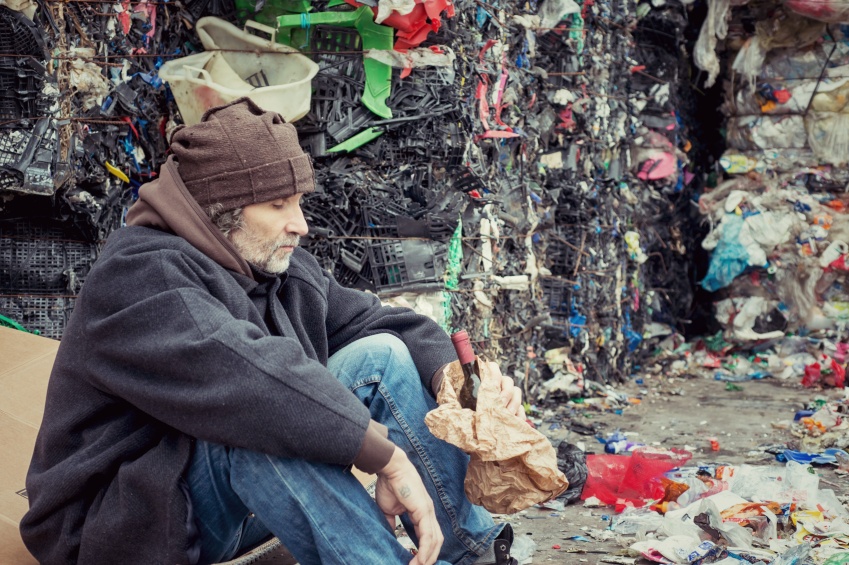 Author: Shernide Delva
The complexity around homelessness and alcoholism is one that most people choose to ignore. It is easier to ignore the drunken panhandler on the street than consider the possible solutions to reduce the problem. However, for cities that struggle with a large homeless population, advocates fight for policies that will allow the homeless population to seek shelter despite their struggles with alcoholism. The question is, should homeless shelters require sobriety?
While there are people who want to help the homeless population, there are difficulties in helping people in these situations. Policies in communities around how homeless alcoholics are treated and housed in the community have long caused controversy Even if a homeless shelter caseworker can get a housing voucher for an individual; they have to find a landlord who is willing to rent to a street alcoholic. The reality is, according to surveys,  38% of homeless people abuse alcohol while 26% regularly use other drugs. These statistics confirm that drug addiction among the homeless population is significantly higher than the general population.
Let's say a homeless person acquires access to a homeless shelter. At the shelter, there are very limited support services to help the client adapt and adjust to their new environment. Their alcoholism is rarely addressed nor is the psychological needs of the individual. As a result, they are often evicted which starts the cycle of homelessness all over again.
Whether or not homeless addicts should have access to resources is a complicated problem and no one is entirely at fault. On one hand, a homeless person with substance abuse problems could be a liability to those around them and the staff. On the other hand, this issue must be addressed because some cities spend tens, or hundreds of thousands of dollars a year through crisis services who take care of this population.
But is it Enabling ?
Some feel that homeless people who are under the influence should not be allowed to reside in a homeless shelter or have access to government assistance. They believe that allowing access to these resources could be enabling the person to continue using. After all, if they have access to these facilities while using, why stop? This is the exact reason why numerous shelters do not allow anyone who is under the influence of alcohol (at all) to stay. The thought has always remained to demand abstinence. Anything else just encourages the behaviors.
Other disagrees and offers other solutions. Bob Fowler is the executive director of the Milestone foundation. The facility has been operating out of Portland, Maine since 1967. Fowler believes that providing resources to people in need are better than denying them access at all. Sometimes harm reduction is a goal worth fighting for.
"For me, this is a basic harm reduction approach. The people we serve are dealing with drug and alcohol addiction as well as homelessness. Depriving shelter to these individuals won't do a thing to help the addiction. Engagement and compassion, on the other hand, just might," Fowler said in a recent interview.
There are two sides to every argument, and Fowler's point of view does make sense. Perhaps housing concerns should be addressed before anything else. Instead of a person attempting sobriety before fixing the rest of their life, in this case, it may be better to provide resources prior to achieving sobriety. Finding homeless people a place to live first may provide them with the support they need to tackle their health concerns later. It provides a healthier existence, which could result in them choosing to drink less on their own.
This is an issue that will continue to raise controversy. In the same ways that harm reduction methods for drug addiction continue to raise controversy. Just recently, states like New York has implemented safe injection facilities that some argue are enabling people, rather than helping them in life after sobriety.
Still, there is something to be said about harm reduction programs. If anything, options like this need to be considered. The rates of overdoses continue to soar. If there is a way of reducing these numbers, it should be brought to the table. Options like these can at least be part of the solution. If your or someone you love is struggling with substance abuse or addiction, please call toll-free 1-800-951-6135.