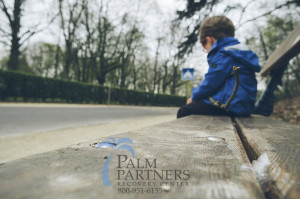 Mom can't stop drinking, or Dad can't stop using. With people who suffer from substance abuse or addiction one of the hardest parts is the pain caused to the family and friends of those they love most. Addiction is a disease that touches not just the addict, but their parents, siblings, friends, and especially their children. However as difficult as it may be, having the conversation with the child of an addict about the parent's addiction, behavior, and if at all possible their absence for treatment is so important.
Even if the child of an addict has known that the problem existed for a long time, it is still never an easy conversation to have with a child. More than 28 million Americans are the children of alcoholics, but addiction is not being discussed at the home level. Most of the children of addicts grow up facing a lifetime of issues that other kids don't have to face every day. They're more prone to have emotional, behavioral and academic problems than other kids, and are four times more likely to develop an addiction themselves. They are also at greater risk of abuse and neglect, witnessing domestic violence, and marrying an addict later in life.
Be Honest about Problem
Depending on the age of the child you may have to use different terminology, you should always be honest about their parent's problem. Explain to the child that addiction is a disease, and that their mother or father is sick and must get help in order to get better. Be sure to have some knowledge of the disease of addiction, and anything specific to this parent's addiction that may be useful in case the child has any questions.
Keep It Age-Appropriate
Use language and describe the situation depending on the age and maturity of the child. Be honest and simplify as much as possible to try and help the child understand.
Ask about the Childs Feelings
Instead of trying to belittle the impact on the child, try and figure out how exactly they feel regarding the situation, and identify with them how legitimate their pain and worry is.
Get Rid of Guilt
One of the most important things for child of addict to understand is that their parents addiction is not their fault! Children have a tendency, especially at a young age, to consider themselves responsible for their parent's problems. It is essential that you let them know that addiction effects the mind and body differently, so even if their parents have put blame on them while intoxicated, it is not at all their fault. Children may also feel alienated or idolize other families as 'better families'. Make sure they know they are not alone, and there are millions of families with the same struggles.
The 7 C's
The National Association for Children of Alcoholics has developed a list of the key factors of communication when discussing these problems with the child of an addict. These are referred to as "Seven Cs of Addiction":
I didn't Cause it.
I can't Cure it.
I can't Control it.
I can Care for myself
By Communicating my feelings,
Making healthy Choices, and
By Celebrating myself.
These are some of the standard stepping stones for helping a child to not only see where they are not at fault for their parent's addiction, but also to start working toward positive coping and further constructive communication. Kids are not always able to understand how these things can lead to emotional and behavioral issues in the future, so once the steps are being made to do something about the addiction in the house-hold make sure to keep honest and open support available to them. Not all children need to go down the same path, and they can be placed in a situation that will allow them to avoid that path and let them understand how loved they really are.
Many parents do not seek treatment because they worry for their children, unaware that the addiction harms the child more than any period of absence ever could, and the best thing they could do for that child is seek help. If you or someone you love is struggling with substance abuse or addiction, please call toll-free 1-800-951-6135